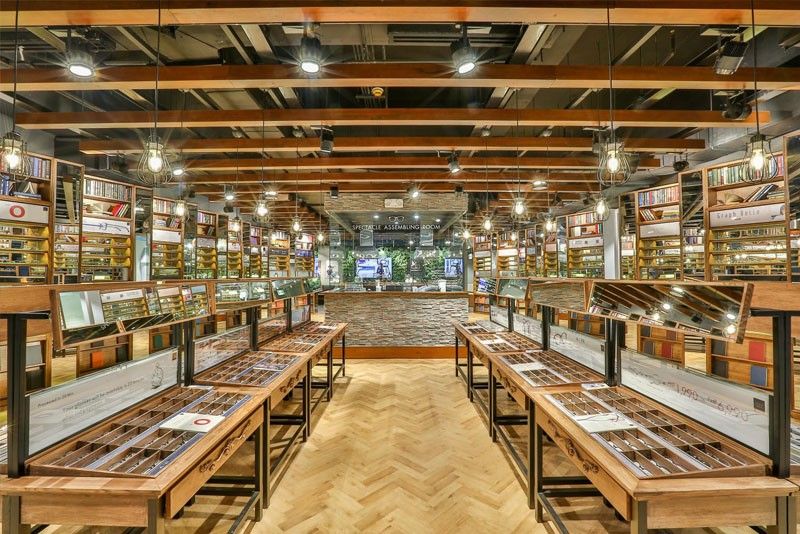 Owndays flagship store at the Fashion Hall, Megamall
Photos by Jun Mendoza
Eyewear that inspires excellence and good vision, too
It was what I would call an "own day" for me — and for this I had chosen to have my eyes checked. What with age catching up with me and having been told often enough that it is good to get your eyes checked at least once a year (because of the nature of the work here at The STAR).
So, I headed for Owndays, an eyewear store from Japan that manufactures a wide variety of high-quality frames in more than 1,500 styles suited for any lifestyle all in one price.
The store that I visited was the flagship store in the Fashion Hall of Megamall. I had never entered an Owndays store before because my glasses had served me well for the last five years. And, like most people, I only visit an optical shop when I need to get my glasses done.
"Owndays store prides itself with its design," said ophthalmologist Dr. Aileen Azarcon. "This means that all the eye glass frames are readily available for customers to touch and try on."
As I walked through the store, I liked some of the frames I saw. I could also try them on because they were on an open display. The experience was liberating.
I also learned that all the eyeglasses in the shops are all-original brands designed and manufactured by Owndays. The brand's goal is to help people enjoy a fresh start every day through their eyeglasses.
Owndays brought the open concept optical store to the Philippines in 2015 allowing customers to choose and try on any pair of eyeglasses. Since then, Owndays has expanded with over 31 stores nationwide.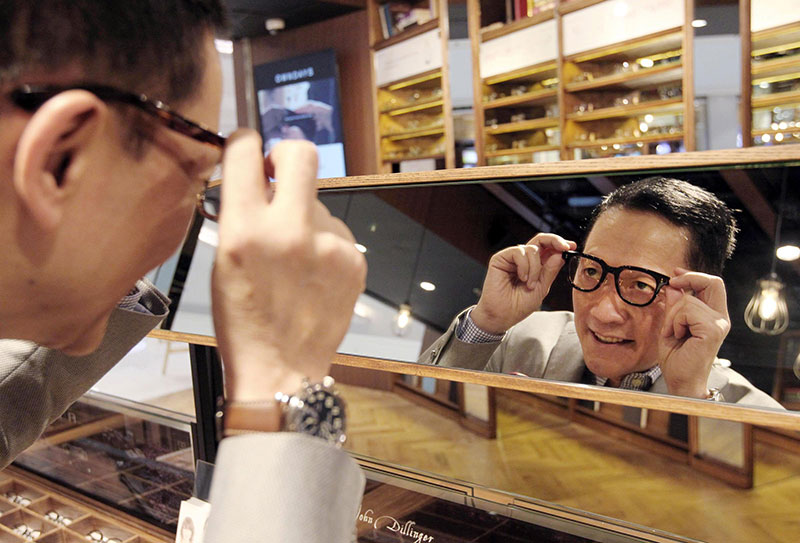 Mirrors are strategically located to give customers a good look at themselves.
Francis Kong, a friend of the brand
"I chose Owndays because it's global," said Francis Kong, business speaker, businessman, author of 19 books and STAR columnist. "Owndays challenged the entire industry when it entered so that they would know what the new trends are. They always have the latest research and development on things that are changing. And I love new things."
Francis was at the store that day looking to see what new frames were available.
"I don't keep track as to how often I change my glasses," he added. "But, I believe that a person has to have good glasses with good lenses that don't show that they are progressive lenses."
Presbyopia is the normal loss of near focusing ability that occurs with age. Most people begin to notice the effects sometime after age 40, when they start having trouble seeing small print clearly. You can't escape presbyopia, even if you've never had a vision problem before.
Dr. Azarcon was impressed by the fact I am not affected by presbyopia (even it my age). My problem is my nearsightedness.
Look the part
For Francis, it is his profession as an inspirational speaker that has him on the lookout for lenses that can give him the best view of his audience.
"I believe that glasses should fit into the attire that you wear," he said. So there are times he pairs his glasses accordingly.
Do the type of glasses he uses help in inspiring people to a better life?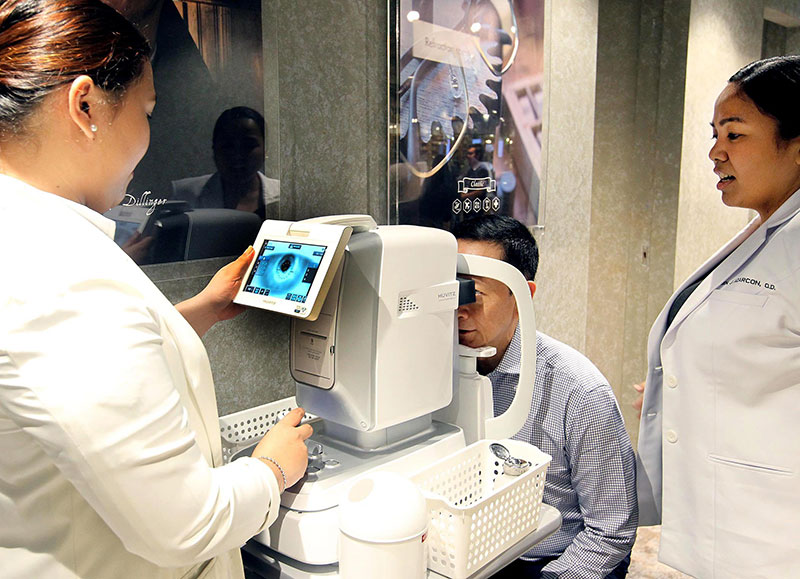 Eye refractions are a must and Owndays has dedicated and professional ophthalmologists like drs. Toni Intalan (left) and Aileen Azarcon
"My glasses are both functional and aesthetic," quipped Francis. "Functional in the sense that when you look at your audience — whether they are 200 or 2,000 — I need to be way ahead of what they are doing. A good pair of progressive lenses would allow me to have the luxury of good peripheral vision. Functionally speaking this may come in a nanosecond. But if I have to bother with what I can see, it affects the flow of my presentation."
He added, "For my audiences, I come across as a little more intelligent if I am wearing glasses. Especially when I talk to academicians or senior business people. Because there is this unwritten code, somebody who wear glasses would come across as studious and that he or she reads a lot."
I smiled and told Francis that I never thought wearing glasses has that effect.
Being progressive
Dr. Azarcon told me that with the usual design for progressive lenses, the lateral field of view for reading, computer and driving is limited. Thus, peripheral aberrations were experienced by first-time wearers to the point of feeling a sensation of movement whenever they turned their heads.
"With the launch of premium progressive lenses, vision zones have improved. Now, Owndays offers premium progressive lenses called Owndays Prestige that provides a wider reading area than regular progressive lenses," she shared as we made our way to the refracting room.
"They have a high level of customization, allowing users to wear them with any frame they desire. Since these lenses are digitally surfaced, they provide a more accurate prescription and more comfortable vision with minimal sway and distortion."
"And, I don't have to look drab and corny — I might as well be fashionable, too," said Francis as a parting shot. "In business parlance there is brand equity that deals with their business equity as well. So there are brands that may not have the chemistry with the person wearing the brand. The variety and the selection of Owndays offer me a lot of alternatives to choose from. It is a Japanese brand — and Japan is known for quality in the items that it produces. I feel that with Owndays I can't go wrong."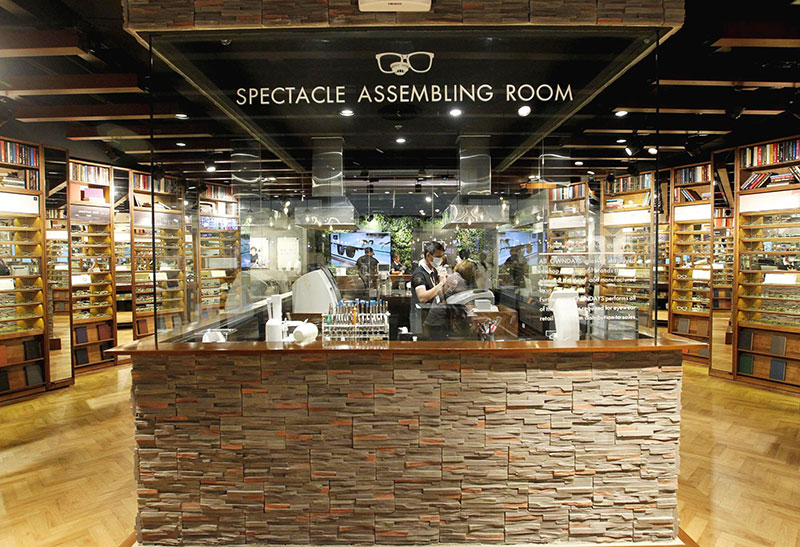 Owndays has the machines equipped with the latest technology to have your glasses ready in 20 minutes.
"What brand do you like?" I asked.
"I like the Dillinger collection because it is one that is more avant-garde and more risky and more futuristic. Something that is not conventional, that is new and also provoking," answered Francis.
The eyes have it
Owndays makes the price system simple and easy to understand. Prices range from P1,990 to P6,990 and no additional fee for the aspheric-ultra thin lens regardless of the high grade. The best part is that you can get your new glasses in 20 minutes. Owndays uses technologically advanced equipment, which offers faster grinding capabilities and results to a shorter cycle time and a high-luster finish.
As what I've experienced, Owndays provides in-store eye exams facilitated by its PRC-licensed optometrists. It is also able to increase efficiency and improve patient care through its latest technology in electronic refraction.
So, if you are like me — and feel the need to have your eyes checked — make your way to Owndays. You won't regret it.