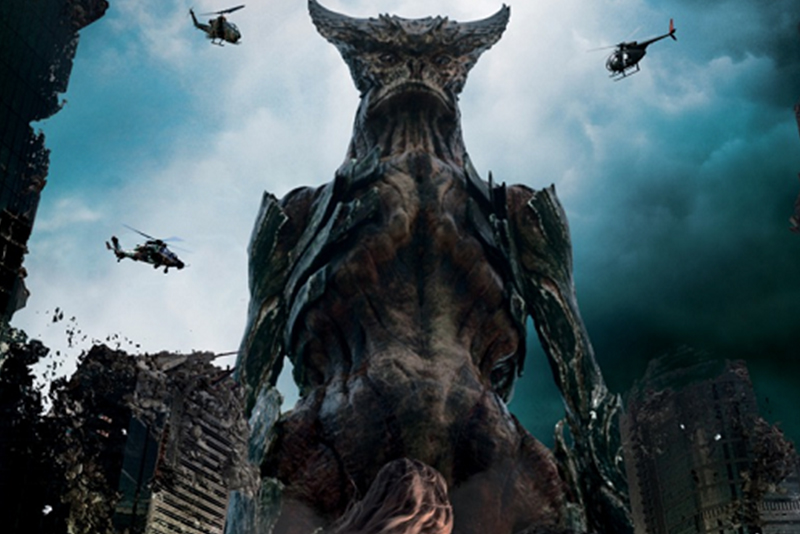 Head scratcher: Hathaway's kaiju stirs up things in Seoul, Korea. Photo release
'Colossal' shows what happens when you drink and mime
Blackout drinking has become a Hollywood staple lately, what with Amy Schumer showing us the downside in Trainwreck, or Emily Blunt playing a forgetful alcoholic who witnesses murder in Girl on a Train. Then, of course, there's the Hangovermovies.
Now it's Anne Hathaway's turn, playing Gloria, a struggling internet writer on a downward spiral, in Colossal: she's lost her job in NYC, is about to lose her boyfriend and apartment, and wakes up most mornings not remembering what she did during the previous evening's tipple.
She heads back to her rural hometown to regroup, and proceeds to slip into her late-drinking ways with childhood chum Oscar (Jason Sudeikis) who now owns a bar.
When you drink so much that part of your brain shuts off and you can't remember what you did, that's called a blackout. The thing is, Gloria's blackout periods have an odd effect halfway around the world: in Seoul, Korea, a massive reptilian monster starts appearing, wreaking havoc in what seems like a drunken stupor.
Mixing Goya's "Colossus" with modern kaiju and Japanese robot elements, Spanish director and writer Nacho Vigalondo has crafted an indie parable about alcoholism, co-dependency and bullying, housed in a sci-fi comedy that gets surprisingly dark at times. Just as Gloria finds herself waking up on park benches, unaware of her activities, it becomes clear that the kaiju is echoing her actions. In one amusing scene, she notices the kaiju — a towering 400 footer — repeating her own head-scratching motion in real time as the devastation plays out on cable news.
Oscar at first seems like a sympathetic ear, or at least one handy with a beer, until it develops that her condition is related to a childhood incident between them. Their co-dependency becomes quite literal, as Gloria tries to stop his destructive side from emerging.
There are hints of the Butterfly Effect here — our slightest actions having consequences across the world, like a butterfly's wings causing a tsunami elsewhere — as well as shades of Pacific Rim and The Host (that ingenious Korean comedy horror flick about a mutant lizard attacking Seoul). Japanese kaiju happen to be my daughter's current fascination, so she was pleased to see them entwined in such an offbeat story (though she thought Anne Hathaway's kaiju face could have been more expressive).
Hathaway herself has fun playing a pathetic drunk: failing to fill up her portable air mattress each night because she's wrecked, then waking up each morning with stiff neck; dialing up her judgy ex-boyfriend (Dan Stevens) on Facetime to try to explain the weirdness she's unleashed, then forgetting she put him on hold when she goes to answer the doorbell. Her rock-bottom moments leave room for self-improvement, of course, even as Sudeikis's character takes a darker turn. (Worth watching, too, is Tim Blake Nelson, injecting his usual subtle character shading as a barfly.)
There's also a hint of Forbidden Planet, that old 1950s sci-fi (based on Shakespeare's The Tempest, oddly) about a man whose Id, while sleeping, unleashes a powerful destructive monster. And of course, we can't forget Goya's "Colossus," trampling Spanish villages in a somnambulist stride (from which the film no doubt gets its title).
All this makes Colossal a clever, interesting Charlie Kaufman-esque ride, even if the second half of the movie takes a turn away from the more serious issues it raises to descend into a score-settling brawl. That's just how those kaiju like to roll, I guess.
Colossal is distributed by Solar Films, rated R-13.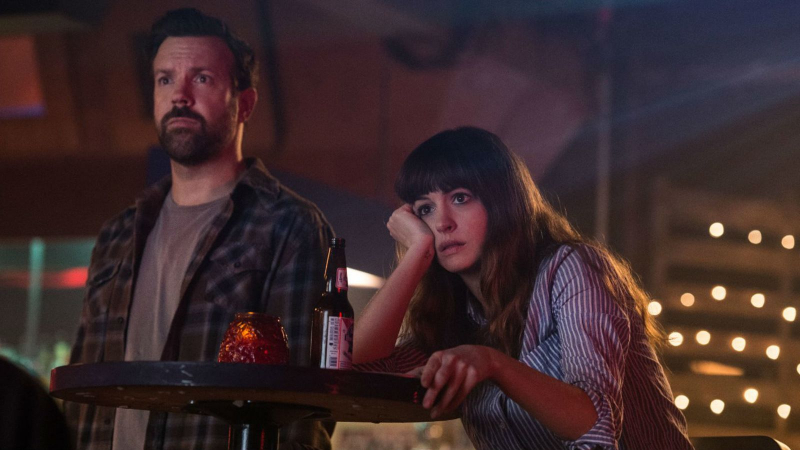 Jason Sudeikis and Anne Hathaway show what happens when you drink and mime in Colossal, distributed by Solar Films.