A walk on the Imelda side
MANILA, Philippines – An assortment of props litters the stage where Carlos Celdran is about to take us into Imelda Marcos's world: it's a one-man show (Livin' La Vida Imelda, running at Pineapple Lab, Makati, through February and March), a monologue about the country's most famous (and infamous) first lady that takes us through bowler hats, salakots, military fatigues, disco attire and even a tiara. Celdran loves his hats, of course, but his chief prop is a handkerchief, which he brandishes onstage to mimic Imelda's frequent perturbations.
Like when she doesn't get chosen as Miss Manila in 1953, and pouts to Mayor Arsenio Lacson that she deserves the crown.
Shades of Steve Harvey: the Mayor quickly caves, backpedals, snatches the crown away from winner Norma Jimenez and gives it to Imelda.
This is a well-known story, but Celdran weaves in even more layers of chismis (indeed, Livin' La Vida Imelda is like a 77-layer chismis cake): like the oft-told (never proved) tale that Imee Marcos was actually someone else's child; or that Ferdinand Marcos was apparently already married with kids at the time he took up with Imelda (a common-law arrangement, we are told).
Distilling the tour guide's three-hour parade through the CCP Complex into a 90-minute stage show works because the impresario has our undivided attention: instead of trailing along from kalesa to kalesa ride through the sprawling concrete pavilions of CCP, we are confronted with a groovy '70s Warholian-style visage of Imelda onstage, her towering hair made up to announce the show's title. The other props are equally Imeldific: bamboo fans, fake trees, a boombox (which never plays), a hat full of Choc-Nut to toss into the audience. Those who've already experienced Celdran's walking tours of Intramuros, etc., are with him from the get-go: we want to hear the juicy Imelda stories. We wish to be shocked, all over again.
Yet surprisingly, Celdran goes easy on the famous first lady. His thesis focuses more on the gifts she bestowed upon the country — however wrongheaded, however fixated on subjective notions of "beauty." The thesis revolves around construction of the Cultural Center, the Folk Arts Theater, the Coconut Palace and the infamous Manila Film Center.
There is a moment when Carlos reads from a 1969 Art In America article that notes the Philippines had just completed the most technologically advanced, architecturally stunning cultural center in all of Asia. The article snottily concludes: "What for?"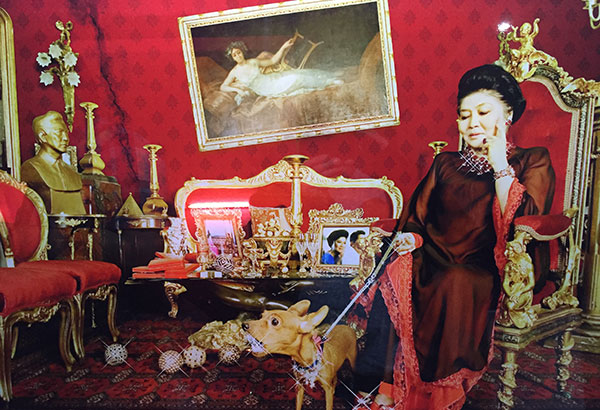 An Imeldific photo collage graces the lobby of the 120-seat Pineapple Lab.
Snooty art rags aside, much of Livin' La Vida Imelda dwells on this very question: What is the nature of Filipino culture? How should it best be presented to the world? And were such aspirations merely a continuation of Imelda and Ferdinand's attempts at global social climbing?
That Celdran can work such questions into a nonstop gossip stream of historical facts, jokes, double-takes and impersonations means that there's something to take away from the show beyond a souvenir poster. (The one-man show played off-Broadway in New York to positive reviews.)
We always knew Imelda had an "edifice complex," and that's why she fixated on those world-class structures. Celdran speculates it was a trip to New York's Lincoln Center for an art event in the early '70s that convinced her to build the CCP. ("We could do this.") And a trip to Cannes in the '80s convinced her to build an international film center in Manila to attract the likes of Brooke Shields and Peter O'Toole. ("We could do this.") The ill-fated Film Center was the result: a quickie construction effort that resulted in a collapse, and between seven and 70 worker deaths (depending on who you ask).
The performance also takes up martial law — it's the somber part of the show, akin to the "bombing of Manila" section of his Intramuros tour, where we're presented with a gray-scale roll call of human rights victims' names, and asked to consider whether it's better to gain peace, order and discipline by sacrificing a "few basic tenets of democracy" — like a popular mandate, free speech and human rights.
But mostly it's a fun ride, even if a lot of the Marcos chismis is available through other sources, like James Hamilton-Paterson's Marcos history, America's Boy.
In Celdran's carnivalesque atmosphere, truth and fantasy are allowed to freely commingle. He narrates from a pre-war Filipino grade school primer about blonde-haired "Dick and Jane," and notes this was scrapped in Marcos times, replaced by a book on Filipino creation myths, chiefly the local "Adam and Eve," Malakas and Maganda — two entities that bore a strong resemblance to the First Couple in state-commissioned portrait paintings.
Imelda is given credit for a "Tripoli Agreement" with Colonel Muammar Gaddafi in 1977 to stop arms shipments to southern Muslims, a bit of homegrown diplomacy hammered out through a meeting in the future dictator's Bedouin tent — but the account comes straight from Imelda, acted out with typical comic aplomb by Celdran. True or false?
It's also suggested that the First Lady might have had an "affair" with New York billionaire heiress Doris Duke. True or false?
In Celdran's world of funhouse mirrors, it hardly matters. This, indeed, seems to be the tour guide's point: that while Imelda's accounts of history are tinted by fantastical rose-colored glasses, so, also, is much of Philippine history. He warns the crowd at the end of the show that the powers that be — political oligarchies and the Church — are still behind most "mass movements," but can only offer us a resigned shrug if people insist on voting for famous names and would-be Strongmen (like Duterte). In the end, it's between y'all and the voting booth.
* * *
Shows have been added in February and March for Livin' La Vida Imelda at Pineapple Lab, 6071 R. Palma St., Makati. Visit www.facebook.com/pineapplelabph/ for details.