Bohemian rhapsody
October 21, 2021 | 12:00am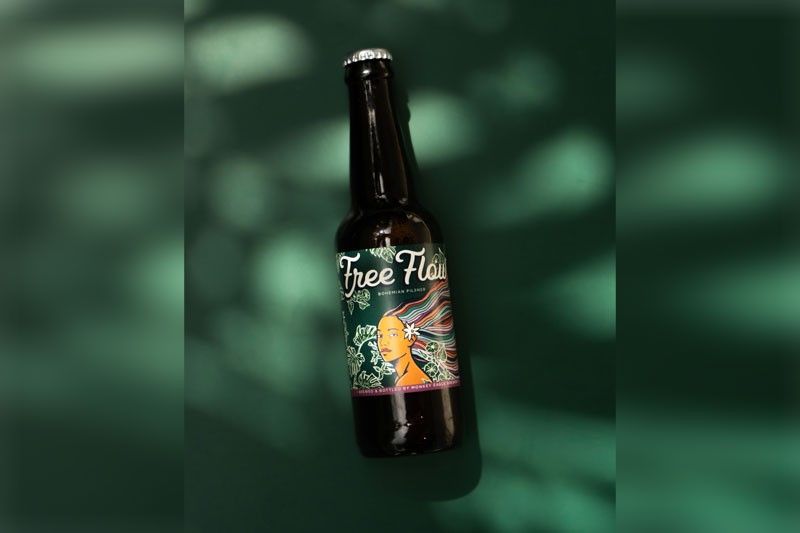 Unlike many people during the longest lockdown on earth, I wasn't interested in baking bread or making sushi bake; I was curious about brewing my own beer. (Frequent liquor bans probably had something to do with that.) Online research was easy; the hard part was getting ahold of the essentials needed to homebrew any kind of remotely quaffable beer — stuff like hops, yeast, a fermenting bucket, airlock, tap and siphon.
It made me wonder: how did Monkey Eagle Brewery, the microbrewery founded in Tagaytay in 2014, manage to survive the supply chain disruptions and keep the ale flowing?
I don't know the answer to that, but they've definitely kept up the brewing. Their latest offering is Free Flow, their version of a Bohemian Pilsner made with a recipe originating from the Czech Republic (home of Bohemia). This is new turf for Monkey Eagle, which tends to lean towards more baroque-named (and tasting) concoctions — things like Psychedelic Blonde, Saison Farmhouse, Daydream, Summer Slice Watermelon Kölsch, and General Luna Ale.
Free Flow was their first attempt at a beer more familiar to Filipino tastes: a Pilsner lager.
As I learned in a beer appreciation event with Monkey Eagle about three years back, there are basically two types of beers: lagers and ales. Previously, Monkey Eagle only made ales, which are fermented for a shorter time at higher temperatures for a more bitter, in-your-face taste profile.
Lager (besides being a shout-out refrain in Underworld's Born Slippy) is fermented longer at cooler temperatures, so it's crisper and lighter. Add Saaz hops to that, and you get a Pilsner. Says Monkey Eagle founder Noreen Lao: "Versatile, crisp and refreshing, with an ABV 5% and an IBU 25, Free Flow is a Bohemian Pilsner which is our ode to one of the oldest styles of beer." Dating back to King Wenceslas II in 1295, Bohemian Pilsners offer a traditional taste that's already relatable to Filipinos. "We developed a lager that would introduce commercial beer drinkers, beer enthusiasts and anyone passionate about libations to try and experience a historic beer style that originated in 1842 in Czech Republic."
The Free Flow came in a handsome four-pack box. (Probably available for delivery soon. Check Lazada and Shopee.) The label is aligned with their beach-friendly marketing materials, featuring a Filipina with free-flowing psychedelic hair.
So what makes a good Bohemian Pilsner? Look for a clear pale gold to orange gold color, a complex and rich sense of malt on the palate, and hints of spice. Their IBU (International Bitterness Units) range from 35-45. Free Flow, in contrast, is a more moderate 25 IBU.
So how does Free Flow stack up? Instantly crisp, bold and hearty. The top notes on the palate are even, balanced. The makers describe its "biscuit-like notes with a crisp and slightly sweet finish." There is a sweet finish — but nothing too distracting from the taste. Unlike other Monkey Eagle varieties that conjure up fruits, berries, caramel tones on the palate (things I also love), this one cuts to the chase. It's perfect for any time of day. As Lao notes, "You can easily pair it with almost any food." It's true: this one practically cries out for food, salty crisps, pulutan.
Brewers Lao and Ricardo C. Lopa Jr. founded Monkey Eagle Brewery in Tagaytay in 2016. From the initial 50-liter vat, they now handle 1,500 liters, each year adding more varieties.
The Monkey Eagle owners are nerds about beer history, I discovered. Beer lore flows from them like, well, free-flowing lager. While they went back into the time machine to find a classic Bohemian Pilsner recipe, Monkey Eagle Brewery has also added their own style to the process, using German-made equipment and secret brewing tricks they've picked up studying abroad. Starting with a keen interest in Australian craft beers, their research took Lao and Lopa to the US, Germany, Austria, Czech Republic and Belgium to learn different practices from the world's brewers.
It's paid off with a wide line of interesting beers, some more taste-expansive than others (all of the brews I've sampled go well with a variety of foods). It's a dream some people still nurture, after all — whether it's the beer enthusiasts over at Monkey Eagle, or the homebound among us just wishing to brew some lockdown lager to pass the time.
For now, Free Flow passes the time nicely, thank you very much.
* * *
For more information, e-mail info@monkeyeagle.com. Like the Monkey Eagle Brewery Official Facebook Page, www.facebook.com/monkeyeagle and follow @monkeyeagleph on Instagram, www.instagram.com/monkeyeagleph.