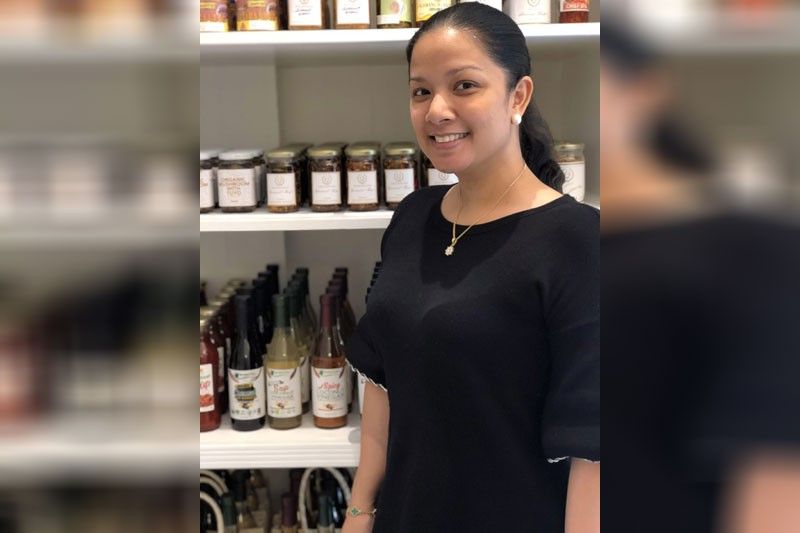 How Anna Suarez found her Q
was on one of her usual visits around Quezon as then-First Lady of the province when the wives at one of the province's many Rural Improvement Clubs (RIC) served her a humble dish of bangus in corn oil and spices laden over steaming white rice.
"It was the succulent taste of the milkfish infused with some spices and vegetables that made me realize this could be the start of something amazing," she said.
When her husband Jayjay was governor, Anna had the opportunity to visit all 39 municipalities and two cities of Quezon Province, where she was exposed to the different dishes and food products made by the locals of each town. She got to discover a variety of delicious Quezonian food, such as sinantolan, suman, seaweed achara, as well as beverages the locals used to enjoy but have since forgotten, such as rice coffee.
"The hot beverage was typically drunk by those in far-flung barangays who either did not have access to sari-sari stores or couldn't afford three-in-one coffee."
Rice coffee is made by roasting rice grains until they turn dark brown, which are then ground using a mortar and pestle. "It's actually a healthy substitute for regular coffee because it has no caffeine."
To make people in Manila more aware about the products of the locals, Anna sourced all her family's personal gifts and giveaways from Quezon. The plan worked and soon, through word of mouth, people started asking about them.
Q is for Quezon
In 2012, Anna was inspired to put up Q — a brand that sells products exclusively from and made by Quezonians. She started by participating in bazaars and then quickly set up an online store to reach a wider market.
Since most of the products come from very far towns — some would even require a seven-hour boat ride on the open sea — the locals clearly could not afford to transport their goods even to the mainland, thus leaving them to sell within their own locale and produce only on a per order basis.
"Getting their products to Manila was my way of helping them; at the same time promoting the best of what Quezon has to offer."
Anna purchases choice products, some based on heirloom recipes. For example, one of her suppliers for pancit habhab learned to make this Quezon province staple from his grandfather, who was taught as a young boy by a Chinese mainlander who moved to Lucban decades ago.
Q's bestsellers include Lucban longganisa, both hubad and in its casing, crispy dried beef tapa, ubod atchara and crispy pata. "We also have hardinera, which is a famous meatloaf dish cooked in a llanera considered a special dish often served during special occasions such as town fiestas and other important gatherings," Anna says. "Our customers also enjoy the apas and uraro cookies."
Q also carries a wide selection of coconut-based products like amino sap, which is a healthier alternative to soy sauce, lambanog (flavored and original), and a variety of vinegar.
"Quezon is not all about coconuts. We have mangoes, cacao, and perhaps some of the best Arabica beans harvested from Mt. Banahaw."
Aside from food, Quezon province also boasts crafts like woodwork, weaving and pottery, which are all also available at Q. Each town has its own way of weaving buri and uses techniques also passed down for generations. Ugu Bigyan, Quezon's famous pottery artist, also has celadon pieces at the store, as well as crocheted placemats and coasters made by various women and PWD groups, and wooden serving bowls and platters perfect for the home and entertaining.
Customers can place their order through Q's Instagram account and the products are delivered to them via courier. "A lot have bought and told us they bring it overseas. We've even fulfilled several local orders as far as Davao!"
With online demand steadily growing, she recently put up a physical store in Las Piñas so customers can visit and directly purchase the products themselves.
Proudly Quezon Made
Even though her husband's term as governor has ended, Anna still works with the local government and small businesses and cooperatives by creating processing and tolling centers in Quezon, which they use to make their products. Each has in-house food scientists who test shelf life and manage quality control. Some of them have done so well they already put up their own processing centers.
"The measure of Q's success is if they can stand on their own after we've helped them," she says. "It's nice to show that people outside Quezon love their products. It encourages them to continue making them on a more regular basis and empowers them to be more confident in themselves."
* * *
To know more about Q's products, follow them on Instagram @qproudlyquezonmade or visit the store at Unit 101 and 102 Mardex Building, Sampaguita corner Gladiola Sts. TS Cruz Subdivision, Las Piñas City. For inquiries, you may contact them at 0998-484-2628 or email proudlyquezonmade@gmail.com.