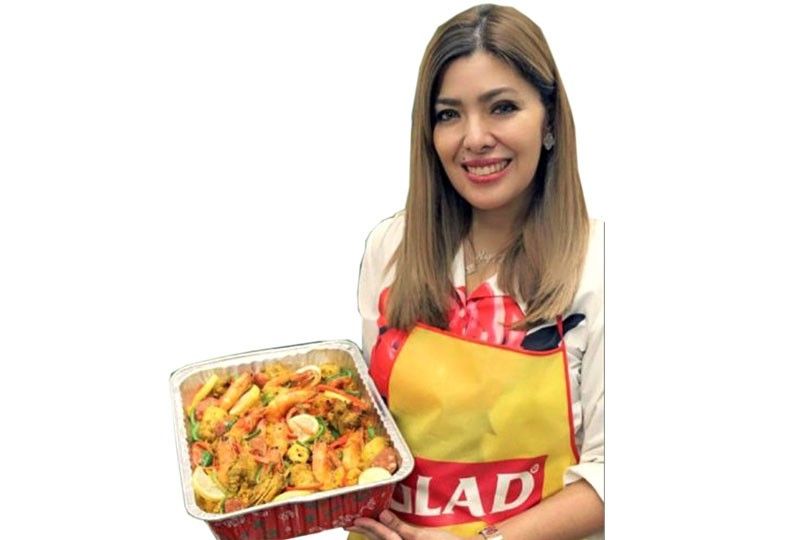 Wife, mom and entrepreneur Happy Ongpauco-Tiu launches her Happy Platters, including Pinoy Paella prepared using a rice cooker at the "Feast with Glad" event held recently at Pottery Barn in BGC.
Jun Mendoza
Pinoy paella: A happy Dish for celebrating
Lai S. Reyes
(The Philippine Star) - November 21, 2019 - 12:00am
If there's an ultimate one-dish main course for entertaining, it's got to be paella. While the saffron-scented rice in a huge pan topped with mussels, clams, shrimps, sausage, peas and peppers for 50 guests is not uncommon in Spain, we Filipinos think of it as restaurant fare too daunting to make from scratch.
Or so we thought. Until culinary entrepreneur and celebrity chef Happy Ongpauco-Tiu shared how easy it is to prepare the Spanish dish using move over, paellera the lowly rice cooker at the "Feast with Glad" event held recently at Pottery Barn in Central Square BGC.
"Who doesn't get intimidated cooking paella?" Tiu asked. "I got scared, too, when I tried it for the first time. And I used a paellera so the rice would cook evenly. But cooking paella in a rice cooker is possible and the end product is as delicious."
It's much easier, too. For her Pinoy Paella, Happy used the bomba (Spanish) rice variety. And basically just sautéed the rest of the key ingredients: Spanish onions, garlic, bell peppers and rice.
When asked what makes her paella so Pinoy, the amiable chef replied: "Aligue (crab fat). That's the base of the dish. After sautéing, just add the seafood broth and transfer the mixture to the rice cooker."
As soon as the paella is cooked, Happy transferred the dish to a Glad OvenWare container and covered it with Glad Aluminum Foil.
"This is how you store the dish for potluck, which is popular during the holidays. You have to cover it right away with Glad Aluminum Foil to seal in the moisture. Once the moisture leaks out, the aroma dissipates. It could ruin the flavor and texture of the dish. I only use Glad Aluminum Foil because it's thicker compared to the cheap ones available in the market today," shared Happy.
As a wife, mom and entrepreneur, Happy relies on her favorite brand, Glad.
"I don't consider myself an influencer," she said. "I'm still a businesswoman so I only endorse the products that I believe in, not just to get 'likes.'"
And before she got an offer to endorse Glad, Happy had been using it at home and in her restaurant and catering business.
"It's my first choice when it comes to food containers, zipper bags, aluminum foils and baking paper," she added.
And, in Happy's line of business, food safety and handling are very important. And she relies on Glad for this. From storage and preparation, to cooking, baking, serving (Ovenware, holiday trays) and even take-home food, Happy trusts only Glad to keep food safe.
"Food is love and is all about sharing," she shared. "A cook or chef is in the kitchen for hours to make people happy."
Have you ever wondered why most homemakers cook more than they should during the holidays? Well, that's because asking family members and friends if they'd like to bring home anything from the holiday spread Christmas ham, bibingka, puto bumbong, leche flan, fruit salad and lechon is a Pinoy thing.
And that explains why you're sure to find Glad food containers in the cupboards of most Pinoys' homes.
"We are happy to be teaming up with Happy once again to make the holidays extra-special and more festive for everyone," said Glad brand manager for Southeast Asia, Daye Delos Reyes. "Glad foils, cling wraps, zipper bags and ovenware are the best complements to any gathering from storage, preparation and to our favorite pabaon or take-home food, letting the love of any celebration live on."
Celebrate with happy platters
And with Christmas just around the corner, Happy also launched the Happy Platters, delicious yet affordable "every day Happy feasts."
"Happy Platters is my new business," shared Happy. "You all know that I do catering. But there are times when my clients just need delicious food — no waiters and setups for intimate gatherings. And that's really how it is now."
Happy Platters offers sumptuous fare from her all restaurants and Private Dining. There are about 30 dishes to choose from. Each dish has Happy's unique culinary stamp, so expect classic dishes that have been perfected to delight families yes, including the pickiest kids, a reality not lost on Happy herself.
Happy Platters comes in Glad Ovenware containers so it's ready to be popped into the oven before service starts.
Tiu also talked about how to enjoy one's own party despite the hassle of preparations, including food prep and cooking.
With its beautiful furniture and home accessories, Pottery Barn was the perfect setting for Tiu and Glad.
After the cooking demo, I realized that Happy was right. Paella is particularly accommodating for the home cook because it's so flexible. No single list of ingredients defines it. And, I guess, most of us in the audience are now more confident to cook Happy's Pinoy Paella for noche buena.
* * *
For inquiries on Happy Platters, call or SMS 0917/899 0536, 0917-899 0374 or check out @happyplatters on IG.