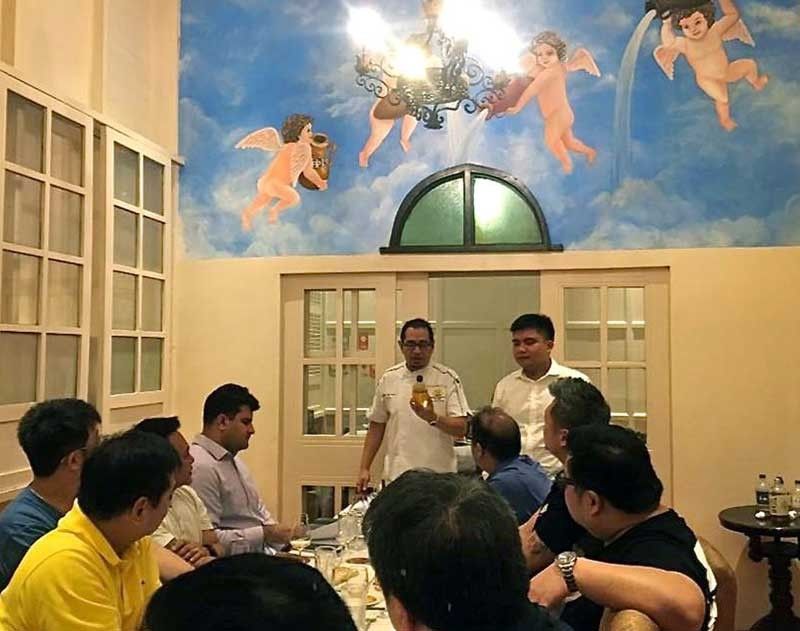 Gene Gonzalez and Taggart Siao introduce each pairing of a dish and a drink.
Dinner pairings with single malt
The state of single malt whisky is on a current boom cycle, propelled by a proliferation of exciting new editions from major labels, and the continuing success of Japanese and other country variants.
For tipplers who may be concerned over troublesome pricing prospects for Scotland's traditional produce owing to the Brexit mess, the upside is that Japan has been joined by Taiwan, India, Australia and New Zealand in feeding the single malt market.
It's said that Japanese and Chinese mainland drinkers have been steadily migrating from their earlier passion for cognac, in favor of both Scotch and Japanese whiskies, single malts in particular.
India's Amrut won a Best Whisky award several years ago, but it hasn't really captured much of the market, unlike Taiwan, whose homegrown Kavalan expressions have proven popular. The Aussie and Kiwi single malts I've tasted have still been on the rough side, albeit I wouldn't pass them up.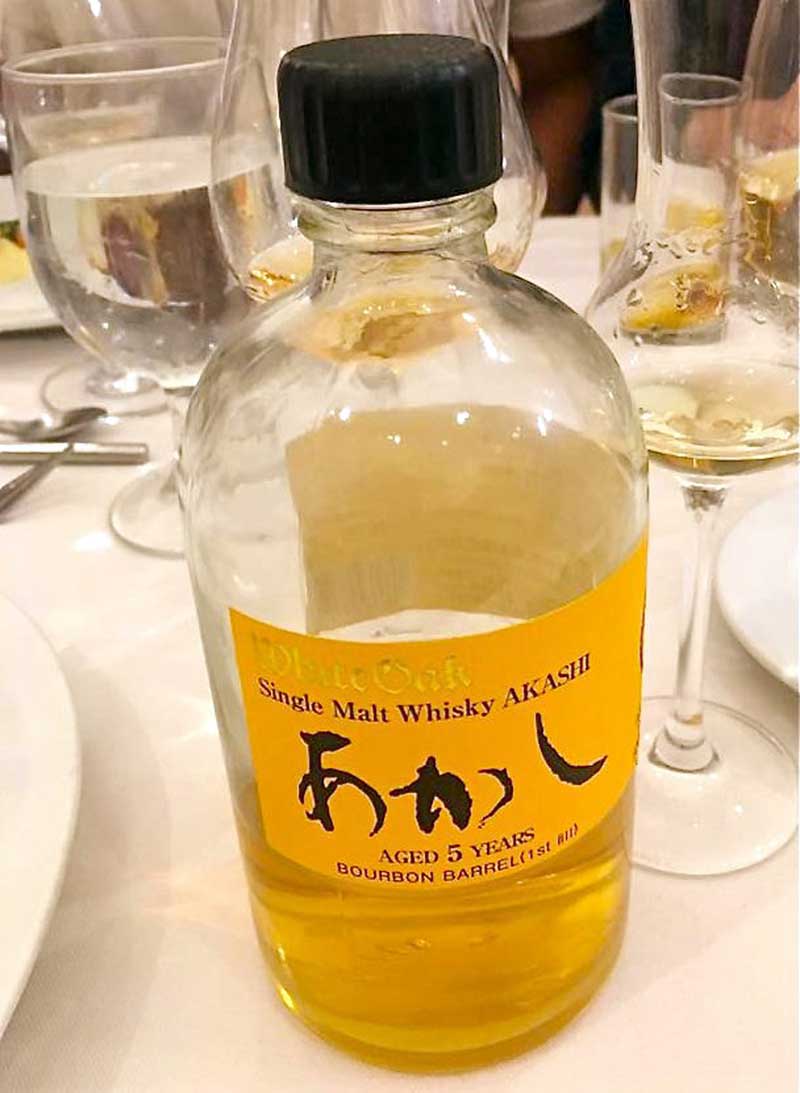 Akashi single malt whisky
When Yamazaki won a similar prize several years earlier, the result wasn't as welcome. Its price zoomed up, especially the 18 Years, bringing with it those of other editions of Yamazaki and other Japanese labels. Thankfully, this last has stabilized, such as those for the various expressions of Hakushu, Yoichi, Akashi, etc. (The popular no-age Hibiki Harmony is actually a Suntory blend of Yamazaki and Hakushu.)
The past few years have seen the annual conduct of the Manila Whisky Fair, with the Japanese brands continuing to gain recognition. These days, too, it's common to be barraged by online offers for single malts, both Scotch and Japanese.
But one only has to visit the liquor shop at Pioneer Supermarket on Pioneer St. off Shaw Blvd., and to a lesser extent any S&R branch, to be regaled by shelves of single malts both popular and esoteric, at modest prices.
I'm happy to note the revived availability of Dalmore, an old favorite, with the opening of The Dalmore Flagship Store at BGC — an offshoot of Andrew Tan's Emperador Inc.'s purchase of the Whyte & Mackay distillery in Scotland.
Also of note is the expanded variety and availability of Glenfiddich expressions. Over the holiday season, I got to taste the Glenfiddich Cask Collection Solera Vat No. 1 — in an attractive canister in light blue, a departure from Glenfiddich's customary dark green. But this elegant and smooth Glenfiddich Select Cask that is said to "marry three complex flavours together" was purchased from a Duty Free shop, likely abroad.
I was also fortunate to have been gifted with Auchentoshan Three Wood and the new edition that is Macallan Quest, and at a pamanhikan dinner with prospective in-laws, a bonding experience with the novel Glenfiddich Project XX, handcarried from Tokyo.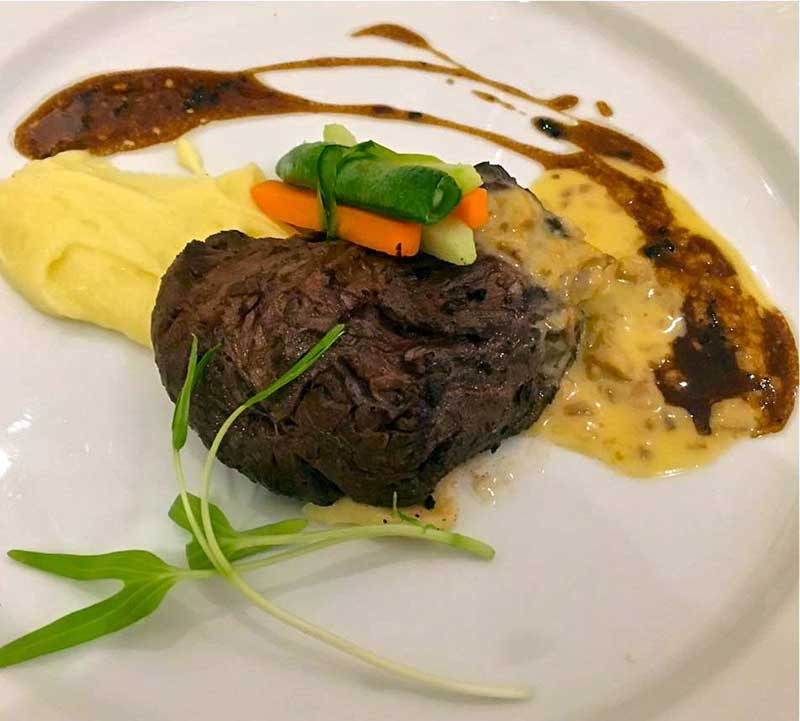 Cafe Ysabel's Argentine entrana steak with brown butter, wild mushroom cream and peppercorn demiglace
Pre-holiday benefits, however, must include a couple of invites to dinner pairings with single malt whisky. On Nov. 22 at the relocated Café Ysabel, iconic chef Gene Gonzalez came up with a selection of dishes to pair with Akashi whisky editions provided by Taggart Siao.
Each dish was prefaced by remarks from both Gene and Taggart on their respective offerings, including tasting notes for the liquid bounty.
After Sopa Ysabel En Croute, Akashi White Oak Blended Whisky complemented tuna & salmon tatakis with grape's olive compote. Akashi Blue, another blend, attended grilled quail marinated in sweet wood spices and roasted onion soubise sauteed spinach with squash seeds.
The Akashi Toji Single Malt Bourbon Cask then preceded the Argentine entrana steak/brown butter wild mushroom cream peppercorn demiglace. And if I recall correctly, the Akashi Umeshu, a whisky-based plum wine, heralded the Café Ysabel strawberry shortcake and peach ice cream.
After the outstanding meal, the merry company of over a dozen tippling diners was further blessed with additional shots from the Akashi bottles each of us favored. I settled for more wee drams of the Toji single malt, a unique product crafted by a "toji" or grandmaster in the art of sake-making.
On Dec. 19, another whisky-pairing dinner proved just as rewarding. The invite to The Gold Room of Delgado 112 at 112 Scout Delgado St., Quezon City proclaimed: "The Filipinos' Best Festive Dish gets even better with the Most Awarded Single Malt Whisky. Join us for a delightful evening of Glenfiddich and Lechon."
Glenfiddich representative Royce Pua conducted an informative mini-lecture to introduce the liquid offerings: Glenfiddich 12, 15 and 18 Years. Before his talk, I recalled in a chat with him how Glenfiddich had been the first Scottish distillery that decided to market its cask cache as pure malt, departing from the practice of simply offering its produce to companies that popularly distributed their respective blendmasters' choice blends.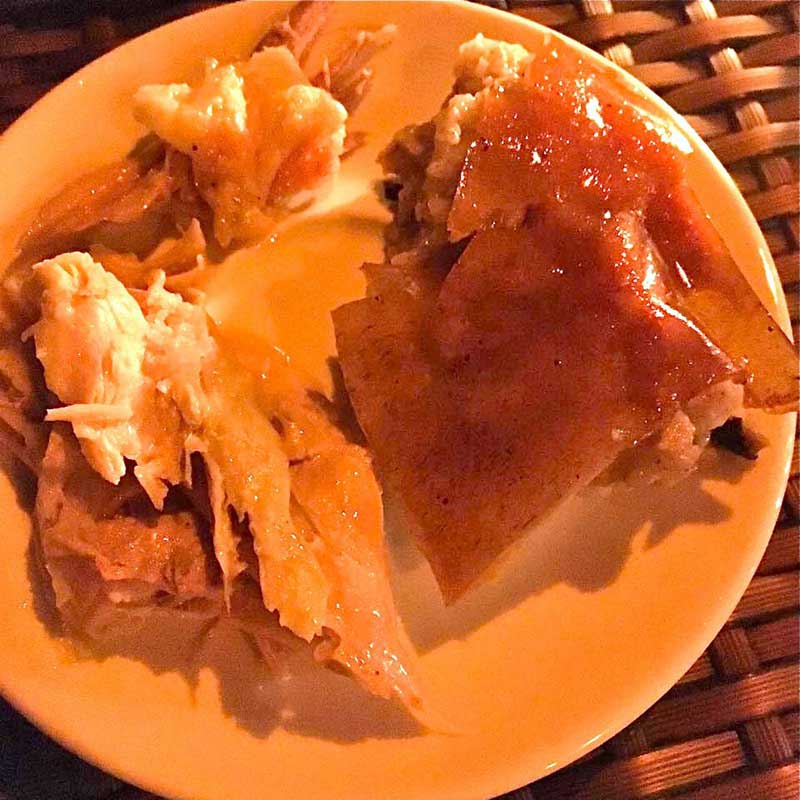 A plate of specific lechon part, served with truffle rice
This was decades ago, with the pioneering effort leading to other distilleries marketing their single malts. Glenfiddich eventually dropped its pure malt offering in favor of single malt — a distinction that still escapes my understanding, despite having listened to several experts in the past, and now the young Royce Pua's own explication.
While the guests started to feast on Delgado 112's delectable appetizers, including refreshingly innovative quesadillas and salpicao, and a tapas sampler that included salmon ceviche, Spanish chorizos, gambas and roast beef, we were instructed to welcome their first shot of Glenfiddich 12 with a special nosing ritual — by reversing the tulip glass onto our palms, then rubbing that palm against the other before sniffing at the cologne-like daub.
The lechon was then chopped up and served in small plates, complemented with to-die-for truffle rice. Specific parts of the lechon were suggested for tasting as the stakes were raised to the Glenfiddich 15 and 18 Years.
A wooden tray accommodated the slots for the individual tulip glasses, as elegant a manner as dinner-and-drink service that married uisge beatha (the water of life) with perfectly roasted lechon (the very suckling of gustatory experience).
Oh, both The Gold Room, a special venue with its well-equipped bar, and the second-floor dining hall of Delgado 112 are exceedingly well-served by young chefs whose talents are skipping to the brim, if our further tasting of a couple of their regular offerings is any indication.
I recommend their baked half-chicken with olives, capers and prunes in white wine plus mashed potato, as well as the braised beef, marmalade glazed, with rice or bread. An additional blessing is the backyard garden that serves as an al fresco smoking area, where one can also repair to with drinks, the better to appreciate being sated with the remarkable fusion of excellent food and whisky spirits.