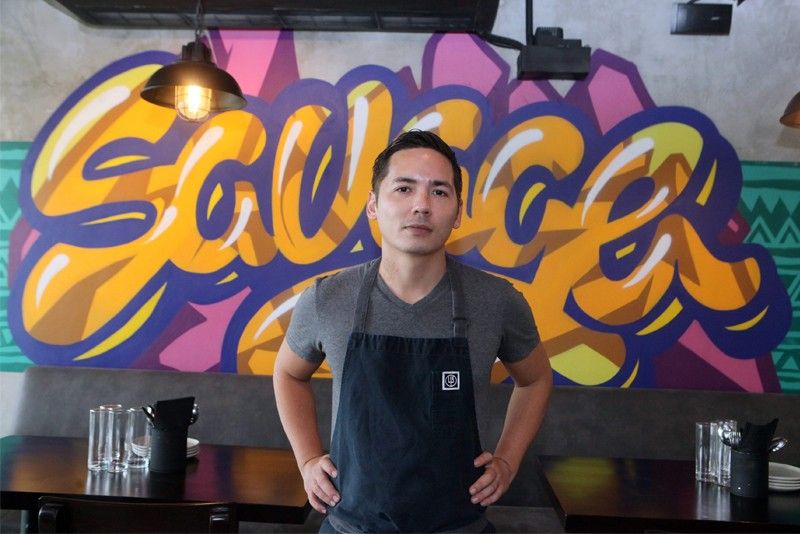 Chef Josh Boutwood at his new restaurant Savage: "Deep inside me there is a savage for sure."
Photos by Jesse Bustos
Chef Josh Boutwood's baptism by fire
Savage specializes in comfort food cooked the most basic, primitive way: over open flames.
With his posh British accent and refined food, chef Josh Boutwood is the antithesis of savage.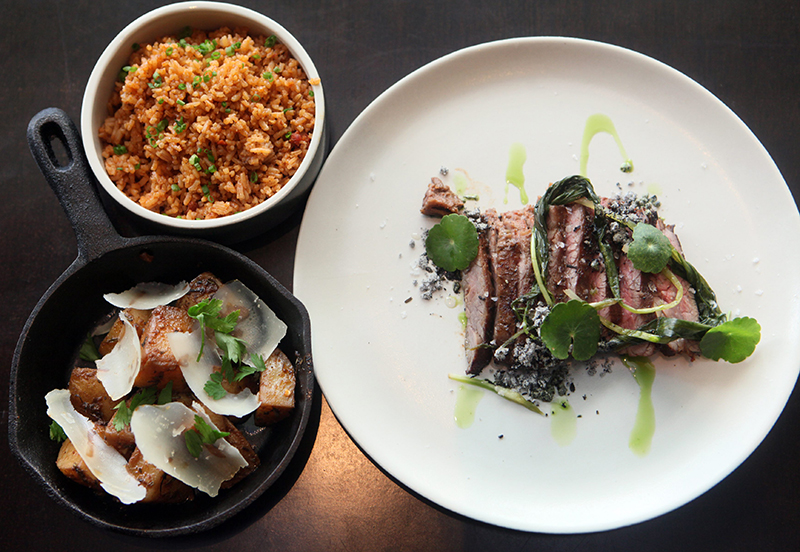 Starches and steak: (clockwise from top left) Savage rice (P95); the bestselling Flank, Ash, Pickled Ramp (P1,200); and Roasted Potatoes, Fresh Cheese, Parsley (P110)
Famed for being the corporate chef of The Bistro Group helming their 17 restaurants, Boutwood gained even more respect as the creative force behind The Test Kitchen, where he played with modern cooking techniques and came up with surprising, often delightful food.
I first met him over a year ago when we were both judges at a culinary competition. He talked about opening a new restaurant that sounded intriguing: called Savage, it would specialize in meats cooked the most basic, primitive way — over open flames.
While that evoked a Stone Age vision in my head of Neanderthals hunched over a fire, roasting hunks of meat on spits, in reality, Boutwood's newly opened Savage is a very civilized place. There are no cavemen (well, maybe a few painted on the walls), just apron-clad chefs and servers, and the open fire has been caged into a central grill, where glowing coals emit constant heat and can be stoked to extremely high temperatures.
"When we close down at night the firebreaks are so hot you can actually boil eggs in the center of the hearth," Boutwood says. "It took a whole year to build the restaurant because we didn't have the grill. We could've tried it on a yakitori grill, but it wouldn't be the same. We customized that grill specifically for the purpose of Savage so each layer can raise and lower and then we have a bonfire in the center."
Over the past few years, cooking over an open fire has become a hot trend adopted by chefs across the globe. Boutwood, who spent some time in Sweden when he was training to be a chef, says Savage was inspired by a restaurant in Stockholm called Ekstedt, named after its chef-founder Niklas Extedt, who took Scandinavian dining in a new direction when he decided to go back to this ancestral method of cooking.
"He's the one who really threw in my face this pre-industrial dining, you know, not using any gas or electric," Boutwood says. "Immediately a seed was put in my head. I needed to challenge myself, so (I said) 'let's go ahead and do something that nobody else does,' and that's what we did."
To fuel his fire Boutwood uses oak from the Ukraine for flavor and smokeless coconut charcoal for heat: "In certain quantities those create a whole cooking process," he notes.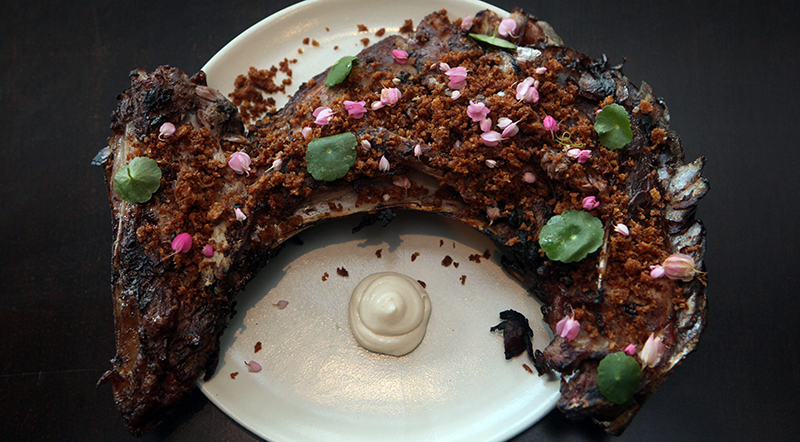 Treasure from the sea: Tuna Jaw, Yeast, Miso with pink cadena de amor flowers
By this time I am well and truly primed to taste Savage's take on "pre-industrial dining." Boutwood repairs to the kitchen and out comes a procession of snacks. We start with pork rinds similar to chicharon skin but giant size, puffed sans the layer of fat to a light and bubbly crispness. In place of the usual vinegar for dipping is curry ketchup. Vinegar is present, however, in the form of a powder sprinkled over the rinds — a very Test Kitchen touch.
While most restaurants don't put much of a premium on appetizers, Savage's snacks are a great way to taste most of the menu without spending too much, because the portions are large enough to be shared by groups of two to four.
My inner peasant (or was it primal self?) thrilled to all the cheese, butter and bread on the menu. Melted in a small skillet placed directly in the fire, the fresh carabao cheese with chive oil and confit heirloom tomatoes becomes stretchy, salty, and perfect for spreading on the accompanying thick slices of grilled bread.
The house butters are another must-try: one incorporates kale while the other is a golden-brown burnt butter.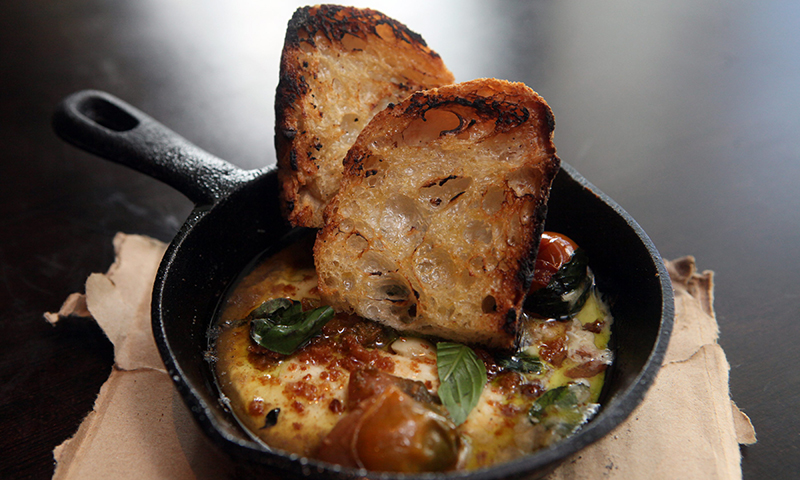 My primal self begged for more Fresh Carabao Cheese, Chive Oil & Confit Heirloom Tomatoes.
Savage's Instagram account features #foodporn pictures of the devilled eggs, so I was eager to try it. According to the menu one of the main ingredients is "ash," so I had to ask Boutwood about that. He doesn't use real ash, does he?
"It's real ash," he affirms. "We burn the tops of leeks and chives until burnt. We collect and mix with an inverted sugar to create the ash. It also contains a bit of oil, our smoked oil and salt."
The headcheese terrine is another standout. Served with cornichons, house pickles, mustard and more of that burnt-around-the-edges toast, the mélange of strong flavors would go quite well with Savage's signature amber ale.
"We've designed our own beer," Boutwood informs us. "It's an IPA but it's got this beautiful citrus. It's very aromatic on the nose and you've got this lovely hint of hops going on in the back of the palate."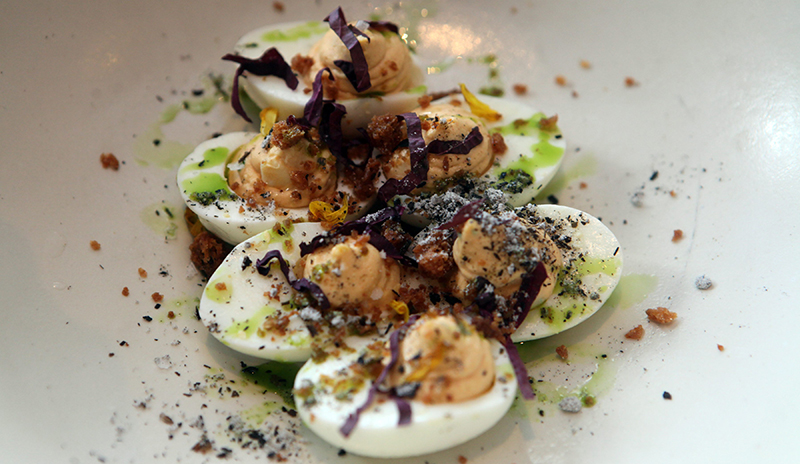 Eggs-citing: Devilled Eggs, Smoked Oil & Ash
The brew is also an ideal match for the other house proteins like the flank steak with ash and pickled ramps. While Boutwood imports all his grain-fed USDA beef, the plan is that by Savage's first birthday they'll be using 90-percent-local ingredients.
The main dish I really fell for, however, was the tuna jaw. Fresh from the fire it looks like a piece of blackened driftwood sprouting pink flowers and green leaves, but dig deeper — literally ("We want people to eat with their hands," Boutwood says) — and it's a gem of a dish.
Like a cocoon housing something beautiful inside, the charred outer casing yields juicy, tender, incredibly flavorful flesh, and crystallized for me what Savage is all about: taking a potentially great ingredient, putting your own spin on it (in the tuna's case, marinade No. 4 and various herbs and aromatics, according to Josh), then subjecting it to a baptism by fire and waiting for a revelation to emerge.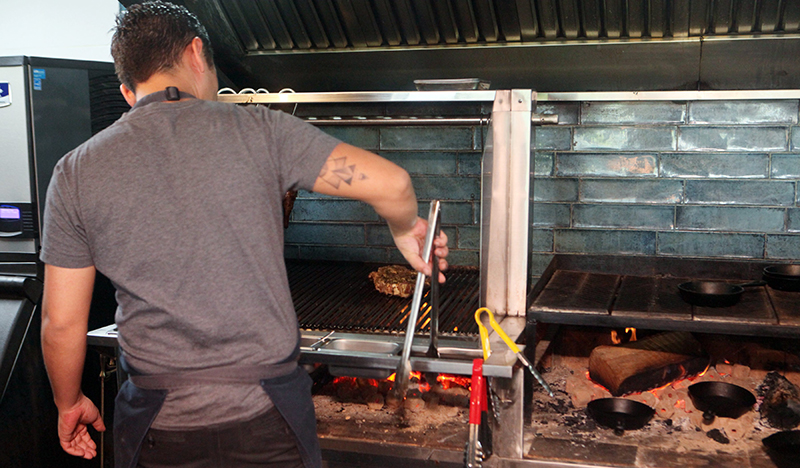 Savage magic: Boutwood cooks with fire, smoke and ash.
"There's no timings, no thermometers: it's pure primal instinct," Boutwood says. "We're not working fast, we're working to create food that tastes great, and guests are here for two hours. Don't come for a quick lunch," he laughs.
There are only three desserts on the menu: a sticky toffee pudding; Meringue, Strawberries & Vanilla — a Pavlova that's a light and refreshing counterpoint to all the dense proteins; but the dessert that immediately piques interest is the Kladdkaka, thanks to its name.
"It's my favorite dessert when in Sweden," Boutwood explains. "In Sweden they have this thing called 'fika time,' a ritual of having coffee with a friend, and that is always the number-one cake during that time of the day. It's always my go-to cake." Note to self: Order it next time with coffee.
Sustainable Philosophies
Along with back-to-basics cooking and attitude of "the ingredient is king," another important philosophy underpinning Savage is the concept of zero waste. Local farmers collect Savage's organic waste once a week and use it as compost, and the chef likes the way this completes the farm-to-table loop. "In the Philippines it's going to be very challenging to become 100-percent zero-waste, but if we can achieve an 80-percent rating then I feel that agenda is completed," he says.
As it stands, the restaurant is barely two weeks old and Boutwood is already planning to open not just one, but two more restaurants!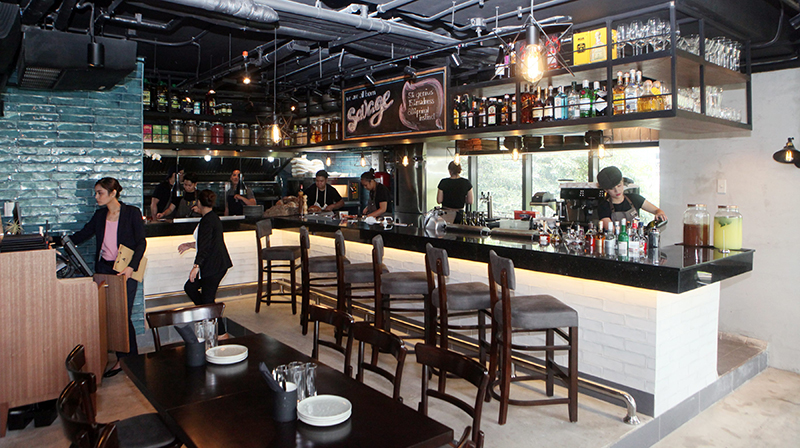 Pre-industrial dining in an industrial setting: Savage is located on the ground floor of Arya Residences in BGC, Taguig City.
"One downstairs (which already has a sign outside that says "Helm"), but I'm not quite ready to say anything on the record yet," he says. "It's more rooted in my Test Kitchen downstairs, but it's not a copy paste. We're challenging ourselves again. Test Kitchen was our first stop, we learned a lot, played around a lot. Savage created that challenge I needed, an alter ego to Test Kitchen, and then downstairs is going to be the alter ego again to Savage. So it's like flipping the coin every time we move."
I've heard of people who like a constant challenge, but opening three restaurants one after the other sounds pretty savage.
"Deep inside me there is a savage for sure," Boutwood says.
* * *
Open daily for lunch from 11 a.m. to 3 p.m. and dinner from 6 p.m. to 10 p.m., Savage is located at G/F The Plaza, Arya Residences, McKinley Parkway, Bonifacio Global City, Taguig, tel. 0915-333-9456. Email savage@bistro.com.ph. Like them on Facebook: SavageMNL, follow them on Instagram @savageMNL or visit www.savage.ph.
* * *
Follow me on Instagram @theresejamoragarceau, Facebook (Therese Jamora-Garceau), and Twitter @tjgarceau.