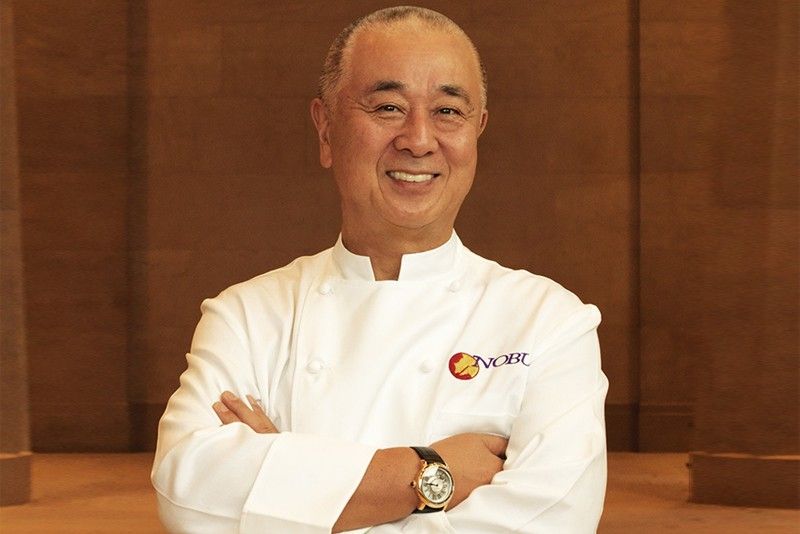 Chef Nobu's life and business philosophy? 'Put your heart into your work and cook with passion.'
I'm one of those people who like staying in Manila for Holy Week. I love the uncharacteristic dead-town feel of the metro and the near-empty streets that help you remember how it was once possible to travel miles in minutes instead of hours. This year, though, I had an even better reason to stay in the city when I was invited to attend The Nobu Experience, a one-night event hosted by none other than chef Nobu Matsuhisa himself.
I tried Nobu for the first time in the mid-'90s when I lived in New York. His dishes were modern, innovative and as fresh as the sushi itself, incorporating Peruvian and other influences, yet still managing to feel and taste distinctively Japanese. It was difficult to get a table at the time and took quite the hefty bite out of my paycheck, but it was always worth both the wait and living on deli bagels for a week afterwards.
Since then, Nobu has since morphed into a complete spectrum of hotels and restaurants all over the world. Their restaurant and hotel here, located at the integrated casino resort City of Dreams Manila, was the last leg of Chef Nobu's promotional tour that also spanned London, Milan, Munich, Paris, New York , Melbourne, Perth and Kuala Lumpur.
I don't know what I was more excited for, the food or meeting Nobu himself, but neither experience disappointed. Upon entry, I was greeted with a choice of signature cocktails (I had a calamansi martini), and tray after tray of handcrafted finger foods. I mean, seriously, those suckers just kept on coming. So much so that I feared not only would I not make it to dessert, but that they would have to roll me back to my car. Thank God for valet parking.

Fin de Claire Oysters(left), Salmon Toro with
Karishi

and Miso(center), Manila Prawn Cocktail(right)
Standouts included the octopus tiradito, Nobu tacos (King crab, tuna, wagyu, salmon-avocado and pork), Chilean sea bass with jalapeño miso, Fin de Claire oysters with assorted sauces, seared salmon with karashi mustard and miso, Manila prawn cocktail, Nobu-Style Halo-Halo and so many more.
In between those trays of goodies, I managed to walk (okay, waddle) to several different food stations, including a sushi bar, a robatayaki station for assorted charcoal-grilled meats and seafood, a teppan table for meat carving items and another for salmon and shrimp, and a dessert corner for Nobu's signature pastries, sorbets and specialty desserts.
Finally, it was time to meet the man himself. Resembling a jovial Japanese Santa Claus, Nobu's playful demeanor and easy charm belie the steely resolve, determination and passion for his craft that got him where he is today.
In his memoir, Nobu speaks simply but touchingly about his childhood, starting at the bottom, hitting rock bottom, getting back up again, thanks in large part to the love of his wife and children, and his life and business philosophy — "Put your heart into your work and cook with passion."
When asked what he cooks at home, he said, " I travel 10 months of the year, so when I'm home, my wife, also a very good cook, likes to cook for me." I pressed further. "Well, what does she cook that you particularly like?" Nobu said with a wide smile, "Everything she makes, she makes with love for me, so I like everything she makes."
Below is a recipe for one of Nobu's most iconic and enduring dishes and an old favorite of mine, black cod with miso. It's also still on their menu at Nobu Manila, so check it out, as well as all of his other delicious creations.
Sigh. I've missed Nobu and see many bagel, or rather, pan de sal weeks in my future.
* * *
Nobu Restaurant is at the Nobu Hotel, City of Dreams Manila. For reservations or inquiries, call (02) 800-8080, e-mail guest services@codmanila.com, or visit www.cityofdreamsmanila.com.
For questions, comments and suggestions, email me at Johanna@realgirltoykitchen.com, visit my Website www.realgirltoykitchen.com or follow me on FB (Real Girl Toy Kitchen)/IG: realgirltoykitchen.
Recipe File: Nobu's black cod with Miso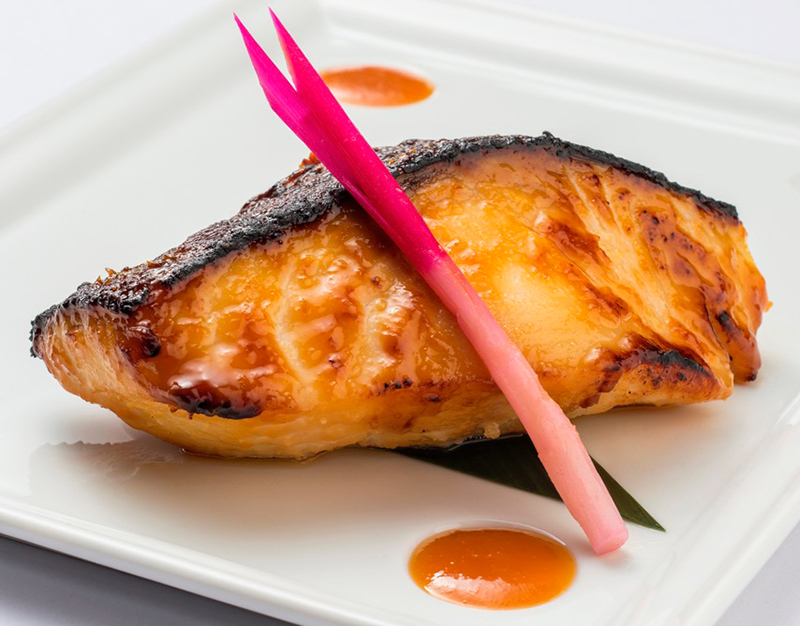 From Nobu: The Cookbook
Yield: 4 servings
Ingredients:
For Nobu-style Saikyo Miso
1/4 cup saké
3/4 cup mirin
2 cups white miso paste
1 1/4 cups granulated sugar
For cod
4 black cod fillets, about 1/2 pound each
3 cups Nobu-style Saikyo Miso
1 stalk hajikami per serving
Preparation:
Make Nobu-style Saikyo Miso:
1. Bring the saké and the mirin to a boil in a medium saucepan over high heat. Boil for 20 seconds to evaporate the alcohol.
2. Turn the heat down to low and add the miso paste, mixing with a wooden spoon. When the miso has dissolved completely, turn the heat up to high again and add the sugar, stirring constantly with the wooden spoon to ensure that the bottom of the pan doesn't burn. Remove from heat once the sugar is fully dissolved. Cool to room temperature.
Yield:
3 cups
Make cod:
1. Pat fillets thoroughly dry with paper towels. Slather the fish with Nobu-style Saikyo Miso and place in a non-reactive dish or bowl and cover tightly with plastic wrap. Leave to steep in refrigerator for 2 to 3 days.
2. Pre-heat oven to 400°F (200°C, gas 6). Pre-heat a grill or broiler. Lightly wipe off any excess miso clinging to the fillets but don't rinse it off. Place the fish on the grill, or in a broiler pan, and grill or broil until the surface of the fish turns brown. Then bake for 10 to 15 minutes.
3. Arrange the black cod fillets on individual plates and garnish with hajikami. Add a few extra drops of Nobu-style Saikyo Miso to each plate.