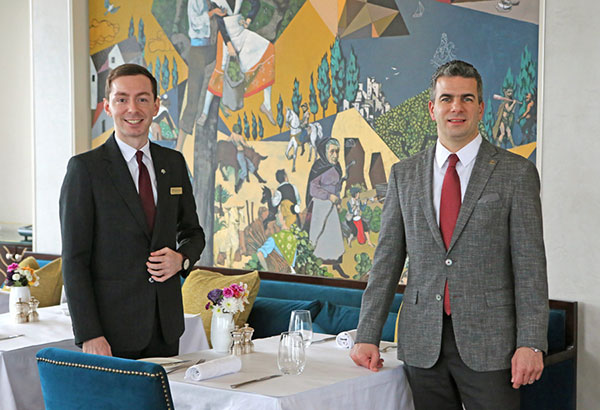 Mireio restaurant manager Nicolas Bracq and Raffles and Fairmont Makati F&B director Stephane Tremblay before the Marcel Antonio mural inspired by the Frederic Mistral poem, "Mireio". Photos by Walter Bollozos
Mireio celebrates 'A year in provence'
(The Philippine Star) - November 29, 2017 - 4:00pm
MANILA, Philippines — When Mireio opened nearly a year ago at Raffles Makati, with its Provençal theme and Marcel Antonio mural and dishes from the south of France, it brought an exotic touch to downtown. This was an "upscale brasserie" that celebrated simple, earthy dishes and foods developed by Provençal chef Nicolas Cegretin (now preparing to transfer to a Fairmont hotel in Canada).
During the course of the year, Mireio expanded its menu to include classics like steak frites and more French-Mediterranean flavors from neighbors like Spain, Italy and North Africa.
Now, to celebrate its first anniversary, Mireio is going back to its roots, offering nine of its signature dishes at the very reasonable price of P365 each during a festival from Dec. 8 to 12 called, appropriately, "A Year in Provence."
From 12 noon to 10:30 p.m. during those five days, guests can enjoy appetizers like the signature smoked salmon tartare with Granny Smith apple and Dijon mustard cream; classic tomato tart with clams and escargot, garnished with rocket salad and parmesan cheese; and soup of green lentil with pan-seared foie gras and truffle oil.
For the main course, choose from signature Mireio dishes like the very Provençal slow-cooked oxtail parmentier, traditional herb-crusted jackfish on ratatouille, and orzo with king prawns flambéed in Pastis and star anise cream.
For dessert, select from classic French pastries apple tart tatin topped with vanilla ice cream, lavender crème brûlée or 65 percent Maracaibo chocolate mousse with truffle and hazelnut crunch.
Raffles marketing and communications manager Monique Toda explains the concept: "We're playing on the idea of the book A Year in Provence with the pricing (each generously portioned dish for the price of P365), of course, plus the anniversary. These nine dishes were the signature dishes we opened with and are our bestsellers."
While Mireio began with a very specific concept — everything Provençal, from the chef to the ingredients to the art lining the walls leading upstairs to open-air bar The Terrace — it's broadening its scope to allow more possibilities. Now, according to Raffles and Fairmont Makati food and beverage director Stephane Tremblay, "Everything goes — we can use spices and flavors from Italy, Spain, North Africa."
Of course, according to Mireio restaurant manager Nicolas Bracq, "This doesn't mean we will be serving a paella or a couscous, but we will bring ingredients from here and there, to give the menu more touches from around the Mediterranean Sea." Think clams with Ras el hanout, a mix of spices from North Africa; tagliatelle pasta; various risottos, or calamari frites done with "touch of Provence": special mayonnaise, bell pepper and thyme.
Says Tremblay, the core of Mireio will remain the dishes introduced by chef Cegretin, which are still popular sellers. "The DNA of Mireio is always the first, it's the structure; we need to keep the DNA Provençal."
As the holidays roll around, Mireio also wants guests to celebrate. Following the popular "Champagne and Martinis in the City" happy hour — where guests enjoyed unlimited Champagne at the upstairs Terrace for P900 — Mireio is now holding "La Vie en Rosé," another happy hour featuring — you guessed it — rosés from the South of France in tantalizing combinations such as Aperol Spritz with Prosecco; or Frosé, a refreshing slushy cocktail with rosé, vodka, lemon and pureed berry juice.
Says Bracq, "Guests are curious in general, so when they come here we try to teach them something outside their dining experience. It can be about the simple name 'Mireio,' which is linked to the Frederic Mistral poem; it can be linked to the Ayala Champagne we serve — people ask, 'Is this owned by the Ayala family?' No, not at all; this is owned by the Boulanger house in France." Guests like details like this, and tell their friends.
While chef Cegretin transfers to Canada and Mireio expands its menu, Raffles and Fairmont Makati is expanding too: it's hiring possibly Manila's first female executive chef, Anne-Cécile Degenne, formerly at Sofitel Singapore and Saigon, who's also appeared on Top Chef France Season 5. She will likely make the final choice on Mireio's new permanent chef, who, according to Tremblay, doesn't have to be from Provence, but he (or she) does have to be French: "We don't mean to be picky — we would just be narrowing our selection — but it is open to French nationals."
French to the core. Vive la difference.
* * *
For more information and reservations, call 795-0707 or email mireio.makati@raffles.com.