The making of the award-winning 'bringhe' in Washington, DC
Last May 25, I was tasked by the Philippine Embassy in Washington, DC to represent our country in the eighth annual Embassy Chef Challenge, the leading international culinary competition among the diplomatic community in the American capital. It was held at the Atrium of the Ronald Reagan Building and International Trade Center in Washington, DC.
As our ambassador to the US, Jose Cuisia Jr., said: "Though this is the first time that the Philippines will join the Embassy Chef Challenge, it is a significant step for our culinary diplomacy as cultural and economic objectives drive our participation. We want to celebrate our cuisine, bridge cultural differences and promote Philippine ingredients and products."
Each of the 17 participating embassies had their respective chefs preparing one dish paired with one drink as the main vehicle for fostering cultural diplomacy. They were to impress some 1,000 paying guests and five professional judges for the much-coveted People's Choice and Judges' Choice Awards.
Our entry was dubbed "Flavors of the Philippines in a bite" and the daunting task of choosing what dish would best represent our cuisine was narrowed down by our Agriculture Attaché Josyline Javelosa's request to use Filipino products marketed in the US, namely Cordillera heirloom rice, bangus (milkfish) and bottled calamansi extract. Interpolating from these three ingredients, I came up with the bringhe fiesta rice dish, adding Cebu's dried mangoes, Bicol's pili nuts, and Pampanga's Claude'9 Taba ng Talangka (crab fat) as my secret ingredient.
Bagging the People's Choice Award could only have been possible with such world-class ingredients, supported by a very enthusiastic embassy staff, an outpouring of a rah-rah squadron from the hundreds of kababayans who attended, coming from the DC-Maryland-Virginia area (many of whom took a day off from work with the event falling on a midweek night) and the sponsorship of the US-Philippine Society, Philippine Airlines (flying us on Business Class so we were well-fed and well-rested after the 20-hour flight to New York), Seafood City Supermarket (which shipped in most of the Pinoy ingredients from the West coast) and 13 Degrees North for bringing in mixologist Enzo Lim with his calamansi, rum, ginger, and pineapple juice cocktail drink. Last but not least, my darleng Mary Ann, who worked her butt off molding more than half of the thousand bringhe portions. As they say, "For every successful man is a woman's behind" (wink, wink).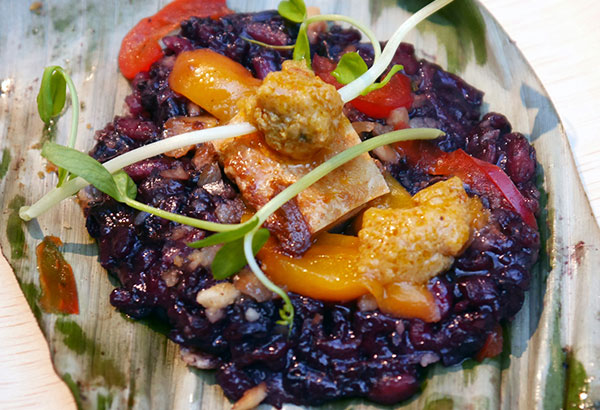 "Flavors of the Philippines in a bite": The presumptive People's Choice Awardee bringhe made with Cordillera black rice, inasal na bangus and taba ng talangka
Recipe File: Bringhe (fiesta rice dish, aka Arroz Valenciana)
Serves 8-10 persons
Ingredients:
2 tbsp cooking oil
1 tbsp minced garlic
1/4 cup chopped onion
2 cups black or violet glutinous rice (Pirurutong), presoaked in water for 30 minutes
1 cup Tinawon or any white rice, presoaked in water for 30 minutes
4-6 cups fish stock
1/2 cup coconut milk
4 tbsp patis (fish sauce) and pepper to taste
1 cup fried pinipig (unsweetened rice crispies)
1 each red and green bell pepper, cut into 1/4" x 1" strips
1/2 cup dried mangoes cut into 1/4" thin strips
1/2 cup glazed pili nuts, crushed coarsely
1/2 8-oz bottle Claude '9 Taba ng Talangka (crab fat)
Some micro greens like pea sprouts, alfalfa sprouts, cilantro sprigs for garnish
Banana leaves
Procedure for the Bringhe:
Using a flat bottom 12" non-stick frying pan, heat oil and sauté garlic and onion until translucent.
Drain soaked rice and add to pan and continue sautéing for 1 minute.
Pour in fish stock and coconut milk. Season with patis. Allow to simmer over low heat until rice is cooked, constantly stirring to prevent the bottom from burning. Add water if necessary.
Transfer cooked rice into a container and set aside.
Using the same pan, line with banana leaf.
Sprinkle evenly the pinipig (rice crispies) over the banana leaves.
Place back the cooked rice onto the pan covering the pinipig. Spread out evenly the bell pepper, dried mango strips and pili nuts.
Put a lid and continue cooking over very low heat to allow rice to steam. The rendered oil from the coconut milk will fry the banana leaf and will emit a fragrance. Once you hear a sizzling sound, it's time to turn off heat. A golden brown crust called tutóng (Spanish socarrat) should be formed by now.
Open lid and slide off the cooked Bringhe into a serving plate. Neatly arrange the cooked bangus pieces and top with taba ng talangka.
Top with cilantro sprigs or any micro green like pea or alfalfa sprouts. Serve warm.
For the bangus topping
1-400 gram premium-cut milkfish (bangus), cut into serving pieces 1" x 2". Marinade with the content of one 8-oz Claude'9 Inasal Marinade for at least 30 minutes:
1/2 cup cooking oil for frying
Procedure:
Heat oil in a pan. Fry fish, about a minute on each side.
Remove from pan and place in a plate. Keep warm until needed.