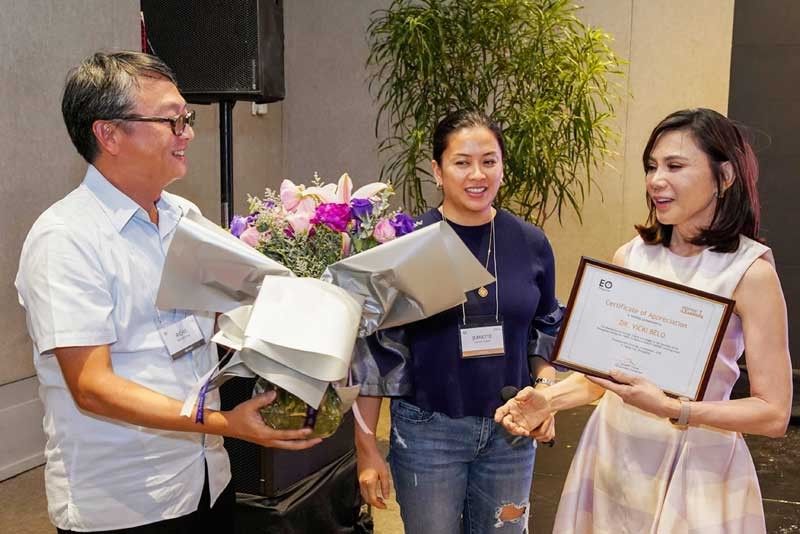 Richie Yang and Jeanette Tuason present a plaque of appreciation to Dr. Vicki Belo.
Photos by Alex Van Hagen Powered by MAC Center
Entrepreneurs' Organization gets Belo-fied
The best business owners in the Philippines only deserve the best beauty treatments the country has to offer, n'est- ce pas? And who else to call when it comes to anything beauty? Naturellement Dr. Vicki Belo, founder and CEO of the renowned Belo Medical Group (BMG) whose name has become synonymous with beauty.
Gorgeous beauty Dr. Belo together with her daughter Cristalle Belo-Pitt, BMG managing director, turned a normal Thursday afternoon into an afternoon of beauty and pampering exclusively for members of the Entrepreneurs' Organization Philippines. Participants had the opportunity to try some of Belo's most in-demand treatments for skin tightening, as well as oil and acne control. They were also given, dahlings, the chance to try the ever-popular Belo Drips. Now that deserves a "wow!"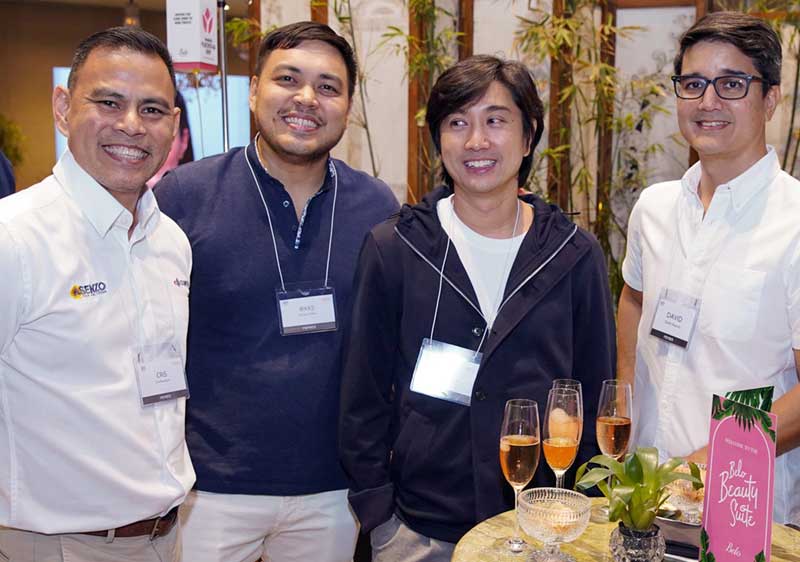 Christian "Cris" Manlapaz, Enrique "Rikks" Valles, Jean Pierre "JP" Tuason, David Azanza
Some of the beauty treatments offered include Skin Reboot, Belo's latest skin-tightening solution; Cryo Slush, a liquid hydrogen popsicle that gives you poreless, oil-free skin; Opera LED Mask, an anti-bacterial treatment that fights pimple emergencies and soothes the skin; Belo Drips such as Cinderella, Athlete's, Enhanced Supervitamin, Hangover Cure, Placenta; and Double Defense. If these treatments won't make you a beauty queen, nothing will, palanggas.
After everyone had settled down, Dr. Belo shared with EO members the secrets on how she built a beauty empire. The idea of the Belo Medical Group started when she was five years old. Being an adopted child, Dr. Belo said she was bullied and was told that she was given away for being fat and ugly.
"I took it positively and I said I will spend the rest of my life making people beautiful and sexy so that they will not be given away. They will feel loved. So that is the premise of the Belo Medical Group. So aren't you ashamed that you think it's about vanity? It's not. It's about self-esteem and self-confidence," Dr Belo said. Bravo!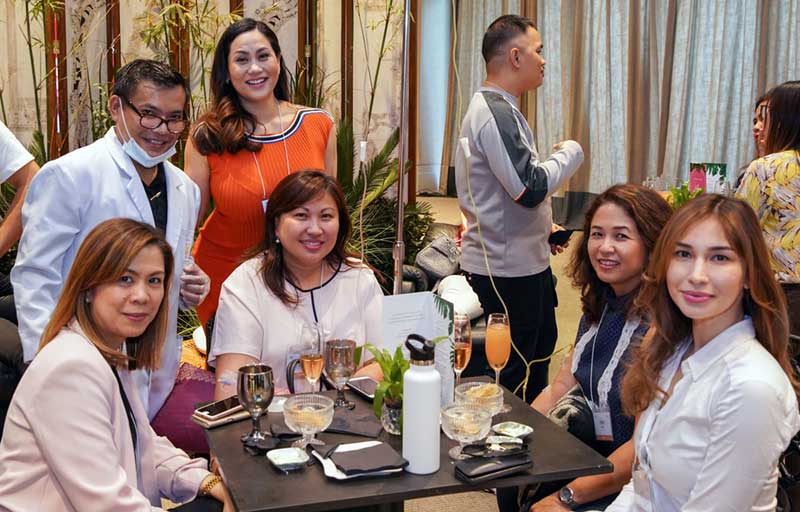 Lisset Laus-Velasco, Cel Trajano, Jenny Ko, Kimberly King; (standing) Jose Quibel, Cristalle Belo-Pitt
EO members were delighted and moved by Dr. Belo's talk. They thanked the country's top beauty doctor by presenting her with a plaque of recognition followed by a lot of photo ops and selfies.
The Entrepreneurs' Organization (EO) is a global network of more than 13,000 influential business owners. The organization helps the country's leading entrepreneurs to learn more, grow bigger and achieve greater success in the future. Now you know, dahlings.
'Prism of Lights' at SM Aura Premier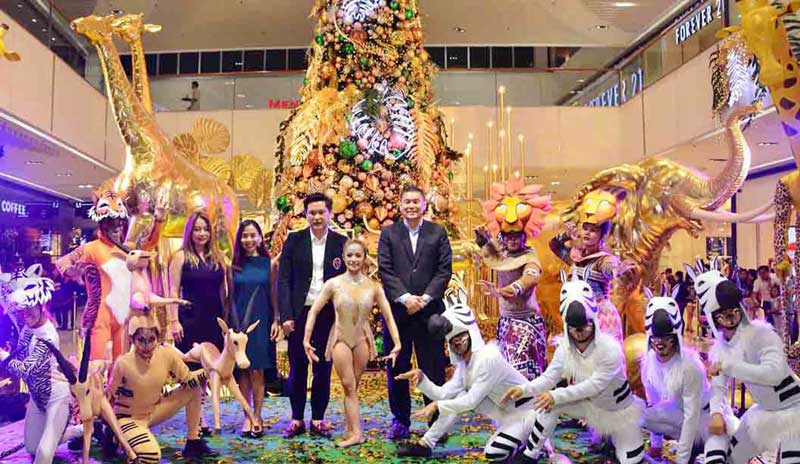 SM AVP for operations Bernice Baculi with Taguig City economic officer Chie Bocobo, SM COO Steven Tan, Pilipinas Got Talent grand winner Kristel de Catalina, SM SVP for marketing Jon Jon San Agustin during the "Sparkling Christmas In The Wild" launch at SM Aura Premier.
SM Aura Premier took shoppers on a holiday expedition to the sparkling wild. The centerpiece at the mall's atrium during the holidays featured life-size installations of Safari's majestic creatures — elephants, giraffes, deer, leopards, lions, hippopotamuses, rhinos and giant eagles in hues of gold and green. They stood proudly beside a giant tree embellished with giant LED leaves and dazzling gold, silver, green and red giant balls in different textures for a fantastic effect.
SM Aura, in partnership with Huawei Mobile Philippines, likewise pushed the envelope even further by creating "Prism of Lights," an immersive display. Mallgoers got to experience the interactive light show, which interpreted the beauty and wonder of the pristine night sky.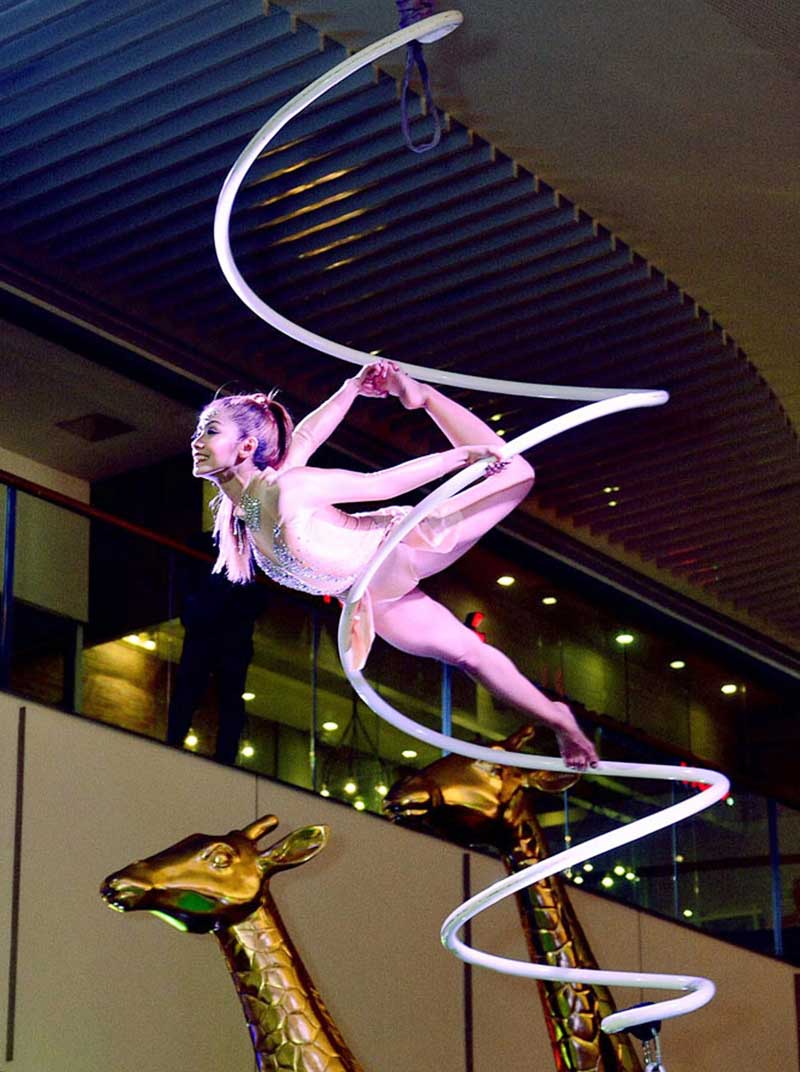 Pilipinas Got Talent grand winner Kristel de Catalina thrilled guests with her breathtaking aerial stunt and spiral pole dancing act.
During the launch, dahlings, the audience was treated to an African-inspired ensemble, with a drum circle and dancers by Animo Tierra which was capped by a jaw-dropping spiral pole dance performance by Pilipinas Got Talent grand winner Kristel de Catalina.
Follow SM Aura Premier on Instagram @SMAuraPremier and Facebook /SMAuraPremier.