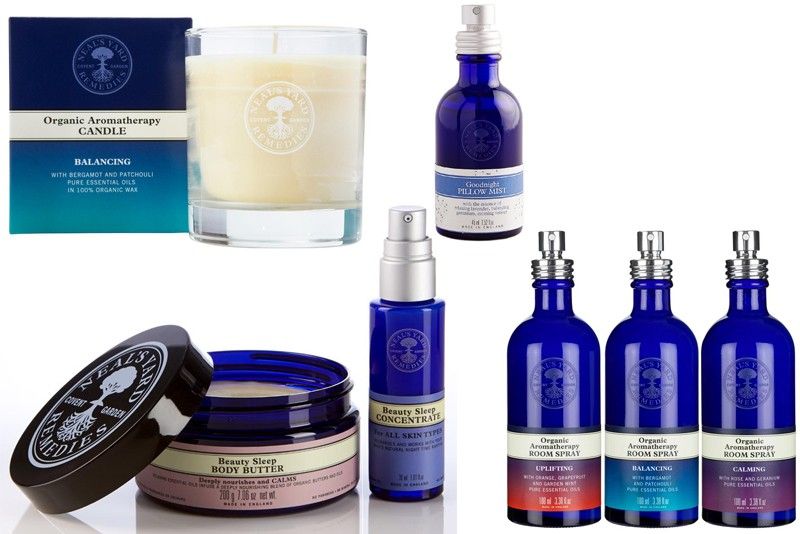 World Sleep Day BFFs: Neal's Yard Goodnight Pillow Mist, Beauty Sleep Concentrate, Beauty Sleep Butter, Organic Aromatherapy Room Sprays, and Aromatherapy Candles will help you get a good night's sleep.
Neal's Yard's essential oils for essential sleep
Forty-five percent of the world's population suffers from sleep deprivation. That's a lot of people who start their days grumpy, sluggish, unfocused and tired, and most of them don't even know it since the majority of sleep problems are not severe, but may lead to accrued stress. We've even learned to work around lack of sleep without getting any actual sleep, which can't be a good thing. To raise awareness on the importance of getting enough zzz's, the World Sleep Society has created World Sleep Day, held every year on the Friday before the Spring Vernal Equinox. This year, it's on March 16. In astrology, the Spring Equinox is the time to break free from things that hinder growth and pursue new goals — why not make one of them getting enough sleep? London-based wellness brand Neal's Yard comes to the rescue with new products to aid the sleep deprived. I have personally tried them all and have been sleeping better.
My sleep problems are mild but chronic. I often have too-vivid dreams that wake me up in the middle of the night, or have trouble falling asleep to start with. Maybe I'm still getting acquainted with the angle of the bed (which faces a huge window and gets too much moonlight). Maybe I've been watching too much television or writing too late in the night. I've managed to stop using my phone at least an hour before bedtime, and started investing more time in a nightly skincare regimen that includes a relaxing face massage. But I still needed an extra push.
Neal's Yard's Goodnight Pillow Mist was that missing piece. A few minutes before bedtime, spray it on your pillow, sheets and blanket to wrap you in a scent that will get you feeling sleepy before you even hit the bed. It contains essential oils such as lavender (soothes the mind), chamomile (eases tension), vetiver (known for sleep-inducing qualities), balsam (a mood lifter), geranium (balances emotions) and mandarin (warms and soothes).
If you're the type to feel a little precious about their products, alternate the Goodnight Pillow Mist with Neal's Yard Organic Aromatherapy Room Spray, which comes in Balancing, Uplifting and Calming to match your mood. If it always happens to be a turn-my-home-into-a-spa mood, this is a product you should have.
Another product is Neal's Yard's Beauty Sleep Concentrate, a relaxing serum that's skincare and knockout potion in one. It contains ylang-ylang (soothes the skin), patchouli (rejuvenates dry skin), orange (revitalizing) and clary sage (soothes nerves and prepares the mind for rest). Using just one pump, warm the serum on your hand and cup your nose and mouth. Inhale deeply and exhale with mindfulness, then massage all over the face. On my skin, I noticed a pore-minimizing effect as well. For your full-body needs, there's the Beauty Sleep Butter, which comes in a nice texture that feels like it's coating the skin in nourishing oils.
Finally, candles. Candlelight makes people sleepy, which can be good or bad. If you fall asleep with a candle lighted — bad. Neal's Yard's Aromatherapy Candles are made of organic wax that you can safely keep burning through the night, as well as more essential oils that help calm the mind and balance emotions. Neal's Yard's resident chemist who handles international retail support/training and education, Gloria Yuan, shared a particularly scary story about a friend who forgot to put out a regular wax scented candle before going to bed, and it ended up in flames; so don't do that. She also showed us how safe Neal's Yard's organic waxes are — they won't actually burn you if you accidentally get some of the hot wax on your skin.
Just one of these will help, but use them together and you'll sleep like a rock and wake up feeling refreshed. Some other notes on getting more sleep: monitor your caffeine and sugar intake, don't look at bright lights before going to bed (a.k.a. stop watching Instagram Stories late at night!), drink water before bedtime but not right before or you'll have to pee at 3 a.m., practice mindful breathing and meditation for five minutes, and finally, never sleep with your makeup on or in your outside clothes even if you're really tired.
By the way, World Sleep Day is not a holiday, so don't sleep in, but, hopefully, sleep well. Good luck and good night!
* * *
Neal's Yard is available at Rustan's Makati, Rustan's Shangri-La and Adora at Greenbelt 5.
Trisha Duncan, Rosanna Ocampo-Rodriguez and Agoo Bengzon are Ultherapy's new ambassadors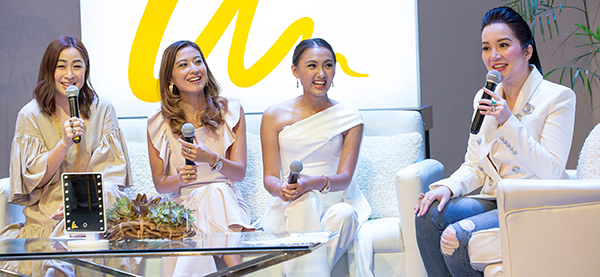 Ultherapy ambassadors Agoo Bengzon, Rosanna Ocampo-Rodriguez and Trisha Duncan with host Kris Aquino
If you're wondering if Ultherapy is for you, look no further than its brand ambassadors for answers. Because of how convenient, flexible and non-invasive the treatment is, Ultherapy has selected three women of different ages and lifestyles to represent it. Trisha is a student and model who is dealing with lupus, a chronic illness that has been a blow to her confidence and self-esteem. "Ultherapy definitely helped me in gaining renewed confidence in myself," she shares.
Designer, wife and mom of three Rosanna is pretty low-maintenance, which is why Ultherapy is perfect for her. "I wasn't actually planning to do any treatments until I turned 40," she says, "but I quickly became interested in Ultherapy once I learned that it was a lunch-time procedure that only has to be repeated every 18-24 months. The benefits have been amazing and the feel, texture and tightness of my skin has significantly improved."
For beauty expert Agoo, wellness and skincare is an ongoing process. She does Ultherapy every six months to maintain her youthful, wrinkle-free skin. She says she's always had a chubby face, but since doing Ultherapy, her facial structure and jawline have become more defined. "I invest in procedures that I know will help prevent future problems. I've really seen a difference."
Developed by German pharmaceutical company Merz, Ultherapy is the first and only US FDA-cleared non-surgical lifting procedure for the brow, chin, neck and décolletage. "The non-invasive treatment lifts the skin using ultrasound technology to stimulate the body's natural production of collagen and requires minimal to no downtime," says Judith Albano-Cantada, marketing manager of Merz Philippines. "The natural effects become increasingly visible after two to three months."
Ultherapy is now available at 31 accredited partner clinics around the Philippines. For information, visit www.ultherapy.com or www.merzaesthetics.com.
Perricone introduces Pre: Empt series for millennial skin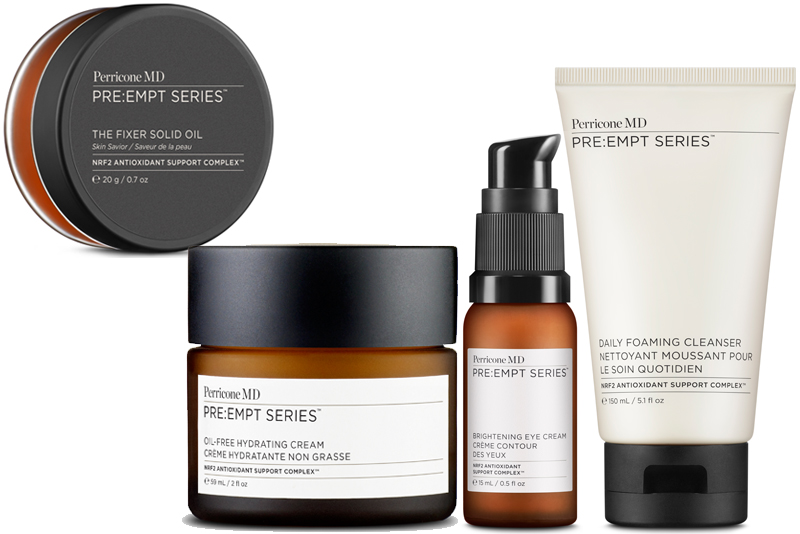 For millennial skin with millennial needs, Perricone introduces its Pre:Empt series Daily Foaming Cleanser, Oil-Free Hydrating Cream, Brightening Eye Cream, and The Fixer Solid Oil, available at Rustan's.
If I knew then what I know now, I would have 1) not over-exfoliated with apricot scrub in my teen years hoping that my acne would go away, 2) used sunblock more generously and frequently, and 3) focused on nourishing products instead of super-strong ones that probably did more harm than good. Lucky you, millennials of today, a lot of skincare brands have entire lines devoted to your young, supple, wrinkle-free skin.
Perricone's Pre:Empt Series, which has been around in the US since late last year, is now in the Philippines. The line includes a Daily Foaming Cleanser, Oil-Free Hydrating Cream, Brightening Eye Cream, and The Fixer Solid Oil — all designed for millennials. The products are powered by antioxidant-rich turmeric, olive leaf, cress sprouts and green tea, and are formulated without parabens, synthetic colors or synthetic fragrances. Its primary benefits are maintaining skin's youthful appearance, fighting the onset, dullness, fine lines and uneven skin texture. They are ideal for oil-prone skin.
Perricone Daily Foaming Cleanser is designed to be used as the first step of the Pre-Empt series. It's a sulfate-free formula with soy protein to condition skin, aloe to soothe and vitamin E and NRF2 complex, which is a powerful antioxidant.
Perricone Brightening Eye Cream conditions delicate skin with moisture and antioxidant protection. It is lightweight and soothing with avocado oil.
The Oil-Free Hydrating Cream delivers optimal hydration and nourishment. It improves the skin's natural barrier function to Pre:Empt dull, dry skin.
The Fixer Solid Oil is a breakthrough oil-gel formula that transforms from solid to non-greasy oil upon contact. It's meant for the face, but I like to use it on elbows, fly-away hair, and for nourishing skin post-sun exposure.
* * *
Perricone is available at Rustan's.