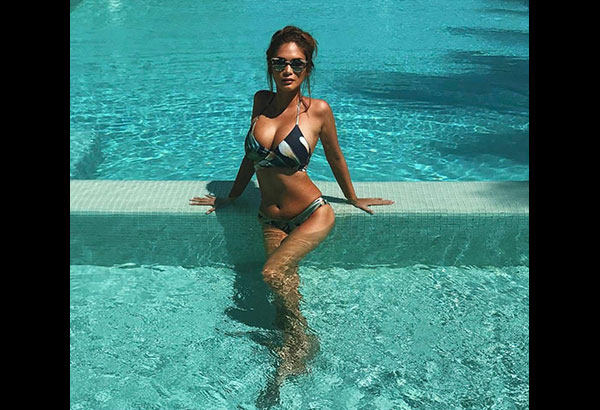 Miss U and the X factor: Pia Wurtzbach wears the X-style wrap-around Skinni bikini. You can shop for Skinni at skinniswim.com. Photos from Instagram (@skinniswim). Follow them on Facebook (fb.com/SKINNI).
The swimsuit that flatters all women
Dear Rissa,
I'm clueless as to what kind of swimwear will enhance my body and hide my flaws. What swimwear can I wear so I can look sexier and maybe taller? Hope you can show some pictures.
Alona
It's really hard to find a swimsuit that fits well. I love the beach and the water, but what kills all the fun is when my swimsuit turns loose and lousy after hitting the water. I recently discovered a brand of swimwear called Skinni. The brand was created to make women feel beautiful and comfortable in their own skin — and that starts with really, really good swimwear. Skinni swimsuits feature seamless designs made with UV-protect high-quality polyester/spandex that hug you in the right places. It's amazing how this swimsuit can make a woman look great, sexy, and comfortable — all at the same time!
I tried their designs recently and even with a full one-piece suit, Skinni knows how to make you feel sexy with high-cut bottoms and deep side cuts that show the right amount of skin and without compromising modesty. I like how they innovated the triangle bikini, too, by designing it with a Y-strap to keep it secure and in place, no matter what adventure you're up for. For the flat-chested, their X- style features a secure wrap-around bikini top that hugs the chest and encourages cleavage nicely.
What I love most is how Skinni swimsuits are reversible and seamless. It's like getting two swimsuit looks in one, and because the stitching never pinches, you can say goodbye to muffin tops!
You can shop for Skinni at skinniswim.com. Follow them on Facebook (fb.com/SKINNI) and Instagram (@skinniswim).
Rissa
* * *
Send e-mail to Lucy Torres-Gomez at ltg@pldtdsl.com. E-mail Rissa Trillo at stylesos_rissa@yahoo.com or follow her on Twitter @RissaMananquil.