How to edit your travel wardrobe
STYLE S.O.S.
(The Philippine Star) - November 19, 2014 - 12:00am
DEAR LUCY,
I never quite know what to pack when I travel, especially during winter or fall. Everyone says I must travel light, but the cold weather defies that. Everything is so bulky and takes up so much space in my luggage. How do I edit?
CARMEN
Layering is the way to go and the challenge really is not a question of how much as it is what to bring. If you do the latter right, you would have essentially solved the former. Get yourself a good coat or jacket, one that marries both style and function. Depending on how long your trip is, you can bring just one or two. Under your coat, keep warm by efficiently layering with thermal wear. Reinforce with cashmere sweaters and pullovers. The beauty of cashmere is that it keeps you warm without necessarily being so bulky, plus it always looks and feels good — yes, it is a bit pricey, but it will serve you well through the years and will be worth every cent.
Bring scarves also, not just for added warmth but also to play up the style factor.
And make sure your shoes are comfortable.
Don't bring too many outfits, it is okay to repeat.
LUCY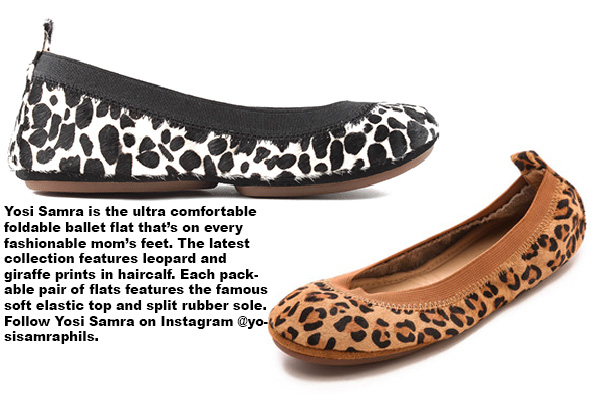 These shoes are made for walking
DEAR RISSA,
You are one of the young moms I look up to. I always buy the beauty products you recommend. But for fashion, what's the essential shoe to have? After my pregnancy, I don't think I can be in heels as much anymore. I'm looking for a pair of flats that won't get me tired after long hours of walking.
RICHELLE
Go for ballet flats — they're a basic staple in every chic woman's wardrobe, no matter what age. I've always liked the brand Yosi Samra. A descendant from a long line of shoemakers, Yosi Samra developed his own line of foldable ballet flats. His flats have been featured in Oprah Winfrey's magazine and his celebrity fans include Anne Hathaway, Jessica Alba, Emmy Rossum, Giuliana Rancic, Nicole Scherzinger, and the uber-stylish Sarah Jessica Parker.
I was reminded of Yosi Samra during a recent event hosted by Ian and Janna Simpao of babyandbreakfast.ph together with celebrity mom Rica Peralejo Bonifacio. Together, they mounted an event for an intimate group of moms called "Mom-Me Time" to remind moms to give themselves their much deserved me-time, too! And because moms understand the needs of co-moms, Rica shared her love for Yosi Samra at the event.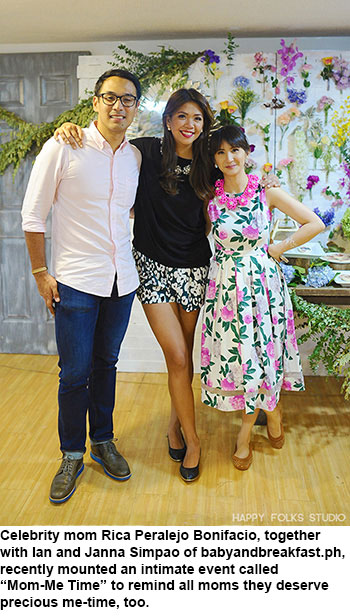 I never really liked foldable ballet flats because the ones I've tried were never really comfortable enough. Either the garters dig into the skin (which will eventually cause ugly blisters) or the soles are just too thin that you can feel the cold hard floor on the balls of your feet. What I love about Yosi Samra is that they're so comfortable they feel like they've already been broken in! I've read that doctors say that there is no such thing as "breaking in" shoes — if they properly fit, they should be comfortable right away. The foldable shoes of Yosi Samra provide good rubber padding on the balls of your feet and the comfy elastic band gives a secure fit without cutting into the skin. Why you should get a pair? Among all the foldable ballet flats, Yosi Samra shoes seem to have the lowest vamp (the part covering the toes) so they wonderfully give the illusion of longer-looking legs, too!
RISSA
* * *
Send e-mail to Lucy Torres-Gomez at ltg@pldtdsl.com. E-mail Rissa Trillo at stylesos_rissa@yahoo.com or follow her on Twitter @RissaMananquil. Send Regina Belmonte your questions at vivatregina.tumblr@gmail.com or tweet her @vivatregina.