Jeff Murad shares his radiant eyes secret
The son of legendary dermatologist Dr. Howard Murad, Jeff formulated his personal eye cream several years ago to remove dark circles around his eyes. Now, this potent vitamin C-rich cream is available for everyone.
Murad vice president for new product development Jeff Murad was in Manila recently to introduce two new products: Murad Instant Radiance Eye Cream, and the two-step Pore Reform — a blackhead remover and a pore refining sealer.
Jeff is the son of the legendary dermatologist Dr. Howard Murad, who founded the company in 1989. Jeff started working with his father in 2000 in all the different departments of Murad, and though he studied music composition in college, he went back to UCLA and took medicine and other courses when he began getting involved in the formulation of Murad products.
The Murad Instant Radiance Eye Cream, which has a patented concentration of vitamin C, is Jeff's baby. He formulated it for his own use several years ago to cure the dark circles around his eyes. "I wasn't planning on making a new product for Murad and I developed the eye cream just for myself. I've had bags under my eyes forever because I don't sleep very well. After a few months, I looked in the mirror and they were gone. I had never seen that before. A few months after I made it I realized it should be available for everyone, but our marketing team said we had too many eye creams. We couldn't make a launch plan for it for another three or four years."
Jeff says that when Murad comes out with new products — between five and 10 a year — they do have to bump off existing ones "otherwise we wind up with thousands of products. When we do discontinue something, we try to have a direct replacement. It's much easier to launch a product than to remove one because people get really upset. Even me, when we discontinue something I hoard three years' worth of products."
So what's so special about the new eye cream? It gives you instant gratification, if you will. During clinical tests, they found that the Instant Radiance Eye Cream minimizes the appearance of dark circles by 30 percent in just 15 minutes. Together with Advanced Active Radiance Serum, one of Murad's top three worldwide sellers clinically proven to improve brightness, clarity and radiance by 60 percent in less than one week, these two products team up to combat the signs of aging caused by environmental damage.
As part of Murad's award-winning Environmental Shield line, the eye cream is ideal for those with dark circles, age spots, sunspots and hyperpigmentation. It contains Murad's patented Resilient-C Complex and is formulated with light diffusers to visibly reduce the appearance of dark circles along with retinyl palmitate to brighten skin, and tangerine butter to lock in moisture, smooth skin and minimize the appearance of fine lines and wrinkles. Designed for use on the brow bone, eyelid and under eye, Instant Radiance Eye Cream also serves as an effective eye primer to ensure smooth application of foundation and concealer.
The vitamin C is the real hero ingredient, according to Jeff. "There are many forms of vitamin C, but the most effective one is ascorbic acid. It's so difficult to formulate because it's unstable and yet it's one of the best brighteners, firming ingredients and antioxidants around. It has so many benefits, it's like custom-made for the eye area."
But Murad has discovered a way to stabilize it. Resilient-C Complex, Murad's proprietary technology, delivers multiple forms of pure vitamin C in its most stable form directly to the skin and maximizes collagen production. Also recommended to be used alongside the Instant Radiance Eye Cream is the Advanced Active Radiance Serum, a reformulation of its prior generation and now contains Hexapeptide-2, a skin brightening peptide along with Indian fig to boost skin clarity and encourage cell renewal to keep skin radiant and luminous.
Jeff also launched Murad's Pore Reform Blackhead & Pore Clearing Duo, a fast-acting two-step treatment consisting of Blackhead Remover and Pore Refining Sealer that help reduce blackheads and protect pores against impurities and oxidation. Blackhead & Pore Clearing Duo extracts stubborn debris from deep within the pores and reduces the formation of blackheads.
The Pore Reform line is scientifically formulated to clear and refine the appearance of pores, reduce t-zone shine and improve skin texture. It includes volcanic mineral clay and baby's breath extract to detoxify and draw out dirt and excess oil to purify pores; and pomegranate seed oil to tighten pores and refine complexion. Its oxidation reversal complex, meanwhile, targets sebum oxidation, the leading cause of blackheads
First to be applied is the Blackhead Remover, which you leave on the face for 10 minutes, then after rinsing it is followed with a thin layer of Pore Refining Sealer. The duo could reduce blackheads by an average of 58 percent in five days.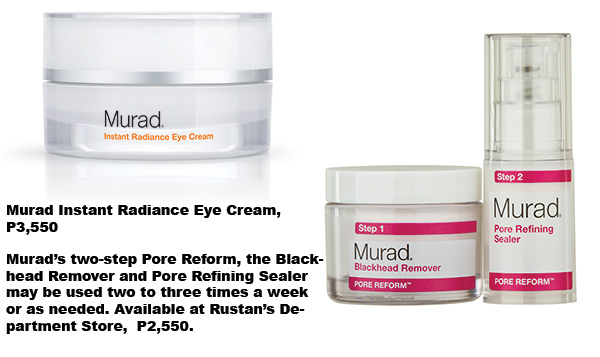 * * *
Murad Pore Reform Blackhead Remover and Pore Refining Sealer are available at Rustan's Makati, Rustan's Shangri-La, Rustan's Alabang, Rustan's Gateway, and Essenses Rockwell.