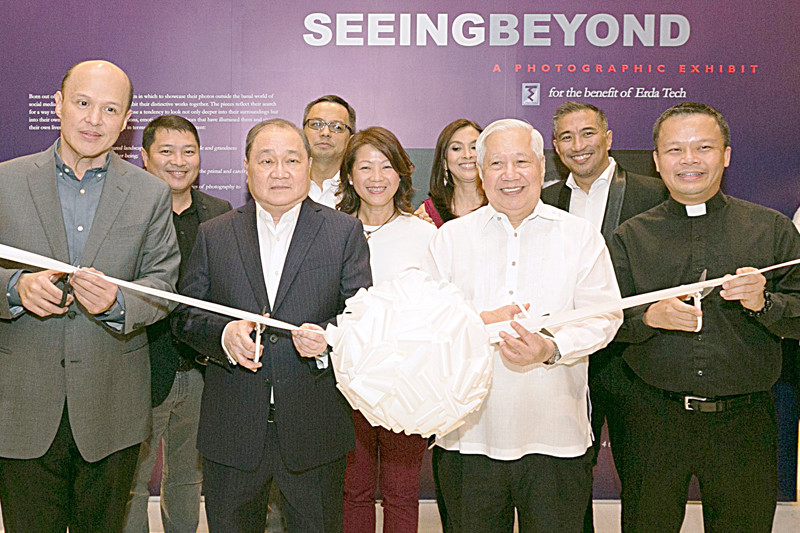 Present at the ceremonial ribbon-cutting are (front row, from left) Empire East Land Holdings president/CEO and ERDA Tech chairman Charlemagne Yu, Metro Pacific Investments Corp. & Meralco chairman Manuel Pangilinan, Meralco president & CEO Oscar Reyes and ERDA Tech president Fr. Aristotle Dy S.J. In back row (from left) are Jeff Dytuco, Michael Olivares, Bern Wong, Angela Panlilio and Tony Rivera. Photos by Joey Viduya
'Seeing Beyond' opens at Solaire
(The Philippine Star) - January 14, 2018 - 12:00am
MANILA, Philippines - Six photographers whose intent is to get the viewer to pause, go a level deeper, and 'see beyond' recently opened a photo exhibit/fundraiser for the ERDA Tech Vocational School at Solaire Resort & Casino's The Gallery.
In attendance at the ribbon-cutting and cocktails were luminaries from the business, photography and art worlds – Metro Pacific Investments Corp.'s Manuel Pangilinan and Mike Toledo, Meralco's Oscar Reyes and Alfredo Panlilio, and Solaire director for PR and communications Joy Wassmer, director for entertainment Audie Gemora and senior manager Jingay Kaimo. They were joined by ERDA officials – chairman Charlemagne Yu (also president and CEO of Empire East Land Holdings), president Fr. Ari Dy, and vice chairman Rudy Ang.
The six photographers, Angela Panlillio, Bern Wong, Jeff Dytuco, Michael Olivares, Fred Tiongson, and Tony Rivera, are friends who have gone on travel/photography escapades but wanted to go beyond postcard-pretty pictures.
The works are in black and white or muted colors, from still life to landscape, triggering a range of journeys that include spiritual or corporeal reflection, pensiveness, struggle and joy…a pause that sees beyond.
The exhibit runs until January 25.