Book a truck with savings! Lalamove is now available from Ilocos Norte down to Sorsogon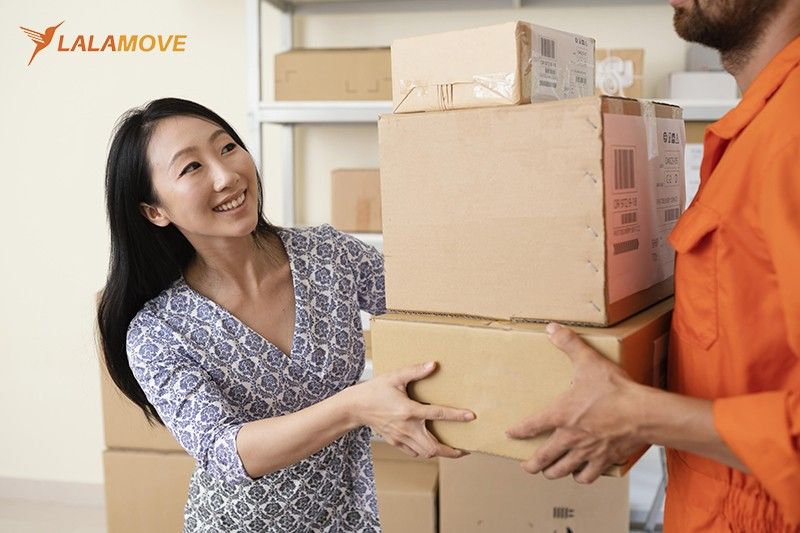 MANILA, Philippines — Choosing from an online catalogue, using AI to try on new makeup or hair color, not going to a physical store—online shopping is already a given these days. So, what separates excellent online shops from the rest? It's guaranteeing on-demand delivery when customers ask for it.
"You can purchase from e-commerce apps, but it takes around four days to arrive. So, I prefer Lalamove's same-day delivery service even for non-essential items. It's more reliable and efficient," Charmaine Belza, an accounting consultant and financial advisor, says.
She remembers back when she got COVID and their whole family went into quarantine. "It's when I truly started appreciating the on-demand delivery platform. I ordered medicines from drugstores and received them on the same day. Plus, Lalamove gave away lots of discount vouchers."
Jhullie Paltiyan, an entrepreneur from Baguio, shares the same sentiment. She usually orders from e-commerce platforms but always looks up the location of the store.
"When I need the item right away and I know that the shop is just nearby, I always choose same-day delivery. It works great for both seller and buyer, as it gives us more peace of mind," she narrates.
Delivery can accelerate your business
One of Cessie Jolito's many businesses is an event planning shop based in Tagaytay. Delivery fees there may be higher, but Lalamove is still her go-to provider for urgent B2B and B2C orders.
"I ordered desserts from my favorite cake shop in Cavite and seafood from Manila. Especially with perishable goods, my orders should be in perfect condition when they arrive," she says.
Meanwhile, Danica Leung, the owner of Lasagna MNL, says: "As a food business owner, I personally entrust our stores to food apps that provide quick delivery service as food quality shouldn't be compromised. On-demand is always a better option as it guarantees freshness most especially when it comes to food and grocery shopping."
Aside from being a listed merchant of various food delivery apps, her company also uses third-party apps such as Lalamove to quickly deliver orders to their direct clients.
It's always within reach with a Lalamove truck
Among the many significant changes in business activities during the pandemic, two stand out—a great lot of Filipinos transitioned to online shopping, and many employees became entrepreneurs.
The influx of more SMEs in the market led to an increased demand for faster deliveries, whether B2B or B2C. And the heightened need for same-day delivery services became the turning point for the logistics business to become more in demand.
Lalamove grabbed the opportunity to add more vehicle options and help the community, even providing a source of livelihood for aspiring partner drivers, truck operators and fleet owners.
Lalamove Philippines Managing Director Djon Nacario explains, "From motorcycles to sedans and MPVs, Lalamove's delivery fleet has expanded to four-wheel and big trucks, which include 1,000 kg (FB Truck/L300), 2,000 kg (aluminum/closed van), 3,000 kg (six-wheel truck), and 12,000 kg (10-wheel wing van) that are already available across its serviceable areas in Luzon, Metro Manila and Cebu.
With this new expansion, the leading on-demand delivery platform Lalamove has also extended its serviceable areas to the whole Luzon, from Ilocos Norte down to Sorsogon.
Hopefully, this will now solve the logistical gap in some parts of the island.
Case in point is the business of Juna Rasco, an electronics supplier in Camarines Norte. Her small enterprise regularly needs same-day delivery trucking services from Manila to Bicol, and vice versa.
Rasco shares that she needs a worry-free logistical aid so she can focus more on other important business matters.
"I usually hire a 'coordinator' for our bulk deliveries. He gives the all-in price for the truck rent, driver and helper. But I make sure the trucking service has all the government permits so they can issue an official receipt," she discloses.
"Lalamove's trucks are fit to cater long-haul deliveries. Users simply need to book their deliveries via the Lalamove app and the distance covered for the delivery as well as the total cost can be seen instantly," Nacario quips.
"Users can also opt to choose an additional assistant for a minimal cost if in case they will be needing assistance in loading and unloading the parcels to be delivered. With Lalamove's real-time tracking system, users can easily track their long-distance deliveries, thus assuring that the transport of their items is within their expected timeframe."
What to expect from Lalamove's same-day truck delivery
Almost every Filipino online shopper can attest to the eye-friendly and easy-to-use Lalamove app. On top of this capability, the company commits to continuously improve its features, which include the following:
Real-time tracking. Lalamove uses web- and mobile app-based Global Positioning System (GPS) that allows tracking the current location of packages. This enables the sender to keep tabs on the progress of their delivery, and share the tracking details with the recipients of the package.

Loading and unloading. Lalamove's professional partner drivers can bring an assistant, an extra pair of hands, to help him load or unload the packages. The app conveniently lets users add an extra helper.

Additional stops. For entrepreneurs who want to deliver items to many customers along the way, Lalamove allows adding up to 20 stops, making the deliveries quicker and more cost-efficient.

Customer service support. Everything is recorded and the business owner can have peace of mind knowing that his items are in safe hands, even when there are hiccups on the road.
Lalamove's customer service support will answer concerns on, during or before the pick-up or drop-off of goods, until they are safely unloaded in the client's warehouse.
Whether delivering bespoke birthday cakes or a truckload of goods, general users and corporate clients can always expect their packages to be handled with utmost care and delivered fast with Lalamove's same-day truck delivery service.
Book with Lalamove until July 15 with the promo code LALAPHILSTAR and get P10 off on 2-wheel motorcycle, sedan and MPV; and P80 off on 4-wheel large vehicles (600kg, 800kg and trucks). Promo valid for 14 days upon redemption.
For more information, visit www.lalamove.com.