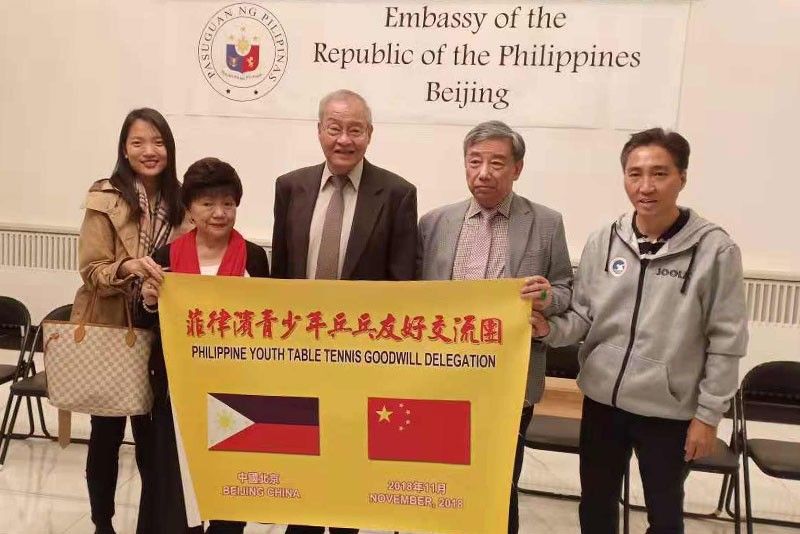 Leaders of the Philippine "Ping-pong delegation" to China: (from left) Louella Ching, Lolita Ching, Ambassador Chito Sta. Romana, Federation of Filipino Chinese Associations honorary president Stephen Techico and ping-pong leader Charlie Lim at the Philippine Embassy in Beijing
Ping-pong diplomacy and 200,000 Filipino teachers
SHANGHAI — The first two weeks of November were a very busy period for the Philippines' envoy to Beijing, Ambassador Chito Sta. Romana, as he warmly welcomed two different but equally important Philippine delegations to China in its two vibrant mega cities: the historic cultural and political capital Beijing and the booming economic center of Shanghai. I was invited to join both delegations.
Auspiciously, the two Philippine delegations' visits preceded the much-anticipated state visit to the country late this month by Chinese leader Xi Jinping, which Ambassador Sta. Romana told me "is very significant, because this is the first ever state visit by a president of China to the Philippines in 13 years and is expected to further strengthen our long history of bilateral friendship."
The first delegation of 66 people was the Philippine Table Tennis Youth Goodwill Delegation comprised of three dozen mostly Filipino top grade school and college ping-pong athletes who are winners of the Uni-Orient Table Tennis Cup; ping-pong patron and civic leader Stephen Techico; officials of the Table Tennis Association for National Development (Tatand) led by president Kenny Wong and official Charlie Lim; representatives of Philippine media from TV networks, newspapers and magazines.
Among the diverse journalists were also those from the Philippines' Chinese-language newspapers, the country's only Mandarin daily news show CNTV led by Lolita Ching and Ateneo-educated Louella Ching, and the country's only Chinese/English bilingual glossy, Asian Dragon magazine, led by Insead-educated editor-in-chief Rafael "Apa" Ongpin.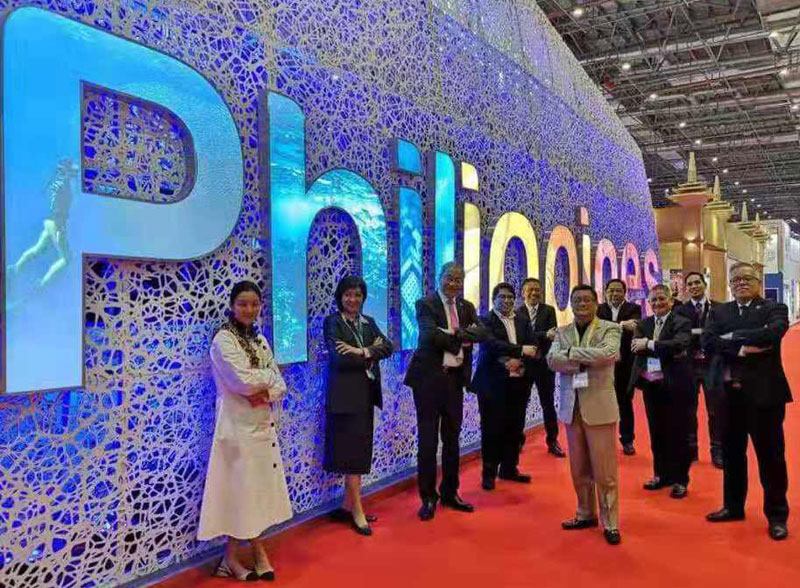 The Philippine Pavilion at the world's biggest import fair, the China International Import Expo in Shanghai, with the Philippine delegation led by Trade and Industry Secretary Ramon Lopez, Usec. Nora Terrado, Consul General Willy Cuyugan, and Commercial Counsellor Glenn Peñaranda
At a welcome ceremony in the Philippine Embassy attended by top Filipino diplomats and staff, Ambassador Chito Sta. Romana lauded this goodwill visit by young Filipino table tennis athletes as reminiscent of the groundbreaking "ping-pong diplomacy" of the 1970s, which helped to normalize diplomatic relations between China and the United States, thus helping promote world peace and economic progress since then. Ambassador Sta. Romana said this visit by the Philippine table tennis delegation is a great example of the crucial people-to-people exchanges needed to further strengthen the ancient bond of friendship between the Philippines and China of over 1,000 years. He urged the youth and private sector to do more to promote understanding.
Apart from sumptuous Chinese foods and exquisite local Beijing cuisine feasts like the famous Peking duck feast, the Philippine table tennis athletes had very exciting friendly matches with their top peers from the Capital University of Physical Education and Sports on Nov. 3 and with Peking University on Nov. 4.
Former Olympic champion and now Peking University professor Madame Liu Wei and other officials also invited a visiting delegation of top table tennis players from Meiji University of Japan to play extensive friendship matches with the Filipino athletes, with ping-pong patron Stephen Techico and Tatand officers also extending an invitation for the Japanese college students to also visit the Philippines on a goodwill sports trip in 2019. Prof. Liu Wei said Asia's sporting superpower China is willing to assist and support the sports development plans of the Philippines since both countries are ancient allies, fellow Asians and good neighbors.
Ambassador Sta. Romana revealed to Philippine Star that Stephen Techico, a philanthropist and honorary president of the Federation of Filipino Chinese Associations, is planning to donate a table tennis training center in Metro Manila to help develop world-class Filipino athletes. Techico confirmed this and said he is still looking for a suitable site.
Among the highlights of the Philippine table tennis delegation's Beijing sojourn were tours of the world-famous Great Wall, the world's largest palace complex, known as The Forbidden City, and the Qing Dynasty emperors' summer hideaway resort complex called The Summer Palace.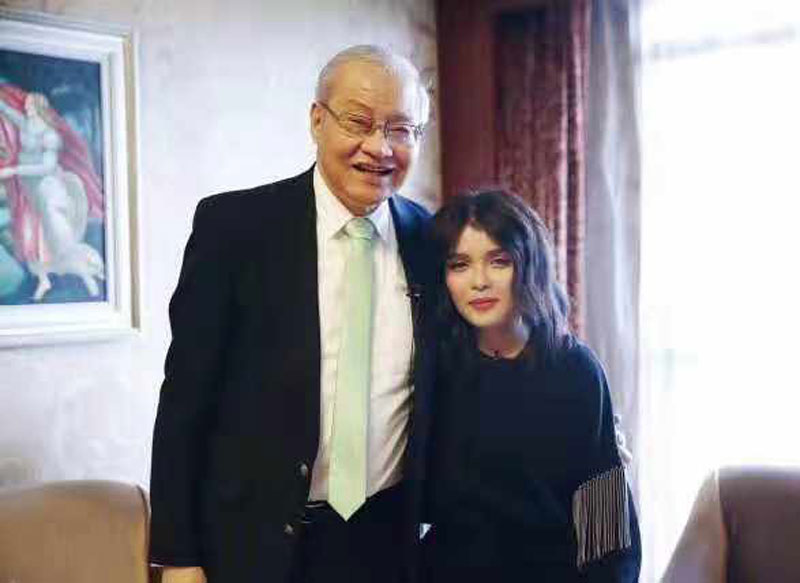 Ambassador to China Chito Sta. Romana with Filipina singer KZ Tandingan, said to be famous on China reality TV shows
The second Philippine delegation welcomed by Ambassador Chito Sta. Romana was a high-level government and business delegation that attended the world's biggest ever import fair from Nov. 5 to 10 in Shanghai, called the China International Import Expo (CIIE). This was announced by President Xi Jinping months before the controversial and ongoing "trade war" erupted between the US and China. CIIE was personally opened by President Xi in the presence of many foreign heads of state, tycoons and business leaders from all over the world.
The Philippine delegation was led by Ambassador Chito Sta. Romana, Trade and Industry Secretary Ramon "Mon" Lopez, Trade Undersecretary Nora Terrado, CITEM's new director-general Pauline Suaco-Juan, special envoy to China Amb. Carlos Chan and his son Oishi/Liwayway China CEO Larry Chan, Philippine Chamber of Commerce and Industry (PCCI) leaders Ambassador Francis Chua with Sergio Luis-Ortiz, Jr. and Jesus Varela, among others. Anvil Business Club had the most number of business delegates and exhibitors led by honorary chairmen George Siy, Reynold Siy, Peter Mangasing, Marcelo Co, president Patrick Cua, this writer as chairman, plus other officers like Jansen Chan with their Mega Sardines booth and Lorina Tan with their Tiny Buds baby products.
One of the highlights of Anvil's trip to Shanghai was a visit to the headquarters of the New York Stock Exchange-listed 51Talk, a unique China firm which Ambassador Chito Sta. Romana extolled for hiring many Philippine-based English teachers to train kids all over China to learn conversational English via internet video interactions.
The 51Talk meeting, a dialogue with realty billionaire Kenneth Hoi of Powerlong Group and other business meetings were arranged by Anvil's honorary member Oishi/Liwayway China CEO Larry Chan. Anvil's meeting with Powerlong Group included a tour of the extensive art collection. Powerlong is Shanghai's fifth biggest realty developer and ranked by Forbes magazine as 34th largest realty conglomerate in China.
The executives of 51Talk said that of their thousands of English teachers worldwide, 80 percent are from the Philippines and mostly home-based teachers earning minimum P20,000 to P80,000 per month, while 20 percent of English teachers are from the US. They revealed that their target is to hire 100,000 mostly home-based Filipino teachers in English from all over the Philippines to assist children all over China in learning better English, because they admire our high English fluency and the traditional good relations between the Philippines and China. They even shared many touching tales of their satisfied clients in China bringing their kids to become tourists in the Philippines to personally meet and thank their Filipino teachers.

The Philippine Table Tennis Goodwill delegation to Beijing, comprised mostly of college and grade school students, led by Stephen Techico
51Talk officials said that their target of hiring 100,000 Filipino teachers of English is different from the 100,000 Filipino teachers whom President Rody R. Duterte earlier announced he'd like to send to China schools as highly-paid educators, therefore the education sector alone could be hiring 200,000 new English teachers from the Philippines. Like Ambassador Sta. Romana, 51Talk officials said these numerous, daily interactions between friendly, cheerful Filipino teachers and schoolchildren from all over China are "a good example of the positive people-to-people exchanges strengthening the friendship between our two countries."
Last but not least, Ambassador Chito Sta. Romana told me to help share his message with the public, that the work of strengthening vital, mutually beneficial ties between the Philippines and the world's rising new economic superpower China shouldn't just be the concern and the work of government leaders and diplomats like him, but should more importantly have the active and strong support of all sectors of Philippine society.
Sta. Romana said: "Philippine economic and trade relations with China date back to the Tang and Sung dynasties or more than 1,000 years, centuries before the first Westerners came here. In the 16th century, the Philippines played an important role in China's then maritime Silk Road, when Chinese products were finding their way to South America and Europe through the Manila-Acapulco galleon trade route, where according to Spanish historical accounts, about 200 Spanish and European vessels were involved. Also, around this period, metals such as silver were being shipped from mines in South and Central America — through Manila — to satisfy demand in China."
Sta. Romana added: "The state visit by President Xi Jinping to the Philippines this November is the first in about 13 years. During the state visit, both countries will take stock of the achievements made during the past two years and will look to set a course towards an even stronger and mutually beneficial bilateral partnership... Underpinning the Philippines' and China's close engagement are two essential factors. First, the Philippines pursues an independent foreign policy anchored on the strategy of 'being friends to all and enemies to none.' Second, both countries agreed to manage differences in views through friendly consultations and negotiations while moving ahead in other aspects of the overall bilateral relations."
* * *
Thanks for your feedback at willsoonflourish@gmail.com & wilsonleeflores@yahoo.com. Follow @wilsonleeflores on Twitter, Facebook and Instagram. Also, buy and read PhilSTAR's Tagalog tabloid "Pilipino Star Ngayon" every Friday for my column "Kuwentong Panadero."