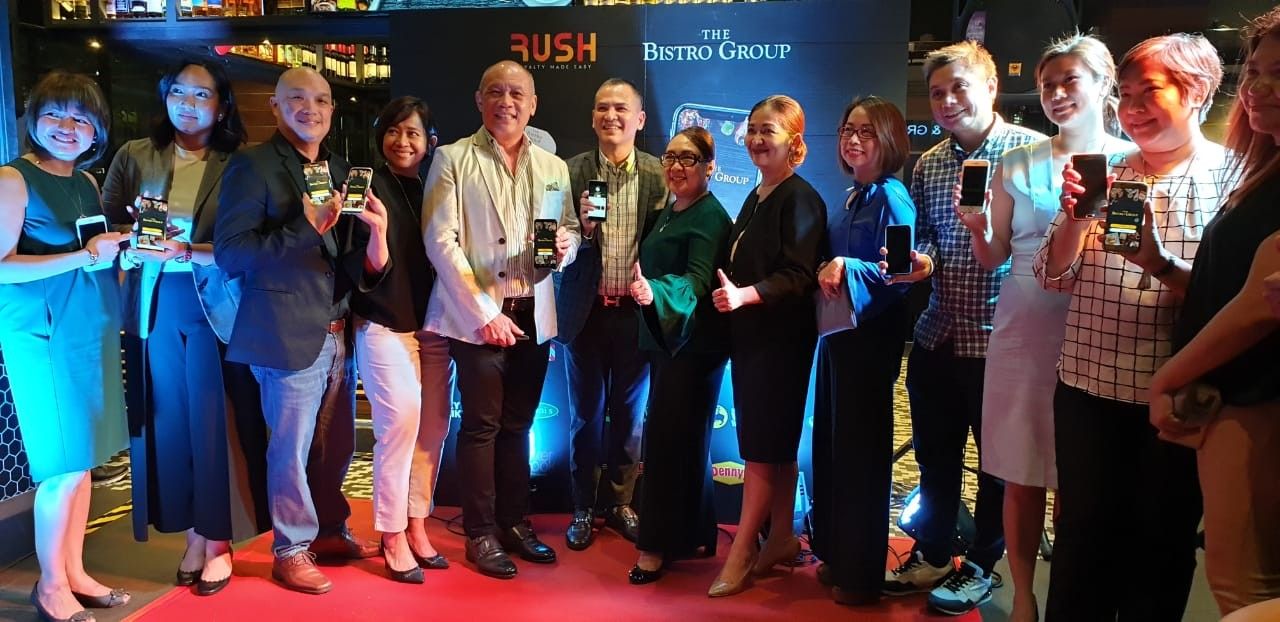 Ernest Cu (5th from left), president and chief executive officer for Globe Telecom and Jean Paul Manuud (6th from left), president and chief operating officer for The Bistro Group present the new BFF mobile app. With them are (from left): Rechele Tiongson, vice president of Operations for The Bistro Group (TGIFridays), Stephanie Kubota, product manager for RUSH, Glenn Estrella, senior vice president for Globe Digital Ventures, Lisa Ronquillo, vice president of Marketing for TBG, Amy Palisoc, vice president of Development for TBG, Meanne Quiambao, sales head for Globe Business, Jane Mancia, cluster sales head for Globe Business, Luigi Reyes, vice president of Business Development for MYNT, Patricia Joaquin-Publico, chief financial officer for TBG, Guia Abuel, vice president of Operations for TBG (Italiannis, Baker and Cook), and Diorella Oledan, vice president of Operations for TBG VP (Krazy Garlik, Village Tavern, Village Tavern, Texas Roadhouse and Bulgogi Brothers).
Released
The Bistro Group partners with Globe Digital Ventures to boost loyalty program
(Philstar.com) - October 23, 2018 - 11:00am
MANILA, Philippines — The Bistro Group, a collection of international and homegrown casual dining brands, has launched the Bistro Frequent Foodie (BFF) loyalty app in partnership with Globe Digital Ventures, Globe Telecom's in-house digital enabler.
The BFF app complements the BFF card and provides Bistro Group's customers the total Bistro experience offline and online. It allows customers to keep track of their vouchers, receive exclusive discounts and make reservations.
With the new digital-based loyalty program, The Bistro Group is able to manage efficiently their customer rewards and make it easier for loyal diners to avail them. The enhanced loyalty program creates a seamless rewards system that, in turn, elevates customer experience.
The app is powered by RUSH, a comprehensive digital loyalty platform created by Globe Digital Ventures that gives businesses the flexibility to create their own custom-branded app, streamline their loyalty program and gain customer insights through real-time analytics, equipping merchants with digital capabilities that can enhance customer service, engagement and retention.
"Today's conventional methods of customer retention is not enough. Almost every establishment in the Philippines has a loyalty card. Forward-thinking brands know how to leverage both traditional and digital loyalty marketing," said Glenn Estrella, senior vice president for Globe Digital Ventures.
"As a leading restaurant brand, we are committed to delivering stellar service and offering delectable culinary creations. This is precisely why The Bistro Group is launching the BFF app for all our loyal diners. As Bistro Frequent Foodies, they can enjoy the perks of our enhanced loyalty program through the BFF app," said Lisa Ronquillo, vice president of Marketing for The Bistro Group.
The Bistro Group manages 16 international and homegrown food concepts that offer a variety of casual dining brands including Denny's, Italianni's, Buffalo Wild Wings, Bulgogi Brothers, Baker and Cook, Fish & Co, Krazy Garlik, Modern Shanghai, TGIFridays, Texas Roadhouse, Village Tavern, Watami and Plank Superdough Pizza.
With the BFF Card, a cardholder is entitled to the following privileges:
30-percent off on bills every Monday
20-percent off on bills from Tuesdays to Sundays
A complimentary single serving of regular coffee or hot tea with entree purchase
Six P250 off e-vouchers (Get P250 discount on total bill with a minimum purchase of P1,000 on cardholder's next visit)
The BFF Card can be availed for only P2,500 on member restaurants of Bistro Group.
For more details, visit the www.bistro.com.ph and https://www.rush.ph.