Citi launches new mobile app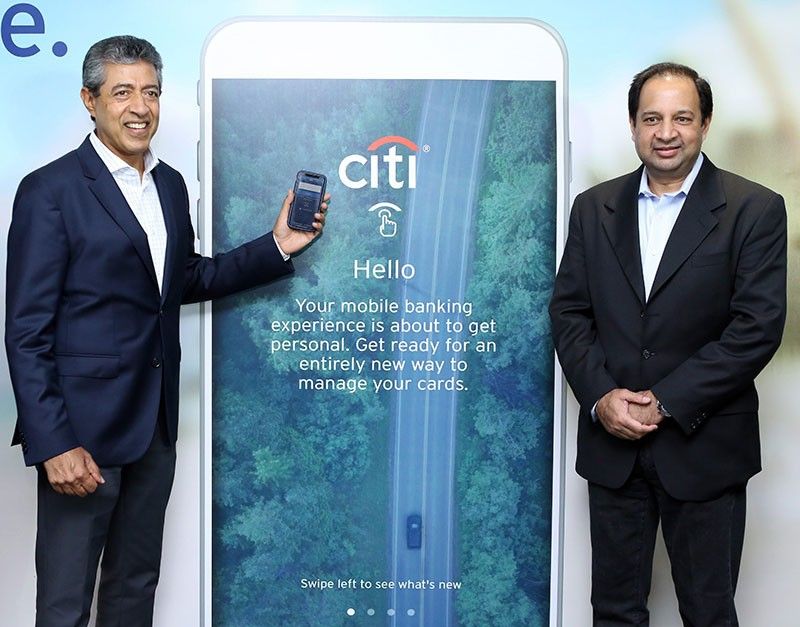 Mobile banking is now the top digital channel for Citi's clients and its new app gives cardholders greater control of their cards.
MANILA, Philippines — Ever experienced traveling abroad and you misplace your credit card, and then have to go through the hassle of calling Manila, verifying your identity and cancelling it? And then suddenly you find it at the bottom of your suitcase and you have to go through the same process again in order to activate it?
Or do you wonder how much you spent in, say, that damn store in Barcelona five months ago but can't see all the charges you incurred with one click and instead have to scroll through months of transactions? Or how would you know easily how much interest a 24-month loan will incur?
Citi Philippines recently launched a new mobile app to give its customers greater control over their credit cards — and for them to get their information when they need it.
At a recent press con, Citi Philippines CEO Aftab Ahmed and consumer banking head Manoj Varma presented the Citi Mobile App experience to provide customers with the freedom to do more. For Citi's credit card customers in the Philippines, the next-generation Citi Mobile App will significantly change the way they manage their finances as it introduces a new and comprehensive set of mobile app features and experiences.
I've got to say that the app is better-looking than the old one, which looked more like a digital printout. Since I am a Citi cardholder, I was able to update my app and test right there the features I'm likely to use when I am traveling.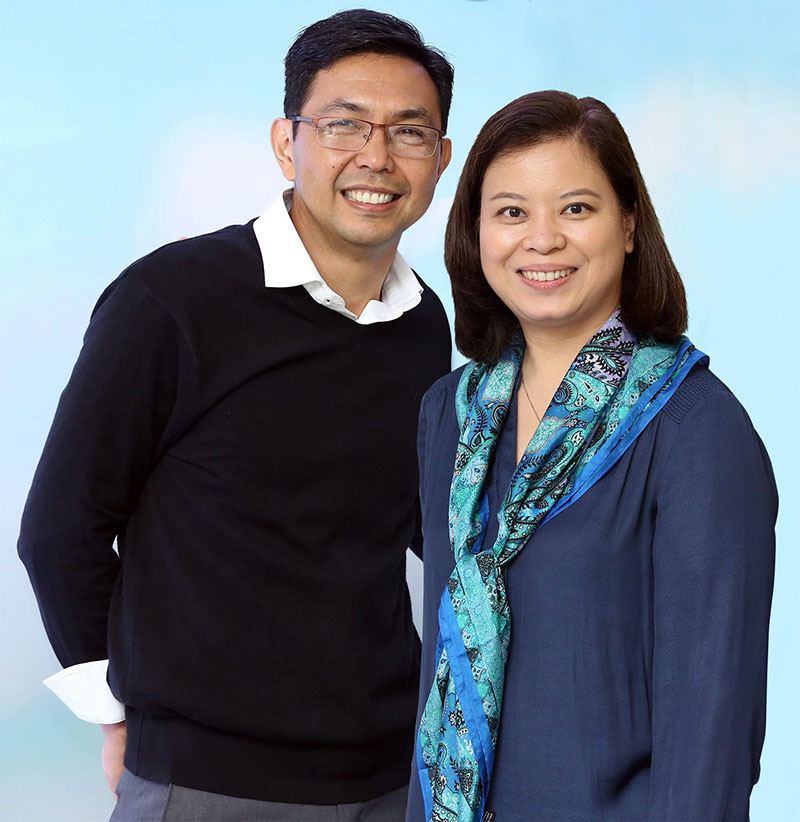 Citi Philippines consumer customer franchise head Roy Villareal and public affairs head Lisa Coory
The most important feature for me is the ability to lock and unlock your card with one click — meaning no one can use it if, indeed, it was stolen; or you can use it again if you find it. Speaking from experience, calling Manila from abroad to cancel your card is not cheap, and every second you are on the phone talking to a customer service representative adds to the stress you are already experiencing and the dread that someone else might be using it while you're on the phone doing the long process of verification for a card whose 16-digit number you don't memorize.
With the new app, you can do these easily, and you can even change your PIN, too.
Another cool feature is the ability to search your transactions. For instance, how much did you spend in Desigual on your vacation (thinking you had behaved so well not buying anything except on that last damn morning!)? How did Uber or Airbnb charge you? The app has a searchable function by merchant (unfortunately limited to a month and I wish the feature included "by city" or "by country," too — but maybe the next generation app will).
The new app also helps customers track reward points and manage outstanding balances, available limits, transaction details and bill payments. Customers can quickly activate new or replacement cards.
Security features include biometric authentication (Face ID, Touch ID, and Android Fingerprint) and the Citi Mobile Token, which instantly generates a one-time PIN that authorizes online banking transactions.
The Citi Mobile App was designed to ensure a seamless and intuitive navigation experience. Qualified customers can convert a portion of their latest credit card balance to installment by simply tapping a "Convert" button. With just a few taps, eligible cardholders can get cash from their credit cards, which can be repaid in monthly instalments.
"We are delighted to continue to introduce innovative digital solutions in the credit card industry," said Ahmed. "We are relentlessly focused on making it more convenient for our customers to transact with us. The Citi Mobile App will deliver a simple, fast and personalized experience to our valued card customers."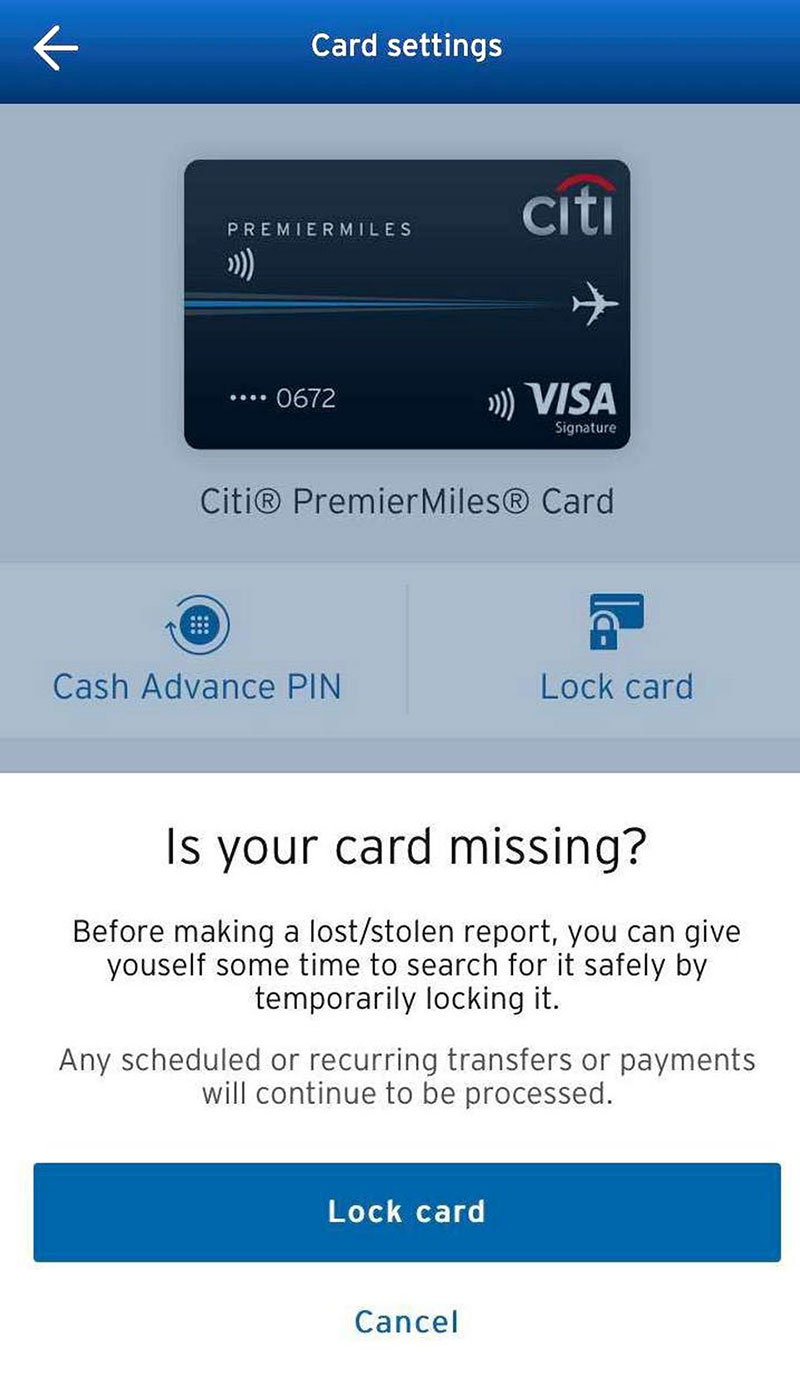 You can lock and unlock your card with one click — a very useful feature when traveling abroad.
Citi's Consumer Banking business has focused on digital transformation, continuously enhancing capabilities to make the customer journey more seamless on desktop, mobile app or phone browser. More than 60 percent of Citi Philippines customers are already enrolled in digital channels, with even more customers already subscribed to electronic statements and notices. Today, the biggest growth in digital enrollments has been in mobile banking, which has surged 64 percent in the last 12 months.
"Mobile banking is Citi's largest and fastest growing channel in the Philippines and we expect digital enrolments to continue to accelerate," said Varma. "We are excited to continue our tradition of innovation by bringing new and upgraded mobile solutions to best serve our customers' needs in the digital age."
Citi is one of the first banks to launch an online presence and also one of the pioneers in attracting customers through its website. In recent years, the bank introduced numerous services including live chat, instant global fund transfers, and pioneering voice biometrics technology allowing customers to be identified through their unique voice print.
In Asia Pacific, mobile banking overtook other digital channels to become the preferred channel used by Citi's Asia Pacific clients. Digital is also growing rapidly as a source of new business at Citi. Digital acquisition in Citi's Credit Cards and Loans business grew 57 percent year-on-year, and digital lending now accounts for 40 percent of total consumer loans fulfilled by Citi in the region.
Citi's performance in the digital banking space has been recognized by the industry, winning several notable awards recently including: Best Retail Mobile Banking Experience-Philippines (The Asset Triple A Digital Awards 2017), Best Internet Banking Initiative (The Asian Banker Philippine Country Awards 2017), Best Consumer Digital Bank–Philippines (Global Finance Best Digital Bank Awards 2017).
* * *
Log on to www.citibank.com.ph. for more information.
Visit the author's travel blog at www.findingmyway.net. Follow her on Twitter and Instagram @iamtanyalara.