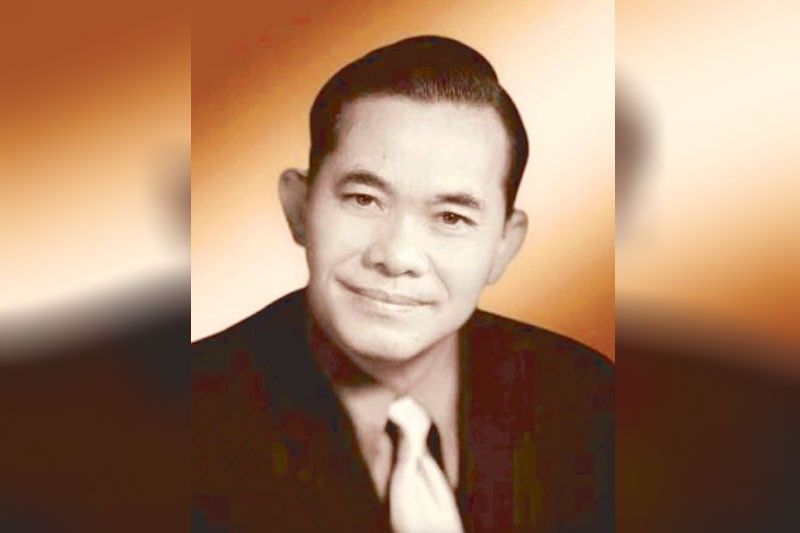 Jovito R. Salonga, Senate President and nationalist leader
Remembering Jovy Salonga's faith and love for music
Due to the global pandemic, it is unfortunate that I wasn't able to help commemorate the recent centennial or 100th birth anniversary of the late outstanding Senate President Jovito "Jovy" R. Salonga on June 22. I had originally planned to hold a music and poetry tribute at his historic Pansol hot-spring pool rest house.
Bar topnotcher, war hero, statesman
Unknown to many, the statesman, intellectual and devout Christian was also a music lover, especially of traditional Filipino love songs called kundiman.
When he died on March 10, 2016, Tony- and Olivier award-winning singer Lea Salonga eulogized: "RIP, Senator Jovito Salonga. They sure don't make them like you anymore."
To mark Salonga's 100th birth anniversary, Pasig City Mayor Vico Sotto visited his tomb and posted on social media: "This morning, I paid my respects to former Senate President Jovito Salonga, one of the greatest statesmen to have ever come out of Pasig."
Indeed, Lea Salonga and Vico Sotto are correct. Jovy Salonga was a courageous nationalist similar to Apolinario Mabini, Gen. Antonio Luna, Macario Sakay, Teodoro Asedillo, Jose Abad Santos, Claro M. Recto, Lorenzo Tañada, Jose Diokno, and historian Renato Constantino.
Ka Jovy's parents were a Presbyterian pastor and a wet market vendor. He walked to school barefoot as a kid and cut grass as a "zacatero" to sell to kalesa horse carriage cocheros or drivers, but still became an honors student.
Jovy was a World War II guerilla jailed and tortured by Japanese military invaders; a working student who became 1944 bar topnotcher with grade of 95.3 percent; UP, Harvard and Yale graduate; three-time Senate election topnotcher; martial law opposition leader and political prisoner; anti-corruption and social justice advocate; leader of 12 nationalist senators who in 1991 voted out the US bases to uphold an independent foreign policy and ended four centuries of foreign military presence in the Philippines (but which caused his ouster three months later as Senate President and the loss of business support for his 1992 presidential bid); and 2007 Magsaysay Awardee.
Presidential Spokesman Harry Roque's grandmother, public school educator Margarita Reyes Cruz, was a first cousin of Senator Salonga's, and Roque was the lawyer of his grand-uncle Jovy for a Supreme Court case challenging the constitutionality of the Visiting Forces Agreement (VFA).
A romantic who loved kundimans
On July 22, 2013, coincidentally on the 442nd anniversary of the founding of Laguna province by Spanish colonizers, I purchased Senator Salonga's historic, beautiful yet simple hot-spring pool rest house in Pansol, Laguna, which he'd built in 1974 with his now-late wife, Lydia Busuego Salonga.
Now named W Resort, it is located at the intersection of Champaca, Narra and Sampaguita Streets in Miramonte Village, Brgy. Pansol, Calamba City, Laguna.
The Pansol rest house used to have a big painting of a Filipino Muslim wedding by National Artist Carlos "Botong" Francisco on the wall of the main living room, which was given to Salonga by the artist before martial law since both of them were from Rizal province (Salonga was from Pasig — then part of Rizal — and Botong was from Morong).
Writer Belinda Olivares Cunanan recalled, "Ka Jovy was a romantic and a lover of music — he used to have German-trained soprano Andion Fernandez, tenor Nolyn Cabahug and other talents regularly at soirees in his home to render his favorite kundimans… Weekends the Salongas would spend in their Pansol home in Laguna, where he would swim in their hot-spring pool for exercise."
Award-winning soprano Andion Fernandez-Ching recently told me, "I used to sing for Senate President Salonga in his Pansol residence. I was referred to the office of Senator Salonga by the UP College of Music. It usually was for Senate committee meetings. I didn't count how many times I sang for him, but he and his wife eventually became family friends of ours… Among the singers who sang there with me included Nomer Son, Frankie Aseniero, and Nolyn Cabahug. I'm not sure what his favorite song was, but I think it was Mutya ng Pasig. He used to live in Pasig."
Top tenor Francisco Aseniero said, "I did some singing with Andion at the late Senate President Jovito Salonga's Pansol residence for his birthday and some special occasions, during evenings… He particularly liked Philippine classic compositions like Anak Dalita, Madaling Araw and other kundiman songs… I hope our present leaders can learn from the great man."
Dr. Melba Padilla Maggay, president of the Institute for Studies in Asian Church and Culture, wrote: "Salonga lived simply and did not have immense resources, yet each year he would throw a grand birthday party and invite his many friends and associates to celebrate. Unlike the stiff and often boring parties of the great, these occasions were often inspiringly luminous. He loved music."
Jovy Salonga wrote in his book, A Journey of Struggle and Hope: "We listened to the advice of my rehabilitation doctor, Dr. Antonio Periquet, who said that wading and swimming in a warm spring pool would be good for my damaged nerves. After the construction, we made it a point to invite some of our friends to enjoy the waters of Pansol during weekends. My doctors apparently enjoyed the yearly event, exchanging reminiscences and listening to the love songs of well-known artists, before and after the anniversary luncheon (the Sunday nearest to August 21)."
Sen. Salonga's daughter, the US-based Victoria Regina Salonga Mitchell, recounted, "The circumstances that led him to build it after surviving the 1971 Plaza Miranda bombing, his body was left with thousands of small pieces of shrapnel imbedded in it, and one of his doctors recommended swimming in warm water to make him more comfortable. At the time, his friend Rafael Anton, an immigrant from Spain who he met through the Lopez family (then owners of ABS-CBN and Meralco), had developed the Miramonte subdivision, which had the hot springs.
"I remember the enjoyment my mother had in decorating the houses, which were designed with entertaining in mind and have large entertaining spaces and high ceilings, which allow breezes to blow through.
"My father enjoyed not only quiet time there (when he could get away from the city and all his activities to read and reflect), but he also enjoyed entertaining there. Among those who came were Presidents Aquino, Ramos and Estrada.
"When he was Senate President in the 1980s and early 1990s, he held what came to be known as the 'Pansol Reflection Sessions,' which were attended by many politicians, generals, intellectuals, and ambassadors from around the world. We even have pictures of them in the pool with JRS!
"Dad would entertain guests on Saturdays and asked professional singers to sing Filipino songs. Celeste Legaspi and Andion Fernandez sang, and the singing group from UP performed on numerous occasions. Yes, Dad loved kundimans — his favorite was Minamahal Kita.
"Because of the remarkable history of the property, I had hoped that I could hold on to it, but because I live abroad, it is simply too difficult for me to manage it from so far away.
"But more than music, Dad's great, defining, and enduring passion was religion and its application to politics. I believe that what led him to pursue public office was his urge to pursue the common good on a nationwide scale, create fair social structures for the disadvantaged, and bring about a more principled and less corrupt type of politics. His faith is also what compelled him to pursue a legal career and to serve justice."
After the pandemic, I plan to host some of 81-year-old Kamuning Bakery Café's tertulia-inspired, non-partisan Pandesal Forum sessions with leaders and media, as well as music and literary events at W Resort, including an event to honor the humble, incorruptible and patriotic leader Ka Jovy Salonga.
* * *
W Resort has two high-ceilinged bungalows with many air-conditioned bedrooms, social and dining areas, gardens, two pianos, a natural therapeutic hot spring swimming pool, two kitchens, videoke, a BBQ grill and billiards, and is available to rent per day or overnight, ideal for excursions, vacations, teambuilding, celebrations, etc. Text or Viber 0933-853-6436, 0918-807-7777, 0917-848-1818, or message its Facebook page.
* * *
Thanks for your feedback at willsoonflourish@gmail.com! Follow @wilsonleeflores on Instagram, Twitter and Facebook. Read also https://investment.fwd.com.ph/experts/asia-s-business-leaders-and-what-we-can-learn-from-them.