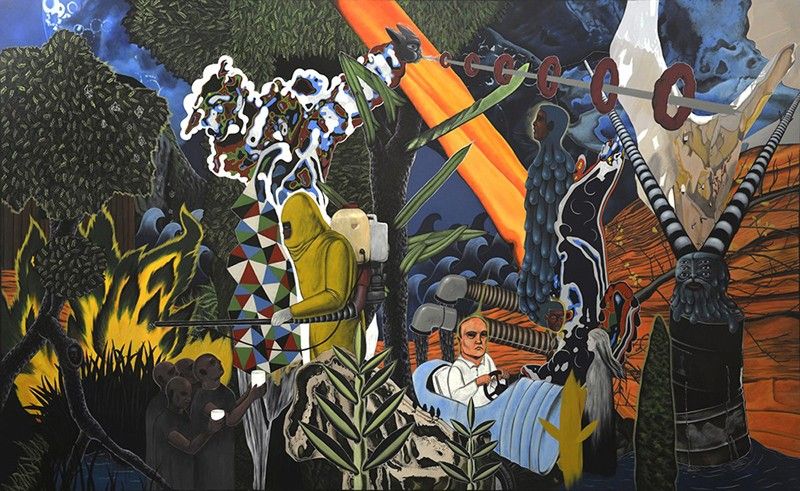 "Water, water everywhere and not a drop to drink" by Rodel Tapaya
The three countries of Rodel Tapaya
Jessel Duque
(The Philippine Star) - February 17, 2020 - 12:00am
MANILA, Philippines — A crowd raises their empty glasses to beg a hooded figure for a drink. It's probably a bad idea, because the man in protective gear is spraying pesticides and only poison erupts from the tube that the supplicants hoped contained water to quench their thirst. A flood of flame pours from the sky. A man in a barong escapes, driving a drum-car downstream. A dog-like creature blows rings of smoke. A figure covered in either giant tears or drops of water is helplessly watching all this go down.
This is just an ordinary day in one of Rodel Tapaya's hellish landscapes.
The canvas in question, a massive 3x5-meter piece called "Water, water everywhere and not a drop to drink" is decidedly dystopian. Where films like Mad Max: Fury Road imagine a future where water is a more important commodity than oil, Tapaya's painting depicts the future, present and past all at once. He shows the greed in our current practices, how we have tainted our water sources with insecticides, killed our oceans and its bounty with oil spills, entire islands of waste we have thrown in our waterways.
We have scorched the earth and yet we wonder why we're thirsty.
Tapaya's body of work attempts to explain our contemporary reality by reaching into our past, using the narratives of myth to map out a road of why we're in such dire straits. The figure cloaked in tears or drops of water might as well be Mebuyen, the Bagobo deity that lives in the underworld. She is usually depicted as having many breasts in order to feed the spirits of dead infants. We're not dead yet, and yet Mebuyen stands there, horrified as though we might as well be dead, or we're headed there. What nourishment can she offer a world that's hellbent in destroying itself?
In his "Urban Sprawl," Tapaya stitches together myths from the northern and southern parts of the Philippines. A Sulu creation myth depicts the first man and woman hatched from the egg of a giant bird. Human population multiplied, and there is now a strong need for a lot of food to survive. Sustenance comes in the form of rice — a gift from the gods.
In a myth from the Mountain Province, Kabunian has gifted mortals with seeds of rice to plant on earth, his only request was for humans to honor him in a ritual for good harvest. This is why the ritual called canao is performed, as thanksgiving. But later, humans forgot to thank Kabunian, who in his anger sent rats to destroy the rice crops. People realized their wrongdoing, asked for forgiveness, and Kabunian graciously sent cats to solve the problem of rats.
Folklore has often depicted deities as helpful to mortals, but humans have a tendency to abuse this.
In Tapaya's surrealistic depiction of these myths, folklore is not just about stories about a time of forgotten gods, it's also very much about how our forgetfulness led to our own undoing. Kabunian is still furious not just because we have forgotten him and his gift, but with so many people to feed, we have turned our rice paddies into subdivisions and parking lots. Our hunger is unli- but our paddies are not.
And so the wraths of god and rats descend upon us.
In the essay "The Haunting of the Filipino Writer," National Artist for Literature Resil Mojares talks about the feelings of displacement, dispossession, and disembodiment that come with the migration of people from mountains to the barrios and then to the cities. His landscapes bleed from country to country, each crawling with people and pests. Tapaya, who was born in the mountains of Montalban, cannot help it but explore the betrayals of forgetting the Mountains where we have received the gifts of the gods, the Barrios where much of us continue to live, and the Cities where so much of us gamble with our lives.
* * *
Rodel Tapaya is the featured artist of Hublot, the Official Timekeeper of Art Fair Philippines 2020.