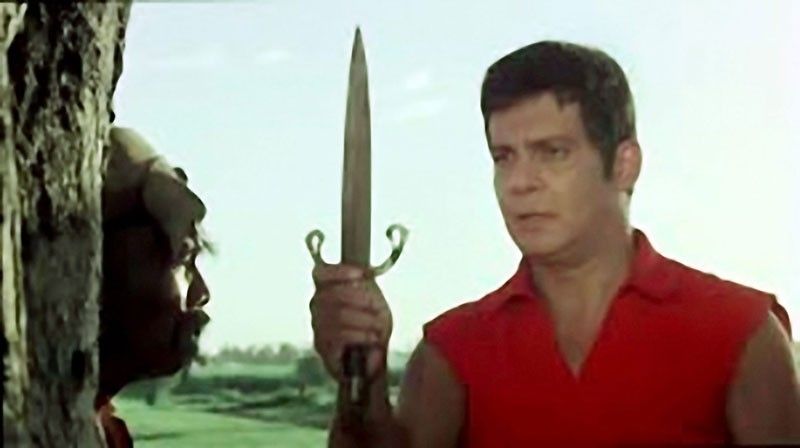 FPJ as the legendary Panday with the magic dagger
CAn an 'Ang Panday' dagger spill auction gold?
A magic dagger always spells box-office gold but can it also find glitter at the upcoming León Gallery Kingly Treasures Auction this Nov. 30?
Three generations of film stars have venerated the balaraw or dagger. In the classic film Ang Panday, no less than Fernando Poe Jr. plays a blacksmith who vanquishes the God of Evil by brandishing his balaraw to the sky. In Ang Panday II, his successor, Bong Revilla, brandishes a dagger that morphs into a full-length sword endowed with supernatural powers. And in the series' latest iteration, Coco Martin once again calls on the same weapon to defeat the world's dark powers.
Indeed, it is believed that daggers that once belonged to famous warriors can bring their owners past and present both protection and mystic talent.
An exquisite dagger crafted for the "Hero of Silang," General Vito Belarmino offers one such opportunity. Half-moons, hammers, crowns and other symbols decorate the blade and scabbard. Belarmino was a trusted officer of Emilio Aguinaldo and would fight numerous battles in Cavite, Batangas, and even as far south as Albay. Like the better-known Miguel Malvar, he would balk at surrender.
General Malvar is also represented in León Gallery's much-awaited and last auction of the year. A precious document, dubbed the "Malvar Edict," is the first of its kind from this hero to come to auction. It is a masterful propaganda piece directed at his archenemies, the US Army. The edict orders Filipino soldiers to treat surrendering Americans gently, especially when they have thrown down their weapons, are sick, wounded, or worst of all, captured unawares while either asleep or most embarrassingly, while drunk.
Malvar was known as a man who was close to his beloved Batangas earth, a gentleman farmer who planted orange orchards and loved his flock of roosters so much that he could recognize them at a distance from the sound of their crowing.
According to his biographer E. Arsenio Manuel, the reluctant general was nevertheless a ferocious and intrepid warrior, who would travel barefoot and in secret, with trousers rolled up like an ordinary peasant, never sleeping in the same place twice.
He would raise his own troops and become an important commander who would attract the attention of both Andres Bonifacio and Emilio Aguinaldo in their power struggle for control of the revolution.
Bonifacio would call General Malvar "a very intelligent man" in one of his last letters to Emilio Jacinto, just days before the Supremo was arrested and sentenced to death. He had also seriously considered Malvar's invitation to base himself in Batangas.
Malvar would eventually be considered the most dangerous Filipino adversary after the death of General Antonio Luna and the surrender of General Manuel Tinio.
Two other relics from a different century inhabit the auction scene: A gorgeous bishop's chair made of batikuling that was used by the Catholic hierarchy at high mass; and later in the 20th century, by the Manila elite in their fine homes as extremely rare accent chairs. It was once in the Romeo Jorge collection.
Finally, the elusive artist Buen Calubayan interrogates Felix Resurreccion Hidalgo's position as one of the most important Filipino artists of the 19th century after Juan Luna. In a painting that can only be described as a "tour de force," Calubayan willfully appropriates Hidalgo's most-praised painting "La Barca de Aqueronte." It was first exhibited in 2016 at the show titled, "Hidalgo: Towards a History from Within," at the Blanc Gallery.
Calubayan wrote in his catalog, "The objective of this project is to problematize the positioning of Felix Resurreccion Hidalgo and to understand his perceived location in a given world." He rather daringly proposes that "we have never left the Academy. Like Felix, we are all timid academic painters, modernists, and conceptualists." Thus Calubayan seeks to put the right questions to our art history and the identities formed by that history.