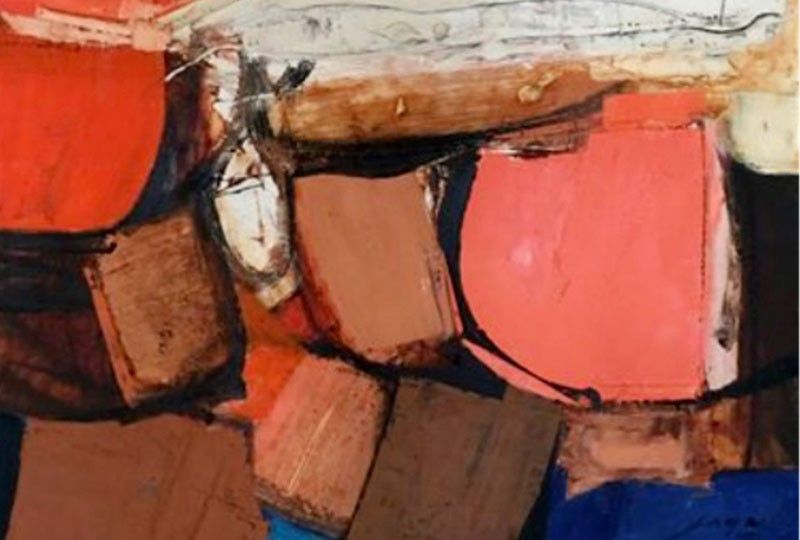 "Prelude to Violence" by Jose Joya just shattered Malaysian auction records. In the Philippines, Joya also holds the record for the most expensive painting to be auctioned in the country, at P112 million for "Space Transfiguration" at León Gallery.
Artists with an attitude: Joya Breaks Malaysian Records, Filipinos Invade London
TREASURE HUNTING
-
Lisa Guerrero Nakpil
(The Philippine Star) - October 21, 2019 - 12:00am
Breaking news: The most expensive painting to be auctioned in Malaysia is — wait for it — by none other than José Joya. This Philippine National Artist already holds the record for being the highest-value artwork to be auctioned in this country for "Space Transfiguration."
That work sold for a mind-boggling P112,128,000 at León Gallery in February 2018. Joining this list of firsts for Joya is now this month's sale in Malaysia, when his "Prelude to Violence" waltzed away with almost RM1 million, or P11.5 million at the recent KLAS (Kuala Lumpur Art Space) auction.
Although the hammer price was just a fraction of Joya's world record, the Malaysian press wistfully wondered out loud when a Malaysian artist could finally join the million-ringgit club. (For math-nuts, "Space Transfiguration" measures 5 x 6 feet; "Prelude to Violence," almost 4 x 3 feet.)
In another hemisphere, Filipino artists made headlines in London as Andres Barrioquinto, Pacita Abad, and Cian Dayrit were featured at various events across the city.
Both Pacita Abad and Cian Dayrit received coverage in The New York Times Arts Section in an article titled "Frieze London Shows the Art World Has Cottoned On to Weaving." The author, Amah-Rose Abrams, said "a special 'Woven' section at the fair celebrates an art form that was long undervalued as a result of sexism and snobbery."
Pacita Abad is one of the Philippines' most famous woman artists and recently had a retrospective titled "A Million Things to Say" which also featured her trapunto pieces that combine painting, embroidery and quilting.
The New York Times went on to note, "Art dealers from all over the world have gathered for what organizers are calling the most international edition in the Frieze Art Fair's history.
In a huge white tent in Regent's Park, more than 165 galleries have set up their stands, and on them, you can see art made from iron, found rocks, melted glass and old televisions, all fascinatingly inventive.
But it is a more familiar, though often overlooked, material that is in focus at the fair this year. Weaving, once looked down on by the art establishment as women's work, or scorned as folksy craft, is now the subject of major exhibitions at prestigious museums."
Dayrit, in this age when records are being broken for Philippine maps, embarked on an original direction, part map and part tapestry. It's the zeitgeist of the times that the "Murillo Velarde Map of 1734" recently set a world record for all Philippine maps by practically hitting the million-dollar hammer at another León Gallery auction. The "Holy Grail" of Philippine Maps soared to P46.7 million, or almost US$900,000. This enormously significant map was the cornerstone of the country's position on the Scarborough Shoal (Panacot in the Murillo) for the Philippines' victorious United Nations Convention on the Law of the Sea (UNCLOS) case versus China.
Cian Dayrit's arrival in London is a sort of reversal of the British invasion of Manila, which among other things, resulted in the ransacking of the silver in its cathedral and the looting of the Murillo Velarde copper plates. His art is also a searing rewrite of our world as defined by the West.
The New York Times reported that Dayrit "uses what he refers to as 'counter-cartography' to debunk stereotypes about the indigenous people of the Philippines. He does this by creating alternative maps to those created by the country's colonists, working with displaced indigenous people. Mr. Dayrit uses a combination of Latin, Filipino and English texts, and imagery from the period of Spanish colonial rule, to create large, hanging woven textiles."
In other news, Andres Barrioquinto returned to London for his second solo show, this time around, at the Saatchi Gallery during the Start Art Fair. This auction-darling produced eight works for the exhibit, "This Is My Beautiful Title," curated by Viv Lawes of One East Asia. Barrioquinto has attracted a cult following of collectors who follow him across the world, snapping up everything he produces. His tireless manager is the art magus Derek Flores.
Curator Lawes said Barrioquinto's works "initially seduced by the formal values of his paintings — rich colors, flawless surface, classically harmonious construction and young, attractive human forms." Gradually, however, viewers are also drawn to his works' underlying menace, "a sense of unease creeping through the visual delight," as Lawes put it. "The initial impact gives way to the disruptive overlay of violent motifs, inspired by Japanese woodblock prints (ukiyo-e), haunted winter forests, butterflies swarming like flies, and peacocks with watchful eyes."
Intriguingly, Lawes notes "one of the few things that is known about Barrioquinto is "his obsession with British band The Smiths and frontman Morrissey." This 'enfant terrible' has been known to conduct himself —and more importantly, the slyly subversive nature of his art — according to the famous lyric, "I am the son and the heir of a shyness that is criminally vulgar, I am the son and the heir of nothing in particular."