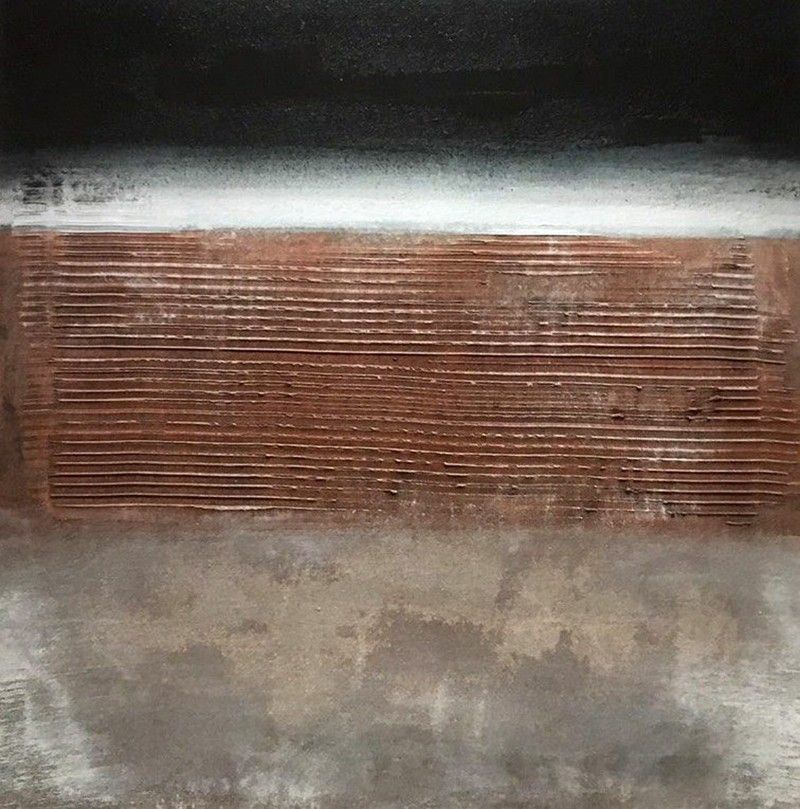 Paintings by Pep Manalang
That's the title of the latest art exhibit of elementary and high school classmate Pep Manalang, held last July at The Drawing Room, Pasong Tamo Extension. And though a couple of months removed, it makes you feel like waking up to the sound of an electric fan humming oracions at breakneck speed, unlike the lazy ceiling fan in the Martin Sheen character's room in wartime Vietnam of Apocalypse Now.
There is however no apocalypse in Pep's abstractions, a series of paintings that resemble either the shifting colors of corrugated iron sheets (yero) at different times of the day — thus becoming a sort of deconstruction of the master Vicente Manansala's iconic barongbarong or Philippine shanties — or the uneven surface of water be it lake river or sea, also depending on how the light bounces off.
The artist herself I haven't seen in years, maybe in almost a decade, most likely in the last big reunion of UP High Prep batch-mates when the old school along Katipunan Avenue had not yet been bulldozed to give way to UP Town Center. Such is the disconnect between progress and memory, and perhaps all that's left are paintings that recreate, in a wild and random way, depending on one's imagination, the layout of our school with its four pavilions, the pagoda shed between pavilions 2 and 3, the balong malalim of the practical arts class on the downslope of pavilion 4, and the deep dark mysterious multipurpose hall at the far end where adolescents with hormones raging strummed Nature's Way by Spirit on acoustic, a coda away from the rudimentary basketball court perennially without a net on its two goals and weeds sprouting on the sidelines.
But to the paintings themselves, photos of which were taken by another batchmate Loli Luna Tapia on opening day:
One of pastel predominantly cream and gray on second look could be a view of clouds from an airplane window, easily twilight with either dawn breaking or nightfall fast approaching along a cryptic horizon.
Vertical sheets of white and blue strip above might be buckets of rain falling on windshield, visibility zero, wiper out of sight, no choice but to move forward or stop at curbside until downpour subsides.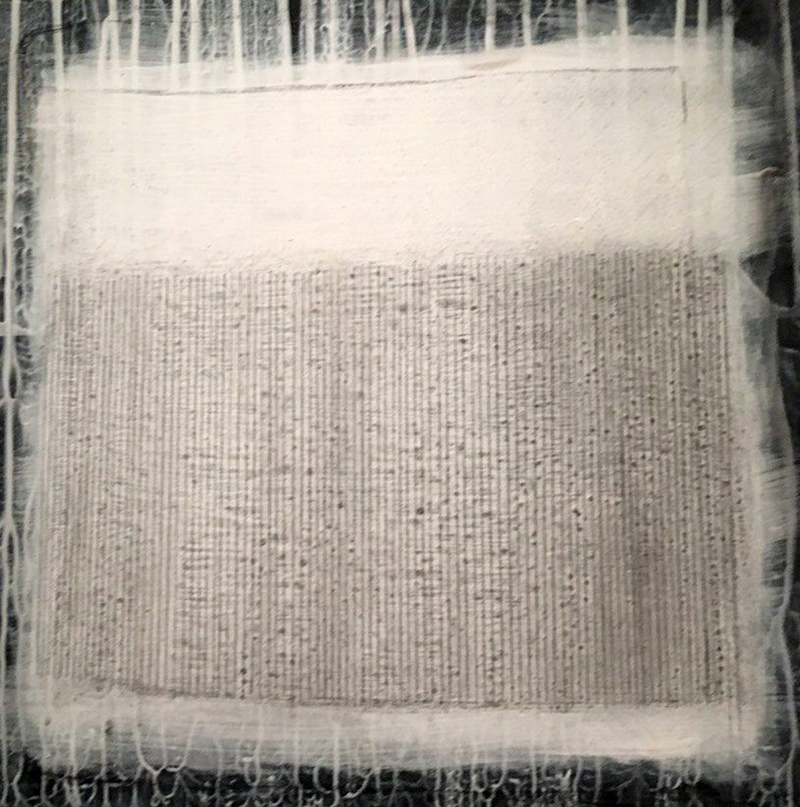 X
Predominantly blue yero with semblance of gray netting above is a personal favorite, Manansala's barongbarongs taken apart bit by painstaking bit in reflective squalor, a cautionary tale that after all is said and done, the apathy and anarchy set aside, only acrylic will save us.
Cream-colored sheets with blazing light above could remind the viewer of minimalist windows with light or stray symphonies trying to break free at the edges, or a makeshift curtain in one such shanty behind which move hints of daylight or eureka, a found euphoria. Rug frozen in time underneath lake.
Corrugated sheet in red above with shadowy figures below sharing canvas could be half drawn blinds looking out to the broken city with its uneven skyline, the viewer leaning out to get a glimpse of another day gone by or fading away in smoke and mirrors.
Then again, could be reading too much into the paintings and relying too much on the camera phone of Loli. In the high school e-group is a photo of Pep, Loli and another batchmate Melissa Bataclan, composing a tres marias who themselves could be subject of another painting.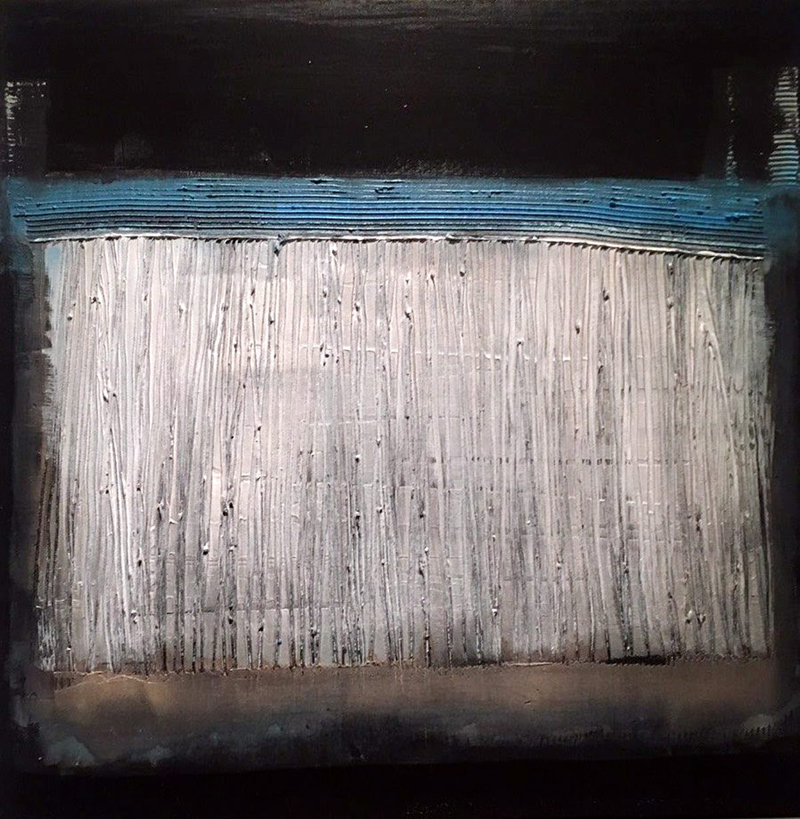 Was a time when I ran into Pep and fellow batch Edwin John Brandeis between late teens and early adulthood, must have been overstaying in college or already dropped out, at the Juniors corner sari-sari store in UP Village. Can't now recall if they were smoking cigarettes then, but that's a possibility in our reckless years and the even more reckless but flavorful vapes weren't yet invented. Maybe also drinking beer in paper cups to keep it safe for neighborhood schools.
Even then couldn't have imagined she would one day become a painter, although it's likely she doodled and sketched during the long class lectures and poor social studies teacher Mr. Del Prado tried his level best not to look at what lay beneath the miniskirts or else be struck down by a rhumba to the tune of "Peanut Vendor."
Well ,for a nanosecond there we were back on Katipunan if not Pasong Tamo Extension, so not exactly true that Steely Dan song about never going back to the old school. It's possible the Town Center was razed in a wrinkle before UP High Prep 75 dropped back into the void again.