A 20-year-old collectible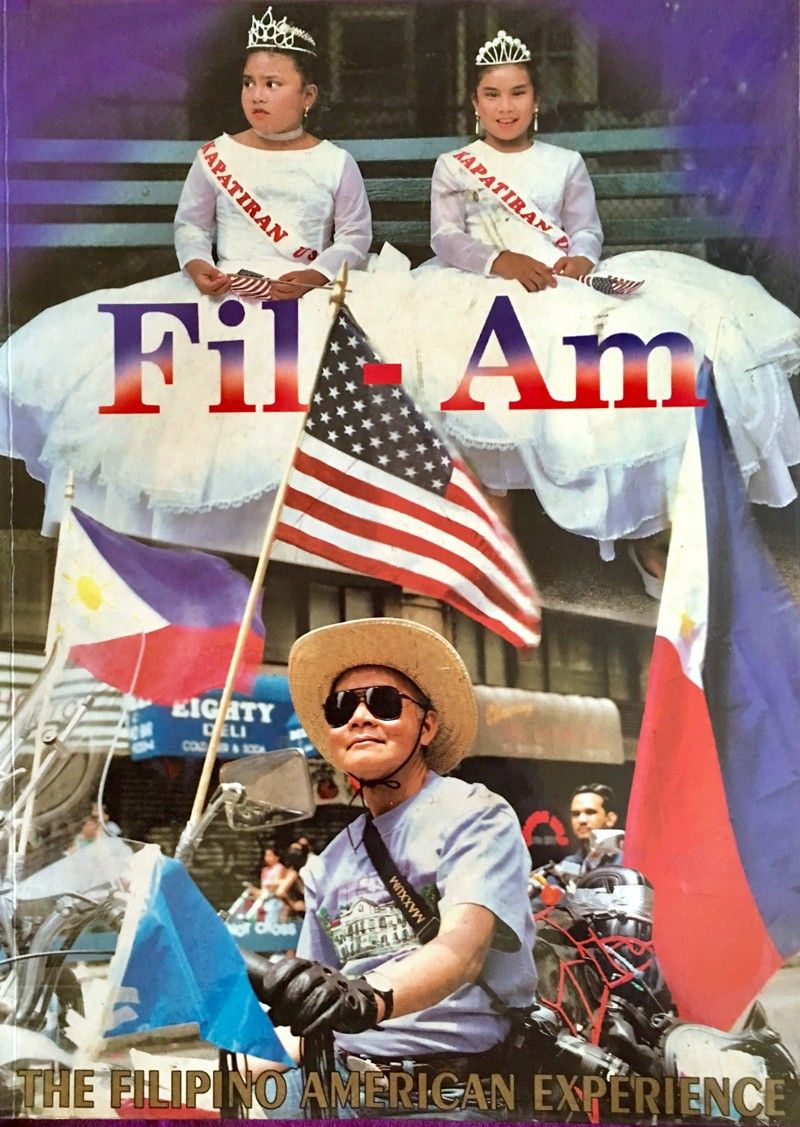 Old friend Sam Santamaria, an artist-writer based in New Jersey, came up with a blast from the past recently, emailing a request for the release of the rights to an article he contributed to an anthology I had edited way back in 1999. It was being required by a US publisher for a book he's putting together.
Days later, he posted a photo on FB of the cover of FIL-AM: The Filipino American Experience, sparking interest in the availability of remaining copies. I said it's unlikely to find any in bookstores here, though there's always a chance that one could pop up in a shop offering vintage collectibles. I added that I still had a stash of copies in some cabinet.
Further messaging led to a promise to drop off a few copies for Katya Guerrero's online bookstore, www.artbooks.ph — as she had expressed interest to carry them at her physical outlet on Pioneer Street, Mandaluyong.
I'll have to find time soon to go through all those cabinets, — wooden, steel, and stackable plastic — where I've cached similar items of memorabilia spanning several decades. I had been planning this, anyway, thinking of handcarrying a few copies of that anthology for my participation at the Fifth Filipino American International Book Festival in San Francisco in October.
Organized by Philippine American Writers and Artists (PAWA) and the Filipino American Center of the San Francisco Public Library, activities would include symposia, readings, and book selling. The FIL-AM anthology that antedated publications on the same theme should prove attractive to collectors. The downside is I could probably bring only a few copies of the rather large and heavy coffee-table book in softcover.
In any case, Sam's reissue of its cover, which he described as that of a "milestone" publication, sure brought back memories of November 1999 when as the executive editor, I took more than a hundred copies to the States, where Fil-Am friends among the contributors helped me launch the book serially in New York Chicago, Los Angeles and San Francisco.
The pilot launch was at the Philippine Consulate on Fifth Avenue. As a contributor of two essays ("Casa Victoria: A Pocket Oasis of Art in Jersey City" and "A Comic Odyssey: Manila-Philadelphia-New York-New Jersey"), Sam showed up. He reminds me that I had signed his copy, along with two other contributors: Loida Nicolas Lewis and one whose signature he can't decipher anymore. It could have been any of the New York-based Fil-Am writers and artists who also had contributions, such as Eric Gamalinda (the book's associate editor), Jessica Hagedorn, Luis Francia, Alberto Florentino, Lara Stapleton, Nick Carbo, Bino Realuyo, Eileen Tabios, Mario Ontal, Martin F. Manalansan IV, and Reynaldo Gamboa Alejandro. Video maker, performance artist and zine editor Sabrina Margarita Alcantara-Tan and filmmaker Dionisio Velasco, who were among the contributors from the Big Apple, could also have been there.
In Chicago, thanks to contributor M. Evelina Galang, we launched it at an elegant billiard parlor. On hand must have been the poets Antonio M. Jocson, Wilfredo P. Sanchez and Ma. Luisa A. Igloria, the last represented in the book by three essays.
In Los Angeles, again the launch was held at the consulate, with some of the following contributors possibly in attendance: Blanca Nolledo, Wilfrido D. Nolledo, Marisse Abelgas, Pia Abelgas, Val Abelgas, Cecilia Manguerra Brainard, Roderick Labrador and Elizabeth Pastores Palffy.
Memory teases as to who among the following Bay Area contributors showed up at the San Francisco launch: Tara Agtarap, Joe Aliling, Jeannie Barroga, Michelle Bautista, Rene Ciria-Cruz, Alex Fabros Jr., Theodore Gonzalves, R. Zamora Linmark, Gemma Nemenzo, Oscar Peñaranda, Benjamin Pimentel, Marites N. Sison, Leny Mendoza Strobel and Mona Lisa Yuchengco. I recall consigning the remaining copies at Archipelago Bookstore, the launch venue.
The anthology compiled a hundred essays by over 80 writers, a majority living abroad, including some in Canada, Hawaii, and Singapore. Notable Philippines-based writers were included, among them former president Fidel V. Ramos, Senator Blas Ople, Carmen Guerrero Nakpil, Adrian Cristobal, Beth Day Romulo, Randy David, Doreen Fernandez, Federico Pascual, Llita Logarta, Nelson Navarro, Chay Florentino-Hofileña, Doreen Yu, Mel Tobias, Luis Morales Jr., Cathy Babao-Guballa, Karla Delgado-Yulo, Carmen Hernandez, Miguel Syjuco, Frank Cimatu, Herr Bautista, Juaniyo Arcellana, NVM Gonzalez and F. Sionil Jose.
Jon Melegrito, then the executive director of the National Federation of Fiipino American Associations (NaFFAA), honored us with an essay on its history, while Susan N. Montepio wrote on the Philippine American Women Writers and Artists (PAWWA).
The cover and color photos were credited to Claudine Sia, while other photographers lent major contributions: Neil Oshima, Norman Montifar, Tony Remington, Minerva Amistoso, Kat Palasi, Ronnie Alejandro, Archie Reyes, Ruben Nepales, Eric Gamalinda (portraits of Jose Garcia Villa), Stanley Garibay (of Carlos Bulosan and himself), Ben Razon and Rene Ner.
Published by Publico Inc, the 272-page book can still remind us of how a generation ago, we had taken cognizance of the burgeoning Fil-Am phenomenon, and joined our voices and images together for the thematic compilation.
In the first of his essays, Eric Gamalinda took this stab at prescience, all of 20 years ago:
"These days, Filipinos have been making their mark in various fields in the United States, from government to the arts. But I am certain it is those who think and analyze where they've been and where they are going who will set the boundaries of identity.
"… (T)he need for identity is more urgent, more necessary in America. In a land where culture homogenizes all its citizens, where everyone is expected to look the same, eat the same food, go to the same strip mall, the question Who Am I? becomes a burning existential equation whose answer determines one's education, career, relationships, desires, and memory.
"But it is searching itself that leads to discovery, and by defining themselves, could it be possible that the Filipino American will eventually define the Filipino?"