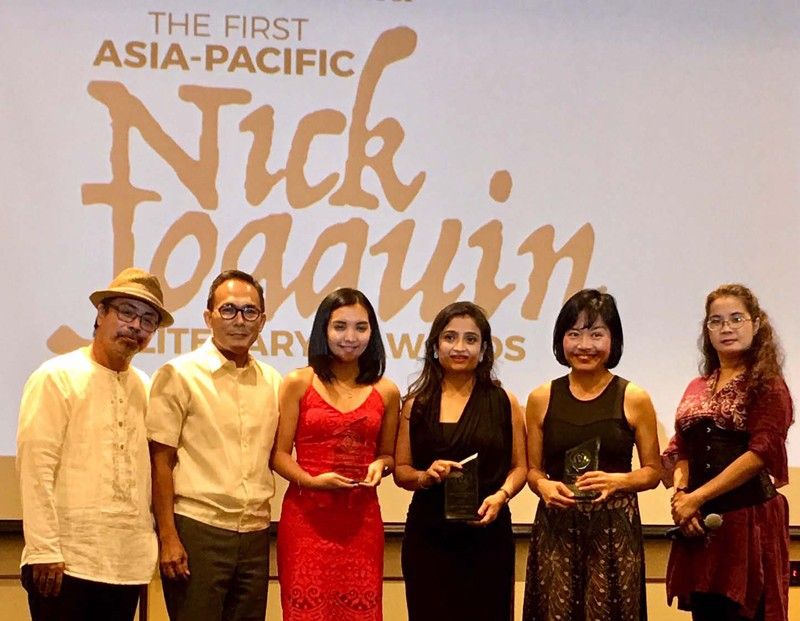 Graphic magazine editor-in-chief Joel Pablo Salud, Graphic and Business Mirror publisher T. Anthony C. Cabangon, and literary editor Alma Anonas-Carpio (at right) flank the Fiction winners: from left — Anneliz A. Erese, Prachi Topiwala-Agarwal, and Vicky Chong.
Asia-Pacific writers feted at Nick Joaquin awards rites
The 1st Asia-Pacific Nick Joaquin Literary Awards were given last Wednesday, May 15, at Winford Manila Resort and Casino. The awards honored the best fiction and poetry to see print in the weekly Tony & Nick section of the Business Mirror.
Over the contest period last year, the Tony & Nick section memorialized the deep friendship between publisher Anthony Cabangon Chua and National Artist for Literature Nick Joaquin by publishing shoft ficion and poetry sent by writers who were residents of member-nations of the ASEAN, Taiwan, Hong Kong, Australia and New Zealand.
The Philippines Graphic magazine associate and literary editor Alma Anonas-Carpio also served as literary editor for the Tony & Nick section. Contest judges were Singaporean poet Alvin Pang, prose author Cristina Pantoja Hidalgo, and this writer.
Four ladies won the top prizes and flew to Manila for the awarding rites — from Singapore, Australia and New Zealand. Two of them were Filipino, while the other two were Singaporean and a Singapore-based Indian.
Jade-Ceres Dolor Muñoz, who presently resides in Auckland, was adjudged Poet of the Year for her poem, "For Abby and all who suffer daily." Here it is in full:
"Woman./ You are an oyster// ripening/ a grain of pain/ in the pit of your belly/ until it becomes/ a globe of tears/ too round,/ too heavy/ for keeping// You fold/ upon yourself/ under blankets/ under darkness/ bearing your cross./ Silently.// A salty,/ briny/ flesh/ coils around that little/ morsel of suffering/ turning it/ this way and that/ until it is made new.// Your tough shell/ an unyielding roughness/ Hiding, protecting/ your vulnerability// No prying eyes can see/ what you have lovingly/ grown inside// Who knew that/ pain can be beautiful, too?"
The Third Prize for Fiction was won by Vicky Chong of Singapore, for her story, "The Uber Driver." An excerpt:
"Her hand creeps towards Tony's face and she is relieved to feel some warmth. She tries for his pulse again. Nothing. Perhaps her fingers are in a wrong position. She crouches over and moves her fingers gingerly beneath his jaws. Nothing. She releases his seat belt and shakes him violently. He slides sideways and now lies on the backseat. The windows mist up rapidly, enclosing them in a vehicular tomb."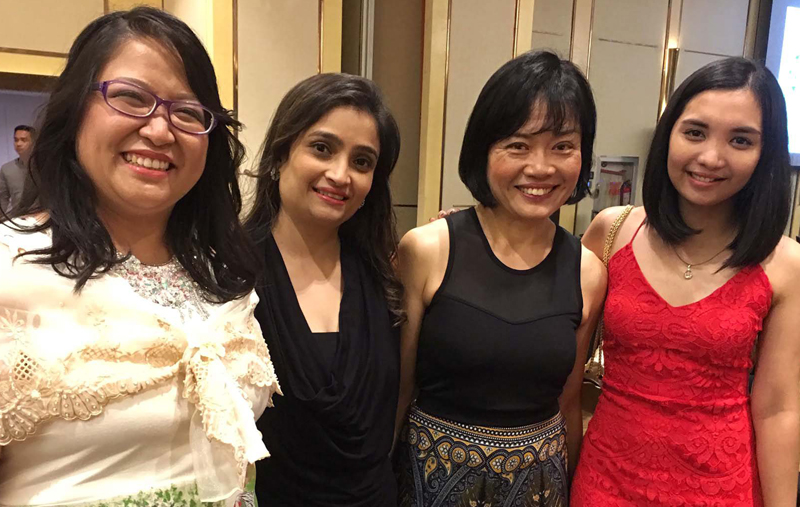 Poet of the Year Jade-Ceres Dolor Muñoz from New Zealand, at left, joins the Fiction awardees who flew in from Singapore and Australia.
Second Prize for Fiction went to Melbourne-based Filipina Anneliz A. Erese for her story, "Departures." An excerpt:
"She was walking so quickly ahead of me that I could not keep up. My legs were shaking from all the walking. The bags were heavy on my back and I wished I did not buy so many oranges. I pretended I was back home, harvesting tomatoes at our small farm in the middle of summer. Around my waist would be a basket of the ripe ones, weighing at least fifteen kilos. There would be a table under a big guava tree just a few meters away from the end of the field. The flies would be swarming around the sacks of tomatoes that were waiting to be picked up. It was easy to carry heavy things back home because they were familiar."
First Prize for Fiction went to Prachi Topiwala-Agarwal, originally of Mumbay and who has resided in Singapore for only a few years. Her winning story was "Mountains of Fear, Valleys of Hope" — of which, an excerpt:
"The unpaved street outside their hut was deserted. Sporadic barking of stray dogs tore through the silence. Tenzin huddled in his blanket as his eyes adjusted to the darkness. Muted light crept out of the gaps from the closed doors and windows of the huts around. As Tenzin lit his beedi, he could make out the outline of the mountains around him. He couldn't see the snow in the dark, but he knew that the gray-brown bodies were topped with a white, icy cap that had started growing in the last few weeks, signaling the arrival of winter. Ladakh is famed for its panoramic beauty. The untouched barren wilderness brimming with mesmerising sights that remain frozen in the eyes and hearts of those who witness them. To Tenzin it meant little more than a home that gave him livelihood as a tourist guide for six-seven months and left him jobless for the rest of the year. He smoked half the beedi. The rest would serve him the next day. As he stubbed it and slid it back into the packet, he heard the cries of a baby from the hut next door. Linpa's mother and her younger sister Pema lived there. The baby was Pema's infant son. Last winter, Pema's husband Shinzu had gone to work with him. But when they were less than a day away from Kumar Post, the army base camp which was their first unloading destination, he had caught a bullet in enemy crossfire. Tenzin pushed away the memory of Pema's distraught face when he had returned alone that March. He waited for a while, rubbing his palms together, looking at his in-laws' hut. Did she need help with the baby? When the crying subsided in a few minutes, he opened the door to his own hut as little as he could to slide in. Glad to be out of the cold."
The cash prizes were US$1,000 each for the Poet of the Year and First-prize Fiction winner, with $600 for the Second Prize and $400 for the Third Prize.
The contest is currently on for its second year.