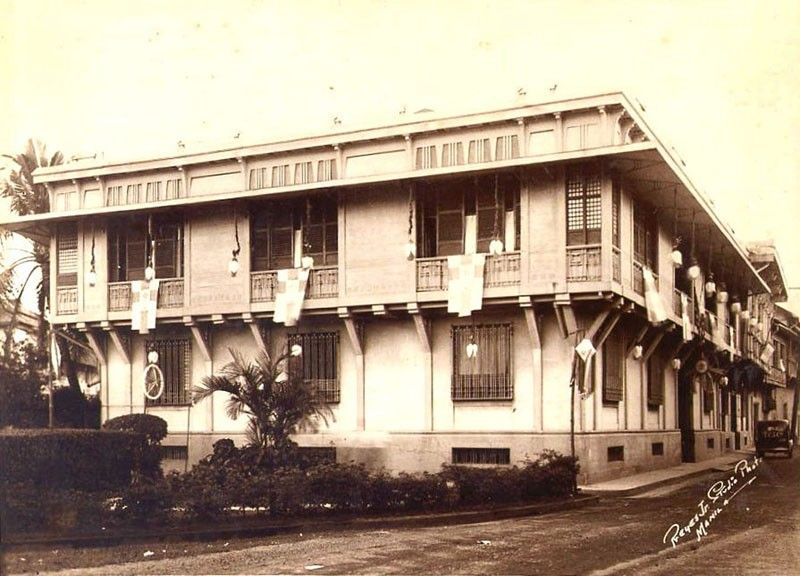 The Nakpil House on Barbosa Street where the descendants of the Bonifacios were united. It was built by Don Ariston Bautista Lin, who was thought to be an inspiration for the subversive bon vivant Simoun in Rizal's Fili.
History shaken, not stirred
For those who like their history shaken and not stirred, today's celebration of the EDSA Revolution should be flavored not only by the remembrance of Cory Aquino but also by the man who gave his name to Manila's longest avenue and the world's most famous modern uprising — Epifanio de los Santos.
Don "Panyong" is now best known as the man who collected the documents of the Philippine Revolution obsessively, from the beginnings of the Katipunan, its exceedingly rare membership documents (some signed in blood) to the last, heart-rending letters of Andres Bonifacio after the tumultuous Tejeros Convention.
At the heart of it was his start as a journalist — first as a contributing writer and finally, as associate editor — for Hen. Luna's incendiary and widely read newspaper, La Independencia.
My mother, Carmen Guerrero Nakpil — who was at the time in the thankless job as head of the National Historical Commission — took me as a child to the inauguration of the train cars from where the Independencia was produced. They were somehow found and rescued and if memory serves me correctly, they were parked on railroad tracks at Fort Santiago. The idea of writing and printing a newspaper while on the run was a source of fascination for me, serving me in good stead in preparing the historical entries for the various León Gallery catalogues.
Mother had a soft spot for La Independencia. Her beloved grandfather, Leon Ma. Guerrero, would produce articles for it; so would two other Guerreros, his nephews, the incandescent poet Fernando Ma. Guerrero and the doctor Manuel Guerrero.
Like Hen. Luna, Leon Ma. was a pharmacist. The two men, both geniuses, were rivals but their zeal was joined in newspaper-writing. Leon Ma. would manufacture special bullets for the revolutionary army. Finding supplies low on gunpowder, he would lace them with poisons gathered from the fields and forests. Leon Ma., however, would reserve his most diabolical toxins for his articles written for La Independencia.
Leon Ma. would summon Mom to breakfast with him every day, when he would unfurl the day's paper and make her read choice reports out loud. This would be punctuated with his loud snorts, occasional swear words, and colorful commentary on the personalities and events. It accomplished two things: the development of her excellent Spanish as well as a keen insight into current events. Mom would become a famous reporter, then an op-ed columnist (when their opinions could wreck political parties and bring down presidents).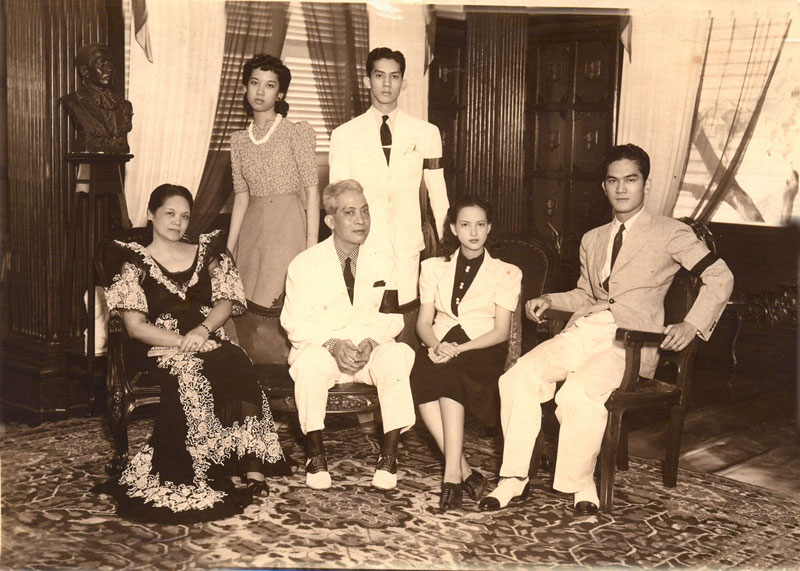 The Guerreros of Ermita, in mourning in 1935 for the death of Leon Ma. Guerrero, the eminent scientist (seated) Filomena Francisco Guerrero, Alfredo Guerrero, Anita Corominas Guerrero, Leon Ma. Guerrero (standing) Carmen Guerrero Nakpil and Mario X. Guerrero
Her grandfather on her mother's side, Gabriel Beato Francisco, would be toiling on his history of the Philippine Revolution when she used to come visit him, turning out sheaf upon sheaf of notes written in longhand. E. Arsenio Manuel would say that if these documents had survived, they would have been irreplaceable accounts of the Philippine Revolution. Instead, we now know Don Gabriel only as the country's first Tagalog novelist.
Epifanio de los Santos' collection — and that of his son, publisher and an equally avid scholar Jose P. Santos — are the stuff of legend. Jose P. Santos' collection alone is said to have at one time numbered over a hundred documents, including the memoirs of Gregoria de Jesus and most recently, the confessions of Lazaro Macapagal and Emilio Aguinaldo — the chess pieces and pawns for the Game of Thrones that was played and won in Cavite in the dark days of 1897.
Both gentlemen's vast holdings have captured the public's imagination. Busloads of schoolchildren and limousines bearing society matrons have stopped by the sales rooms to catch a glimpse of these tantalizing documents.
What makes them so fascinating and far from ho-hum? Indeed, what qualifies them to be called "exceedingly important" and "extremely rare," terms American auction houses use to describe far less important letters from George Washington and Abraham Lincoln?
The awful truth is that, while these documents had indeed been published in the 1920s and 1930s, they were quashed by a new generation of guardians of our country's history. These were men who believed that telling all the facts about the blood-soaked deaths of Andres Bonifacio and Hen. Antonio Luna should be stopped. And for no other reason than — something Aguinaldo himself would have said — "for the good of the republic."
In early 1996, with the 100th year of the Philippine Revolution just around the corner, I was aghast to discover that the Philippine government had chosen to commemorate the centennial of Rizal's martyrdom — and that single heroic event alone. To include the Cry of Balintawak, I was told, was "divisive" as it would eventually lead to that horrific day on May 10, 1897 when the founder of the Katipunan would not be cut down by Spaniards like Jose Rizal but by fellow Filipinos. It would cast a horrible shadow on the Centennial of the so-called First Republic the following year in 1898.
In support of the June 12 Centennial, the National Historical Commission had organized the descendants of the heroes of the Philippine Revolution according to the original provinces (as represented by the eight rays of our flag): Batangas, Bulacan, Cavite, Laguna, Nueva Ecija, Pampanga and Tarlac. That is, save for one: for that was what it was called at the time, Manila.
It seemed to me then to be some kind of oversight and I prevailed on my cousins, descendants of the Lakambini of the Revolution to organize the first "Kaanak ng Manila" chapter. We chose, as our headquarters, the family residence on Barbosa Street in Quiapo. It is a house built by Don Ariston Bautista Lin who was married to my grand-aunt Doña Petrona Nakpil y Luna. Having married into a family of jewelers, Don Ariston is thought to have been the inspiration for the wealthy, subversive Simoun in Rizal's Fili. (His brother-in-law Francisco was the bon-vivant goldsmith who was arrested, dragged to Fort Santiago and only released to die a broken man.) Some may turn up their noses at this district these days, but for the better part of two centuries, it was the epitome of an ilustrado elegance learned in Paris and Madrid. More importantly, it was where our heroes breathed and walked. Epifanio de los Santos was certainly a visitor, and to the house's first incarnations and its precincts, Juan and Antonio Luna, Artemio Ricarte, Apolinario Mabini, and even José Rizal. To forget that is easy amid the current infernal squalor, but it does these men — and our history — a woeful disservice.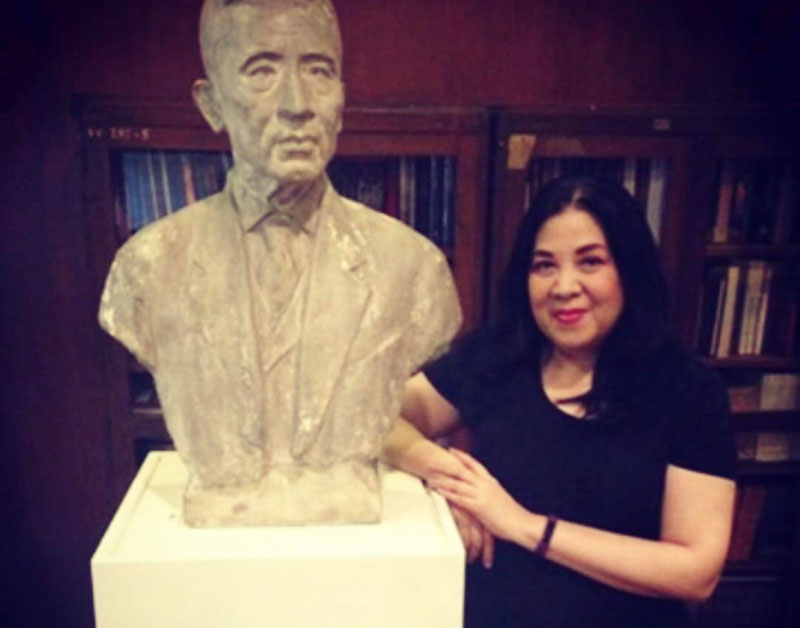 Author Lisa Nakpil with a Tolentino bust of great-grandfather Leon Ma. Guerrero at the Philippine National Museum
Don Julio Nakpil would deposit his notes on the Philippine Revolution in the National Library, then headed by Epifanio de los Santos with the tantalizing caveat, "to be opened only upon my death."
Thus it occurred to me, that in order to make this deliberately forgotten part of our history appealing to today's generation, these secrets and revelations would have to be told, the opposite of the dry-as-dust retelling of our history textbooks. I studied relentlessly, harassed Renato Constantino for tidbits when he held court at lunches at the Philippine Columbian; I even joined the reenactment of the founding of the KKK, held every July 7 on its anniversary.
I sent out shameless press releases (yes, I admit it!) calling for the descendants of the Manila KKK to be counted. My efforts were rewarded because, one day, in walked the descendants of Bonifacio's siblings — Procopio and Ciriaco — their wives having been scattered to the four winds in 1897, obliged to change their names and sever all ties, under pressure from the Aguinaldo death squads. The families of the three brothers (and their sister Espiridiona) would be finally reunited after a separation of a hundred years. It was an amazing occasion that made my hair stand on end, as they met in the house on whose foundations Andres Bonifacio, as an original member of the Liga Filipina, would have stood.
That experience several light years ago is reflected in today's modern media — as a new generation now consumes history through the magnifying glass of auctions and their catalogues as well as through TV news soundbites that must educate in seconds. Again, it's easy to pooh-pooh both but in an age of fast facts, YouTube and Twitter, these are the realities that must be reckoned with.
Each find is new because they are indeed new when seen with a generation's fresh eyes, although they may have been peered at by academics a century ago. They are teased out by the astounding amounts willing to be paid by private collectors who, thanks to the promise of their largesse, for the first time offer a view of these important documents, up close and personal.
The glue that holds it together is the same writer's verve — in today's language, call it "investigative journalism" — that animated Epifanio de los Santos and his son José. These men chose to write about the Philippine Revolution in words that, despite their "sensational" headlines, were nearly not colorful enough for the terrible acts and events of that period that left so many dead, including the founder of the Katipunan and the greatest general of the Philippine-American War. Yes, these have been secrets kept from the general public for decades. Yes, these are shocking, then as now.
The original Nakpil-Bautista house stood on Plaza Sta. Cruz, which was then the era's CBD, and my brother has this little theory that it had been torched when Hen. Luna, a friend of the family, needed a diversionary tactic to draw attention from his imminent attack on Manila. Sometimes, you must burn some houses — and icons — to the ground to find your way to freedom and truth.