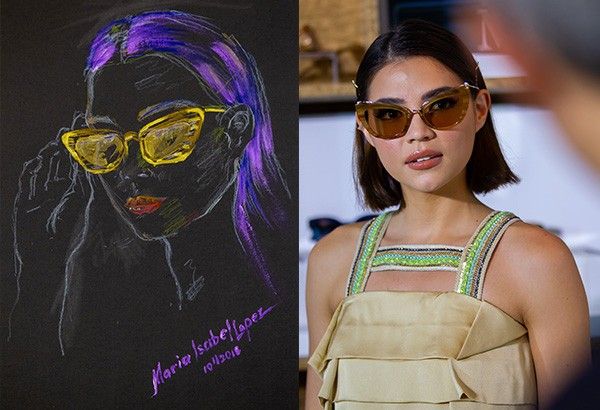 Maria Isabel Lopez's illustration (left) of Rhian Ramos (right)
Safilo/Released
IN PHOTOS: Celebrities, artists collaborate for live art session
MANILA, Philippines — Due to the #MeToo movement that encourages victims to speak out against sexual abuse, women empowerment has become a strong theme nowadays.
Thus, brands, such as Italian eyewear label Safilo, have chosen strong women to embody the intricate designs of their latest collections.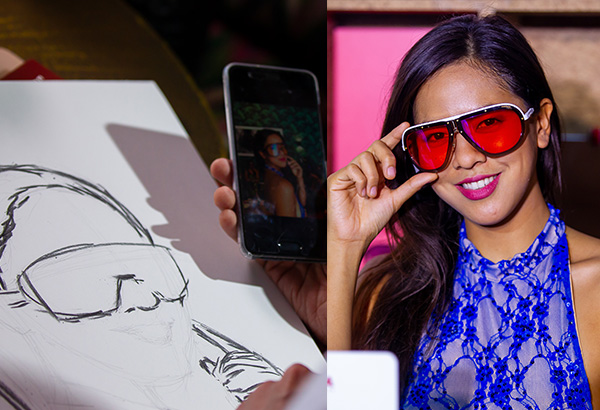 Artist Miguel Chavez sketching Mara Lopez (right).
During a recent live sketching session in Taguig City, the brand that brought globally-acclaimed luxury eyewear brands to the Philippines, including Carrera, Jimmy Choo, Fendi, Hugo Boss, Max Mara, and Dior, chose celebrities as muses to some of the country's most renowned designers and artists.
To represent Carrera, artist Miguel Chavez sketched Mara Lopez, a surfer, advocate for an indigenous tribe in Davao, and star of an upcoming film to be shown at the International Busan Film Festival.
Mara's mom, Maria Isabel Lopez, sketched actress Rhian Ramos for Max Mara. She used mixed media on Rhian's portrait, but used paint on the eyewear.
"Because Rhian is so beautiful, I made sure the eyewear doesn't overpower her," explained Maria Isabel, who thinks the eyeglasses are "modern but something Marilyn Monroe could have worn in the '60s."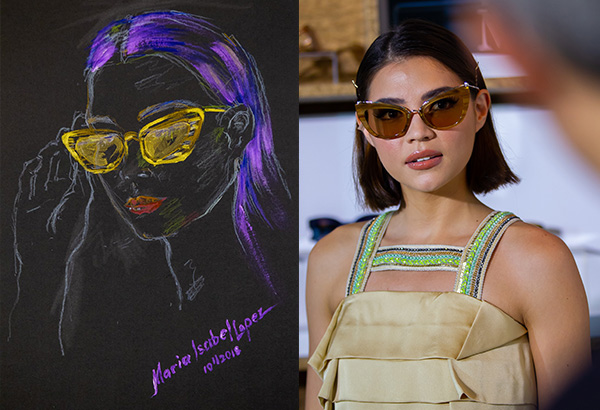 Maria Isabel Lopez's illustration (left) of Rhian Ramos (right)
Meanwhile, to represent Hugo Boss, Atticus King was drawn by Carlos Celdran, who Atticus described as "very quirky, fresh and real."
"What's the latest news about you?" the event's host, James Deakin, asked Celdran, to which he replied: "Jail!"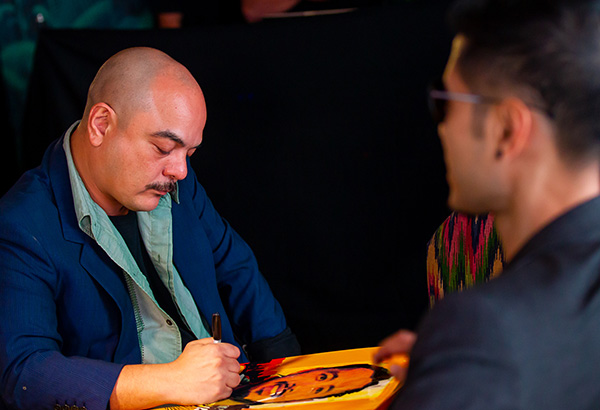 From left: Carlos Celdran and Atticus King
For Jimmy Choo, Soleil Ignacio drew inspiration from model and yoga teacher Bubbles Paraiso.
A live sketching session is something Soleil, a fashion illustrator, has never done before. Nevertheless, she found it "very refreshing and old school."
"I feel like a renaissance artist," she enthused.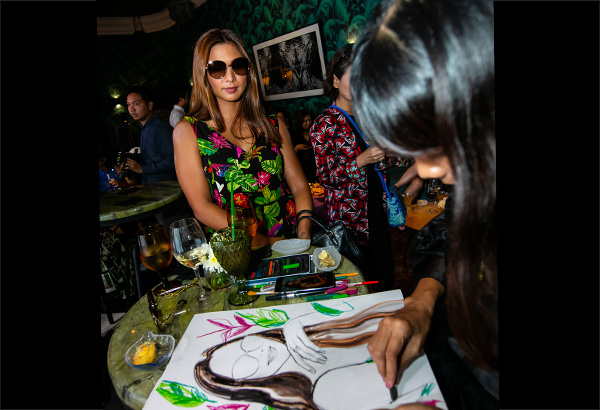 Soleil Ignacio illustrating Bubbles Paraiso
Fendi, on the other hand, was brought to life through the tandem of Jojie Lloren as artist and Isabelle Daza as the model.
To be sketched by the famed fashion designer had been very empowering, said Isabelle.
"As a millennial mom, I face a lot of pressures from social media, so my advocacy nowadays is to help boost kids' EQs (emotional quotient)," she shared.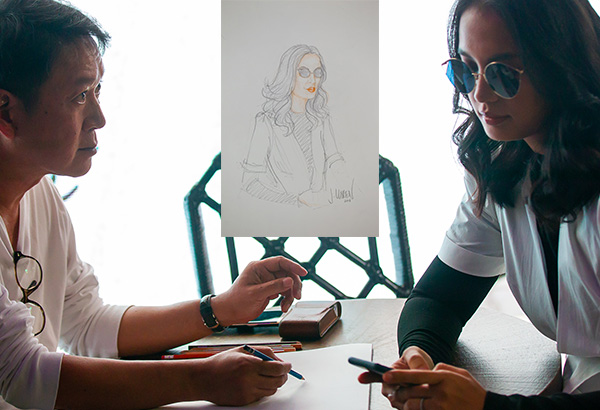 Jojie Lloren and Isabelle Daza; Jojie Llroren's Illustration of Isabelle Daza (inset)
Meanwhile, Coleen Garcia-Crawford enjoyed having a short break from showbiz as a muse of fashion designer Mich Dulce for Dior.
"I'm not fond of pink, but it's so loud, it's a statement piece," Coleen said of the eyewear.
"It's hard to do justice to someone as beautiful as Coleen. I was freaking out," cried Mich, who rendered the portrait with a unique texture that tried to encapsulate the actress' beauty.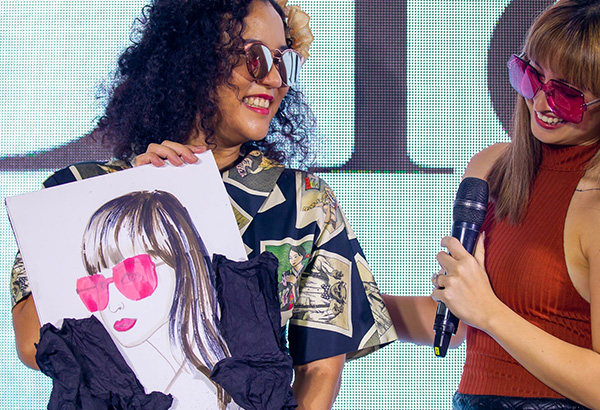 Mich Dulce and Coleen Garcia