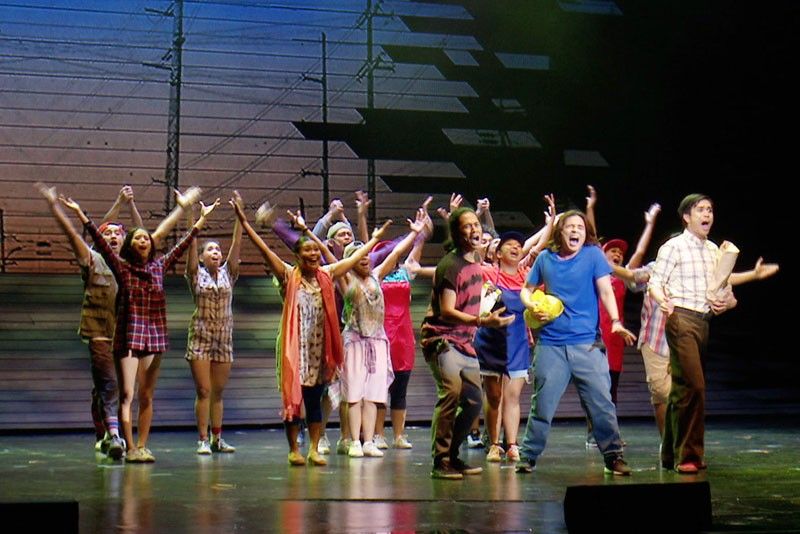 Boo Gabunada, Reb Atadero, and Topper Fabregas respectively play Emman, Hector, and Anthony, the characters who navigate through love, loss, and tragedy in Ang Huling El Bimbo.
'Ang Huling El Bimbo': A stirring dance through life
We were never really die-hard Eraserheads fans. In fact, we had to listen to them on Spotify just to familiarize ourselves again with their music. But you have to admit that there's a certain allure to the badass cool vibe and an authenticity that made them revered musical heroes. And hey, any band that cites Paraluman, that Old-World '40s screen goddess of Sampaguita Pictures, in one of their songs, definitely deserves our undivided attention. So when it was announced that Resorts World Manila's Full House Theater was producing an original Filipino musical based on the songs of this legendary, homegrown rock group of the '90s we could only be too excited. The group's reputation and history alone — from industry attempts to censor their risqué lyrics and calls from the country's highest legislative body to ban their songs from airing because they supposedly promoted drug abuse, to a controversial breakup of the band and a reunion concert where Ely Buendia, the lead vocalist, was rushed to the hospital halfway through the show — is enough material to make this a promising theater spectacle indeed.
But there were many more reasons to anticipate this landmark production that features a formidable cast and creative team: Dexter M. Santos, the master of those beloved plays at Dulaang UP like Angry Christ and Kundiman Party, was chosen as director and choreographer. Dingdong Novenario, playwright of cult plays at the ever-growing Virgin Labfest at CCP was asked to do the script. Myke Salomon of PETA's Rak of Aegis and 3 Stars and a Sun fame was tasked with musical direction. For scenic design it was no other than multi-awarded production designer Gino Gonzales, and for lighting design it had to be Monino Duque who has done the most memorably lit shows at the CCP and recently directed an awesome opening show at the ASEAN summit for world leaders.
The tale is told beautifully in this polished production where all the elements of theater converge perfectly. Immortal as the Eraserheads' songs are, they resonate more with the ingenious rearrangements of Salomon to fit Novenario's script, going from Latin to boogie to rock and even classical strains played wonderfully by the Manila Philharmonic Orchestra under the baton of Maestro Rodel Colmenar.
This eclectic approach serves the story well, highlighting the theme of a scene and bringing out the personalities and emotions of the characters. It was also divine inspiration for Dexter Santos who orchestrated a smooth flow of the narrative with seamless scene changes incorporating some very dynamic and inventive choreography as well as fresh creative devices.
It was particularly noteworthy how in lieu of dialogue, the director established the flashback to '90s college days in a sequence of delightful dances highlighting iconic UP campus scenes and traditions from enrollment chaos to the Oblation Run and Lantern Parade. Santos' storytelling was enhanced by the intelligently conceived sets of Gino Gonzales, which he says utilized "a series of broken frames — fragmented structures alluding to the 'broken' lives and splintered relationships of the three central characters."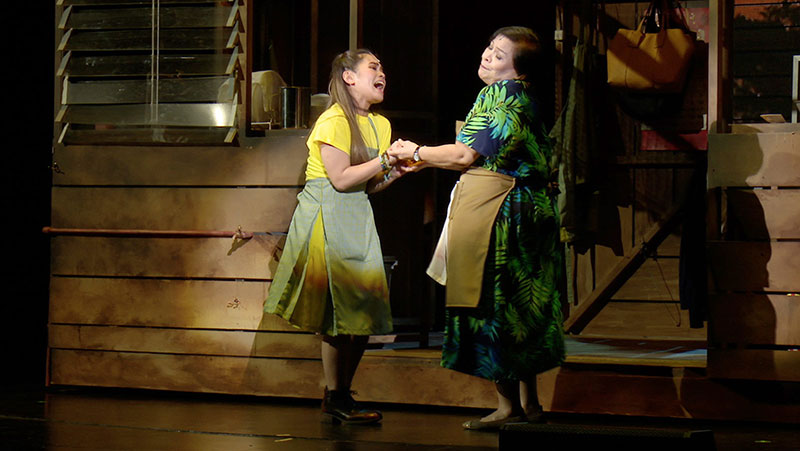 Tanya Manalang (Joy) and Sheila Francisco (Tiya Dely) are the two best actors — and singers — in the musical, electrifying the atmosphere with their performances.
In contrast to the abstract frames are some choice realistic pieces "representing the other extreme of the spectrum — hard, unrelenting reality." The subtleties and refinement of Gonzales' design are complemented by the video projections of GA Fallarme who also chose to suggest, rather than state blatantly, the obvious. Instead of actual classroom and campus scenes there were tear-outs from notebooks, aquarelle trees and pen and ink drawings. In the same spirit, Monino Duque painted subtle layers of light to bring out the mood in every scene, creating magical hilltop scenes under the stars and using light to simulate movement and tension.
Dreamy as some scenes were, this production avoided veering into pure nostalgia, according to Costume Designer Marlon Rivera. "The story is set in the present where the cost of the characters' past decisions and indecisions are high and irreversible. My idea for the costumes is how memory is such a strange trip — imperfect, durable, persistent, negotiable."
To help bring the story to life, Santos credits his top-rate cast headed by Philstage Gawad Buhay awardee Gian Magadangal who gives a nuanced portrayal of the confident, temperamental filmmaker. OJ Mariano is convincing as a wimpy, troubled husband and Jon Santos goes against his usual character roles as a man struggling with his identity. Their young counterparts also gave credible performances: Reb Atadero as a precocious go-getter; Boo Gabunado as an awkward and insecure but delightfully naïve newcomer; and Topper Fabregas with his happy-go-lucky façade belying an inner turmoil. Tanya Manalang, who's back after playing Kim in the West End Miss Saigon, essays the young Joy with all the angst of a girl who wants desperately to belong. Menchu Lauchengco-Yulo portrays the older Joy as a scarred and broken woman on the fringes of society.
Perhaps one quibble is that the casting of the older actors did not quite match with the younger ones physically but once you established who's who this did not considerably distract and if the standing ovation at gala night was any indication, the audience loved the production. What got the crowd roaring even more was the surprise appearance of Ely Buendia onstage.
"It's awesome. How unexpected and unpredictable everything was. This show showed me how beautiful those songs are and how funny those songs are and how sad those songs are," the lead vocalist and songwriter of the band-of-the-hour said in an interview. "I never really appreciated it until I sat in the audience and watched these awesome actors, singers and musicians perform it."
No doubt the same could be said by most of the audience, both fans and non-fans alike who were treated to a superb reimagining of the Eraserheads oeuvre.
* * *
Ang Huling El Bimbo is showing Fridays to Sundays until Sept. 2 at the Newport Performing Arts Theatre of Resorts World Manila. Visit www.rwmanila.com or www.ticketworld.com.ph for tickets. Follow the authors on Instagram @ rickytchitov ; Twitter @RickyToledo23 Facebook - Ricky Toledo Chito Vijandre.