Art Fair Philippines turns its gaze on photography
February 5, 2018 | 12:00am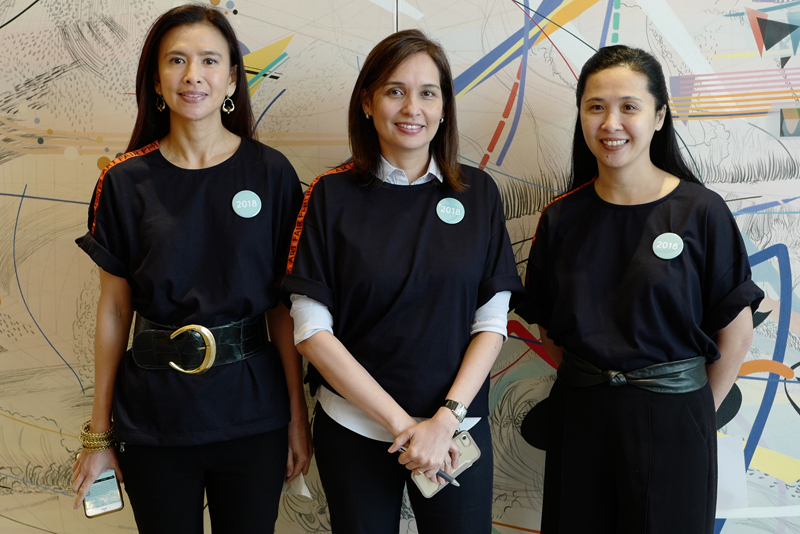 Art Fair Philippines is in its sixth year and there seems to be a lot of questions up in the air. For one, can documentary photography be collectible art? Two shows from the special exhibit projects seem to ask, why again are we doing all of this? And with the growing number of visitors each year, possibly everyone has this in mind: how is it even possible to enjoy the fair in the overcrowded spaces of The Link?
The fair's sixth iteration is slated to run from March 1 to 4 at the same carpark-turned-exhibition space, with the organizers having converted all the available space into a multilevel venue for 51 galleries. If last year's run had a more political bent, the upcoming fair may yet turn the spotlight on the art world itself.
Dindin Araneta, Trickie Lopa, and Lisa Periquet first want to address the concerns from the previous years. "How do we make the fair comfortable and convenient for our visitors?" says Lopa. "What can we do differently for 2018 that the visitors we have coming will have an optimum viewing experience in terms of the art that's going to come up?"
To avoid the usual scenario of lines snaking down the block, visitors can now purchase tickets online up to 24 hours before the date they'd like to visit. The third floor will now be prepared as holding area and there will be timed entry periods — 10 a.m., 1:30 p.m., 2 p.m., 5 p.m., 5:30 p.m., 9 p.m. — to control the crowd going in, but visitors can spend as much time as they want inside.
The section that the Art Fair introduces this year focuses not on fine art photography but on documentary photography. There is Neal Oshima, one of the country's most prolific documentary photographers, showing his series on Austronesians which he has been shooting since his college days. There is Filipino-Catalan photographer Eduardo Masferre presenting photos of indigenous people from the Cordillera region. There are photos shot by Swiss artists from the collection of Julius Baer. And then there is the exhibit "Provocations," curated by Oshima and Angel Shaw, showing several photographers highlighting aspects of Filipino life — from tribes to transgender women to children in prison.
"One could say, on some interesting level, that all selfies are some kind of documentation," says Shaw. Oshima retorts, "Or that every documentary photograph is a selfie." The quip rings sharp in the Art Fair setting, where photos are rarely viewed as art objects, and the fair itself generates an unending deluge of regrammable shots. Shaw and Oshima will be hosting a panel discussion on the last day of the fair — part of the free talks and lectures happening throughout the four days.
What's interesting about the show is that the photographs aren't the ones we see up on galleries or included in photo books and zines. Shaw says, "A lot of these photographers have never shown in an art gallery. That raises a lot of other issues." But they are projects mostly of photojournalists pursuing their beats in the field for years. The new section opens up discussions about the place of long-form narratives in print and in art, and the place of documentary photography in the market of collectors.
The special projects, in which the three organizers commission specific artists and which, according to Periquet, "define the nature of the fair for that year," include conceptual artist Nilo Ilarde whose playful and colorful installation of toy cars is a witty commentary on the art fair itself. Lyra Garcellano, known for her works that hinge on institutional critiques, also wants to reference the art fair as a display system, and, as she puts it, "its conditioning effects on the artist as practitioner."
Other highlights of the fair include Kidlat Tahimik whose work will be referencing his independent films; another Cordillera artist, Leonard Aguinaldo, who will be compelling us to play with a board game in his show; and three social realists, Antipas Delotavo, Renato Habulan, and Pablo Baen Santos who firmly insist that, even after painting has been deemed passé and social realism more so, art must still be critical of its time, and not just become shiny objects on display. Tahimik and the three social realists will also be holding a talk during the fair.
The recipient of this year's Karen Montinola section, Alvin Zafra is choosing to exhibit a video, deliberately veering away from his usual wall-bound works done with sandpaper as a medium. "I've noticed the high volume of traffic that Art Fair Philippines [generates] year after year. It's a good platform to show bigger ideas to people from different backgrounds. The art market should look at other forms of art; wall-bound works are only the tip of the iceberg," says Zafra. "Philippine contemporary art has much more to offer. Local collectors should believe in artists, not just in a particular set or series of an artist's work."
More featured artists from the fair's sponsored projects include Plet Bolipata, Pete Jimenez, Art Lozano, Dan Raralio, Reg Yuson, and STAR's Lifestyle assistant editor: artist and musician Igan D'Bayan. Beyond the busy spaces of The Link, the organizers are re-launching "10 Days of Art," inviting all to enjoy art in the open air with public installations around Makati: Martha Atienza's installation previously exhibited in Basel, Leeroy New's bamboo-and-rattan installation, and Yuson's steel sculpture. There are museum tours to the National Museum of Fine Arts, the Ayala Museum, and the Metropolitan Museum, and visits to the studio of Rodel Tapaya and Marina Cruz.
For the last five years, the Art Fair has aimed to offer art as experience and art as education — and ultimately, art as accessible even to those outside the market and the academe.
Beyond being just for collectors and selfie-lovers, the fair offers itself as a space for art enthusiasts who'd want to see art beyond the intimidation of a gallery setting, for aspiring artists who'd want to see what else can be done in an arena where seemingly everything has been done, for emerging artists who'd want to test different ideas beyond their usual body of work, and for all the curious art world outsiders raring to see what this buzz is all about.
* * *
For information, visit www.artfairphilippines.com or follow Art Fair Philippines on Instagram (@artfairph) and Facebook (www.facebook.com/artfairph).
Art Fair Philippines 2018 is co-presented by Ayala Land, Bank of the Philippine Islands, Globe Platinum, and Julius Baer. The Philippine STAR is the newspaper partner of Art Fair Philippines.