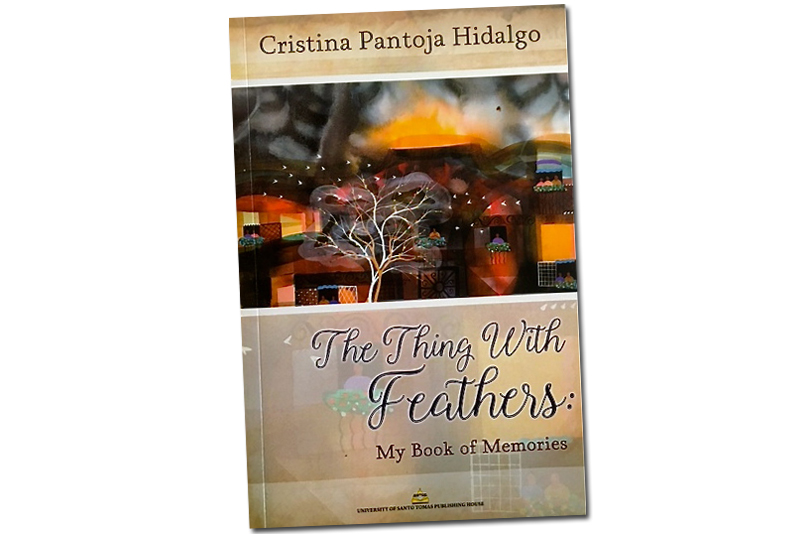 Preserving a profusion of memories
There's nothing sudden or jarring in Jing Hidalgo's flowing tributes to the past, however, but a rich and gentle profusion of what we all need to remember.
Dr. Cristina Pantoja Hidalgo has long been acknowledged as the doyenne of CNF or Creative Nonfiction writing. As a director of both the UP Creative Writing Center (now Institute) and UP Press, she also initiated private workshops involving numerous ladies of different generations who went on to author memoirs and/or contributed to collections of essays. She continues to do so, presently as director of the UST Center for Creative Writing and Literary Studies.
She started writing as a colegiala in the late '50s, becoming a member of the literary section of The Paulinian, and joining a journalism workshop-seminar.
In her latest book, The Thing with Feathers: My Book of Memories (UST Publishing House), she recalls: "(W)hen I was in college, I had made up my mind to becone a 'newspaperwoman' someday, ever dince I discovered the comic-strip reporter, Brenda Starr — she with flaming red hair and starry eyes…"
That first workshop experience served her in good stead as she went on to enter UST's "writing college," the legendary Philets, where she "felt right at home" in the college paper, The Blue Quill, as well as the university paper, the Varsitarian. Eventually she "entered the professional world of journalism, writing initially for The Manila Chronicle and Graphic magazine."
Early marriage to fellow-writer and university lecturer Antonio Hidalgo, who eventually accepted international postings as a development consultant, took them away for a good 15 years. While hopping over several countries and raising three daughters — in Thailand, Lebanon, Burma, South Korea — "Jing" took on teaching jobs and began to write travel essays, which resulted in six books, before she shifted to short fiction.
Even then, her travel writing could already be more correctly defined as "travel memoirs," while her fiction appropriated autobiographical characters and episodes. She remembers only too well, in riveting detail, so that her recollections, even when employed as the spine for academic lectures and conference papers, form a solid, fleshed-up corpus as both source material and guideposts for her own long journey through the world of letters.
She remembers everything, from early school days in St. Paul's and UST to the first family trips to Baguio, all the way to her husband Tony's first medical episode when Andrea Pasion-Flores kept them company in the hospital — where "through the haze in which he was being enveloped, Tony had suggested to her that she call Krip Yuson and tell him to come on over because 'the drugs in this place are good.'" (from "Fugitive Comfort")
Well, Drea didn't, not that time. But the wide scope of close relationships Jing has collected through the decades becomes so evident in this collection of memory pieces. Some of them have follow-up pages billed as "Excerpts from the Conversation" — online correspondence that resulted from her shared posts.
A legion of friends then gets into the act, as participants and co-contributors in building a fuller world of memories. In effect she starts a new feature for memoirs, where recollections lead to public discussions among friends. It's quite a leap if somewhat related to her epistolary novel Recuerdo, which won the Palanca Grand Prize for the Novel in 1996.
When she writes "An Elegy to a House," friends pipe in with their own recollections. When she cites how "Some Books Are Forever," everyone who reads her instantly weighs in with approval or offer their own faves. It's a communal exercise in world-building, from the distant past to the present.
So we can all thank Jing for filing all that correspondence and refreshing our own memory banks with how we experienced books and bookstores, local writing workshops and international seminars. Foreign writers who have become her friends, and ours — Tim Tomlinson, Robin Hemley — join this community that embraces the power of words, even over fire, as Rowena Tiempo Torrevilas asserts.
In Jing's best-received essay of bittersweet recollection, "Para Akong Namatayan," of the disastrous fire in 2016 that destroyed the UP Faculty Center with all its rooms filled with books, art, beloved furniture and mementos, she details her deprivation, inclusive of her old diaries and journal: "… diaries kept faithfully all these long years — the story of my life. So many of the seeds of my writing were in those notebooks. So many more were waiting…"
In a Postscript, she recounts how UP colleague Butch Dalisay sifted through the ashes and recovered one item from her former room, a Guan Yin figurine acquired in Seoul in the early '80s, and already half-forgotten. Initially, she thinks that it "had survived that fierce fire because it was made of stone" and "because she is the Goddess of Mercy, a compassionate being who watches out for and responds to people who call to her for help."
"But of course she survived because a dear friend, who knew how pained I was about the destruction of my precious little room, had taken the trouble to poke about in the dark — in a darkness lit only by the light from his cell phone, which he was using to film his first visit into the ruin of what had been our old FC — and saved her for me."
We may well say the same of her, and thank her for saving all the sundry precious items about being a writer and a literary mentor in our country. It's our own book of memories she has graciously if unconventially put together.
In layering cycles of remembrance, Hidalgo fuses literary genres while adapting critic and memoirist (whom she cites) Thomas Larson's "sudden memoir" or "the memoir that examines more recent life phases." There's nothing sudden or jarring in her flowing tributes to the past, however, but a rich and gentle profusion of what we all need to remember.