Filipino artist using menstrual blood to open London exhibit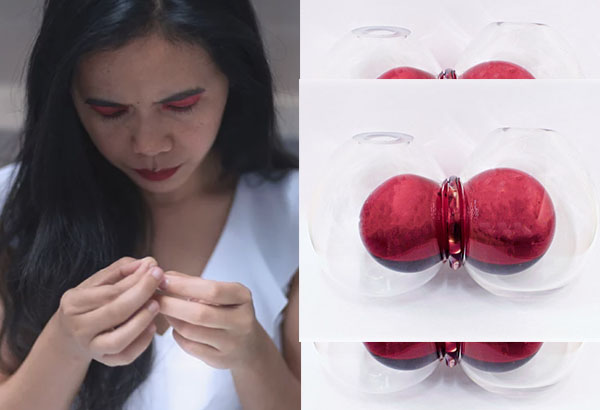 LONDON — A Filipino contemporary artist will be opening an exhibition in London, featuring sculptures partly made of her own menstrual blood.
Rhine Bernardino's striking sculptural series, "Regla," which uses glass, water, and her own menstrual blood, will be on show to the public in its entirety for the first time at Fiumano Clase's upcoming exhibition, "Discoveries."
To be held in London at the United Kingdom, "Discoveries" will run from January 30 to March 16.
"Regla" (Filipino for "menstrual blood") is composed of 12 sculptures, one for each menstrual cycle of the year, with the last one recently completed in December 2017.
According to Bernardino, her work is a comment on human perception and her belief in the potential of art to encourage social change.
She describes her every piece as "a makeshift laboratory wherein collections of menstrual blood are not associated with disgust, but regarded as objects of inspection and conversation."
She considers her works as provocative and aesthetically beautiful. Originally from the Philippines, she graduated from the University of the Philippines with a Bachelor of Arts degreee in Film and Audio Visual Communication and went on to become arguably the first and only Filipino to obtain a Master of Arts in Sculpture at the Royal College of Art, where she was awarded the highly-regarded Abraaj RCA Innovation Scholarship.
The "Discoveries" exhibition features works by four of the most intriguing recently graduated emerging artists scouted by London-based art gallery Fiumano Clase in the past year. The central ethos of the gallery is to continue to work collaboratively with artists by giving them the time, space and opportunity to develop their artistic practice unhindered by any commercial pressure.