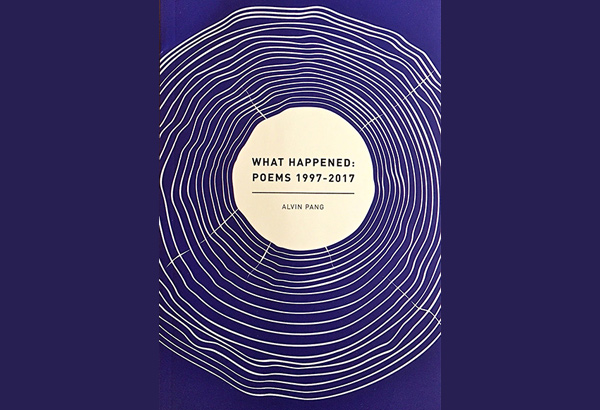 Speaking in tongues: Alvin Pang's poetry
Our good buddy Alvin Pang of Singapore has just authored a new poetry collection: What Happened: Poems 1997 – 2017, edited and with a Preface by Ruth Tang, published by Math Paper Press.
His first two poetry books were Testing the Silence (1997) and City of Rain (2003) — the latter reviewed in this space well over a decade ago, before he was proclaimed Singapore's 2005 Young Artist of the Year for Literature. A poet, writer, editor, and translator, Alvin has authored over a dozen books, including several anthologies of Singaporean literature, and has been published worldwide in more than 20 languages.
He has also nurtured strong friendships with Filipino poets, as a result of the numerous times we've exchanged visits for literary festival attendance, readings, and workshops.
Way back in 2001, he was among a quartet of young Singaporean poets whom we hosted for readings in Ateneo, U.P. and Solidaridad Bookstore. An offshoot of that visit was Love Conquers All: A Philippines-Singapore Anthology of Love Poetry, co-published by Ethos Books and Anvil Publishing, Inc. in 2003.
In May of 2006, we found ourselves together at the Sydney Writers Festival. In September, 2011, the Bienvenido N. Santos Creative Writing Center and The Literature Circle of De La Salle University invited Alvin Pang to deliver a a craft lecture titled "Beyond the 'Small Miracle': A Singapore Poet's Perspective in Literature, Memory, and Imaginative Frontiers."
In May of 2014, he served as a panelist at the Silliman University National Writers Workshop in Dumaguete City. In turn has he organized "Wordfeasts" in Singapore where Filipino poets have attended. And he's met up with common poet-friends like Marjorie Evasco in international festivals. Then too, we get to see one another almost yearly at either the Singapore Writers Festival or for book launchings of Filipino writers based in Singapore.
Apart from sharing a covenant with poetry, Alvin and I have frequently bonded over much more than a wee dram of our favorite single malt whisky, various rarefied bottles of which have been flown in between our two countries, and shared in hotel rooms and litfest tents. Indeed, the water of life produced in Scotland's distilleries (and now Japan, Taiwan, India, Oz and NZ) has gone a long way in helping us appreciate distilled language besides speaking expansively in loose tongues.
His new volume's editor writes: "… Alvin Pang's body of work relentlessly addresses the need for reinvention — and lifts words from the realm of noise to the realm of music."
Ruth Tang posits however that the two are inseparable, and that Pang's poetry "delights in this inseparability, the lyric nestled beside the demotic." She finds his early works that deal with such topics as the English landscape and the family as being "sealed into self-sufficient lyricism," albeit with a breakaway like the poem "Exchange" — "which demonstrates speech splitting off from itself," to wit:
"We paid up quickly/ and left// dazed with the exchange/ in a flurry/ of possible meanings…"
I find another example in the selection from that first book, of lyrical lines that gild the surfaces of recall, while chomping at the bit — in the first stanza of "Friction":
"Tending to her, I run my hands/ down the papyrus of her skin./ I rub away at the bruises,/ where the veins had been/ scrawled on too long/ by the drip needle, have spilled/ their blue in dull pools/ beneath her skin."
Then again, with completeness, in the poem "Strange Fish":
"One/ after another/ words// rise up like blind fish/ from the milky depths/ of the page.// Their blank eyes/ floating to the surface/ stare everywhere.// Their small bodies/ twist into commas/ and pause at the surface,// dumb as alien/ symbols. I hoist them/ onto dry ground// with the rod of a pen,/ strange fish,/ as one by one// they begin to breathe."
These presage poems in the next selection where, indeed, "a wider range of forms and voices emerges," while veering away from pure lyricism. Such as "Knowing":
"… What I did not know// is how love comes to life;/ how glass shatters in the dark/ and brings no answers; how/ you reach into my world/ and show me the shape of things,/ the shape of things."
Tang's example of the poet "examin(ing) the tendencies of his earlier writing," the poem "Reading a Fragment of Poetry By a Much Younger Self," is self-evident. But how wonderfully she pursues her insight on the "self-reflexivity (that) grows more pronounced," as seen in this book's third part. "The newer selected poems in the final section have masterred this aesthetic: a sense of containing something beyond the explicitly said, lyricism without delusion, self-reflexivity beyond the paralysis of self-doubt."
The 43 poems in this section, many of which are prose poems, still bank on lyricism (ergo, music) for the most part, but also finds the opportunity to fastbreak unimpeded to the other end of language's court (or courtly manners) for a thunderous dunk, as with "To Do List" — a swift litany of line fragments preceded by random numbers:
"#234 – blindfolded, in a bed of moss, within reach of a robin's nest// #12 – in a disused lighthouse, by candlelight// #555 – while singing// #6 – while counting in French// #199 – following diagrams in the precise order specified by the 1873 edition// … #235 – while on the phone but not driving// #2 – sweeping away letters of commendation on an otherwise underused desk// #42 – applauded by grandchildren…"
If this be a bucket list, we can only yearn just as randomly for more.
While themes retain the early roster of familiarity — fathers both biological and canonical, urban features, intimacies, nature's gifts — spheres of celebration have been added or expanded: gods, science, dreams, other cities "in the wet season," houses vis-à-vis palaces, art's secrets, the pinnacles of taste, narrative arcs merging the medieval with sci-fi…
I like best the title poem of a single stanza, "What Happened," which augurs the open-endedness of cycles (two decades and going), starting with the subtle afflictions of speech and rhetoric, thence settling on seascape with father and grandfather passing on the mysteries of the elements. Here is poetry spoken in tongues, of the healing process that is spoken for, yet still uncovering a future of reinventions.
"At some point somebody said something about someone/ who said something back, it was said. It was sad./ It was vehement. It was egregious. It was somehow/ necessary. Accessory. The sky failed to break into rain./ A puddle vanished without comment. Commitment/ to a choice on a menu also known as loyalty was exercised./ Exorcised: the old ghost of wanting to mean not to bemean/ but to able to say. Shine takes the place of luminescence./ That is to say what happened is not about what happened/ but that it happened. Is evasion invasion? Is erasure seizure?/ There is a pleasure in the telling quite apart from the tale./ …
"… It doesn't taste/ like I remember, drunk on a kind of knowing that proves/ sour and not quite done. Don't leave a drop, Grandpa said./ If you can thirst you can mourn. He glows in the dark of the sea./ Father throws a net at the glimmers. Never did ask for leave/ to stand still or grumble at the waves. He chases the fisher now/ not the fish. He says he spoke in tongues, was slain, his back/ healed, is now spoken for. We who come from the earth must leave/ through air. I take the silence he taught me and swim in it."