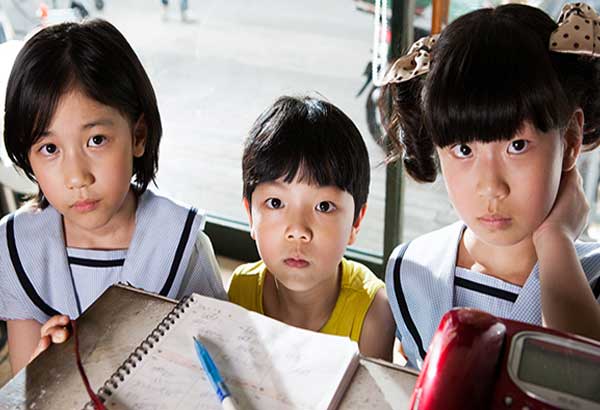 This is our youth: Adorable Korean kids plotting to steal an old lady's dog? Check.
Korean Film Festival goes to the dogs (and the kids, and the youth)
With little prompting, South Korean director Kim Seong-ho tells the SM Megamall audience at the Korean Film Festival why he chose to direct the heart-tugging, award-winning comedy, How To Steal a Dog. "I made this film for kids and family, because there are no more family films in Korea," Kim explains in English. "Or films with dogs."
One particular dog named Wolly and two excellent kid actors make How To Steal a Dog a filmgoer's treat. Based on an American novel, it tells of Ji-so (Lee Re) and Chae-rang (Lee Ji-won), 10-year-old schoolmates who concoct a plan to steal a rich woman's dog to collect a reward for its return. The reason? Ji-so, her young brother and he mom are homeless, living inside a van. And Ji-so thinks the reward money will help them put a down payment on a home.
With its twists and turns, it's the kind of story that could fit comfortably in a Koreanovela, but watch how director Kim — whose film won a People's Choice Award at Toronto International Film Festival and Grand Prix at 24th Kineko Film Festival Tokyo in 2016 — injects it all with warmth, comic energy, and yes, heart-tugging tears. Beneath the surface is a reflection on a problem perhaps little addressed in Korean society: homelessness, and absent parents.
And yes: the dog is a standout.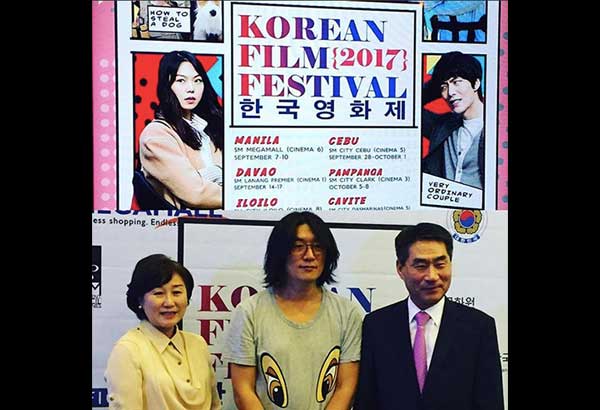 Korean director Kim Seong Ho — who screened How To Steal a Dog at the Korean Film Festival held at SM Megamall Cinema — was joined by Korean Ambassador to Philippines Kim Jae-shin and wife Madame Lee Jong Min.
How to Steal a Dog opened the 2017 Korean Film Festival here along with four other films centered around the theme, "Boldness of Youth." Other films shown this year include Twenty, Very Ordinary Couple, King of Jokgu and My Brilliant Life, all focused on the particular problems facing young people in Seoul.
Catching up with director Kim before the premiere, I asked him about his cinematic style. "I love stories with a change in character from beginning to end." How to Steal a Dog certainly shows a depth of character in 10-year-old Ji-so that belies the lighthearted style of the film.
I asked Kim which Filipino directors he's seen or admired. "I love the films of Brillante Mendoza — like Captive (about abductions in the south). I was so scared watching it."
Since the world is now teetering at the edge of nuclear confrontation, I had to ask how folks are feeling back in Seoul. "My wife is so worried about it, she thinks it's the end of the world or something," he says, adding that younger generations are "maybe less scared, because they don't know what war is really like." Kim, who's 47 and earned an architecture degree before taking up film in Brooklyn Academy of Arts and New School, says the solution is "communication," not confrontation.
Also present at the Korean Film Festival opening were Korean Ambassador to Philippines Kim Jae-shin (who addressed the mostly young crowd in Tagalog, much to their delight), wife Madame Lee Jong Min and Film Development Council of the Philippines chair Liza Diño.
Korean visitors have become a regular feature of the local landscape, even as Filipinos have adopted the country's K-pop, style, fashion trends and Korean dramas. "I think the films this year show how the youth in Korea feel when experiencing uncertainties in life, and this holds an interest for young Filipinos," says Korean Cultural Center public relations director Nicole Abigail Del Rosario.
While one won't see anything as shocking as Train to Busan at this year's fest, there's a refreshing emphasis on true-to-life human stories and conflicts, all told through the lens of youth.
The 2017 Korean Film Festival, as in past years, partners with SM malls for the free fest and moves to five other cities after concluding at SM Megamall Manila on Sept. 10: SM Lanang Premier in Davao (Sept. 14-17), SM City Iloilo (Sept. 21-24), SM City Cebu (Sept. 28-Oct. 1), SM City Clark in Pampanga (Oct. 5-8) and SM City Dasmariñes in Cavite (Oct. 12-15).