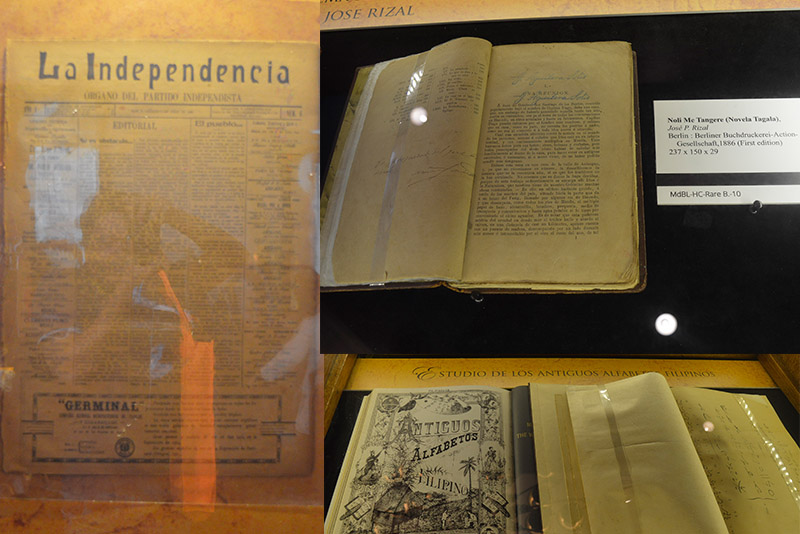 Original copies of Jose Rizal's "Mi Ultimo Adios" and "Noli Me Tangere," Pope Leo the Great's "Opera Omnia," Apolinario Mabini's "1898 Decalogo," "La Solaridaridad" and Nicolas Copernicus' "De Revolutionis Obrium Coelestium Libri VI," among others, will soon be available for viewing online. Philstar.com/Jan Milo Severo
Original 'Noli Me Tangere,' other rare books, go digital
(philstar.com) - May 15, 2017 - 3:46am
MANILA, Philippines — The University of Sto. Tomas (UST) launched an immense multi-volume catalogue of rare books and periodicals in its effort to "nourish minds of countless generations of Filipino students."
Together with UnionBank, the project, titled "Semper Lumina" or "Always the Light" features the vast treasures found at the UST Miguel de Benavides Library and the Archivo de Santo Tomas. It has six-volume catalogues, two volumes for the collection of the UST Archives.
Prof. Joselito B. Zulueta of UST Faculty of Arts and Letters gave a brief review of the rare books and archives catalogue. He said, Volume 1 contains books published in the 15th and 16th century and it has 466 books such as Josephus Flavius' "De Bello Judacio," Nicolas Copernicus' "De Revolutionis Obrium Coelestium Libri VI" and the Biblia Regia Plantin or Polygot Bible, among others.
Volume 2 is divided into three parts totaling to 5,861 entries. It focuses on the collections of UST acquired in three centuries, from 17th to 19th centuries. Included in this volume is Pope Leo the Great's "Opera Omnia."
Volume 3 covers the Filipiniana works, which includes the first edition of Jose Rizal's "Noli Me Tangere," one of the three original copies preserved by UST.
Volume 4 covers rare periodicals such as "Kalayaan," "La Independencia," "Libertas," "La Solaridaridad" among others.
"UST is the only university in the Philippines in the history to have come up with two daily newspapers – the Libertas and Kalayaan," Zulueta said.
The other two volumes are in a separate catalogues for the collection of UST Archives. Documents included in these volumes are the Foundation Act of 1611, Apolinario Mabini's "1898 Decalogo," copy of Rizal's "Mi Ultimo Adios," and documents in 17th-century Tagalog script, "baybayin."
Digitized versions of books and periodicals may be accessed through the UST Digital Library, digilib.ust.edu.ph.