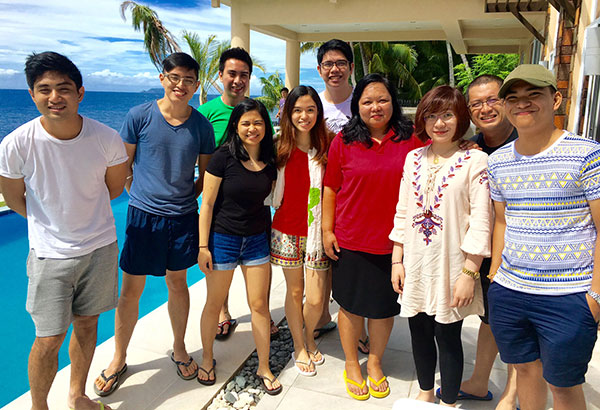 The 56th SUNWW fellows by the sea at Dauin: Jam Pascual, Vincen Yu, George Deoso, Catherine Orda, Tiff Conde, Jake Ramos, Arlene Avila, Tanya Cruz, Miggy Escaño and Hezron Pios
The 56th Silliman University National Writers Workshop started last Monday, May 8, at the Rose Lamb Sobrepeña Writers Village in Camp Lookout at Valencia, Negros Oriental, half-an-hour's drive up the foothills of Mt. Talinis from Dumaguete City.
The new workshop director-in-residence, Dr. Jaime An Lim, an established poet, painter and academic originally based in Cagayan de Oro City, gave his message after the usual invocation, opening remarks and a musical number.
The 10 writing fellows were introduced: Arlene Avila of Tacloban City, a BA and MA graduate of UP Diliman and presently an MFA Creative Writing student at the University of British Columbia in Canada; Tiff Conde, a creative non-fiction writer from Ateneo de Manila University; Tanya Cruz, a pharmacist taking her MA Creative Writing at University of Santo Tomas; George Deoso, a graduating student of AB Literature also at UST; Cesar Miguel "Miggy" Escaño of Tacloban City, who used to be with the AdMU English Department and now contributes feature articles for major broadsheets and magazines;
Catherine Orda, a fourth year Economics major in De La Salle University; Hezron Pios, a Liberal Arts and Commerce Major in Communication and Marketing at University of La Salle-Bacolod; Eliah "Jam" Pascual, a Creative Writing graduate of AdMU who now writes for Young Star online; Jake Ramos, a BFA graduate in both Creative Writing and Information Design of AdMU; and Dr. Vincen Gregory Yu, a graduate of the UP College of Medicine-PGH, published poet, fictionist and theater reviewer, and a Palanca award winner for the Kabataan Essay in English,
For the first week, the panelists were Gémino H. Abad, Cesar Ruiz Aquino, J. Neil C. Garcia, Wendell P. Capili and this writer. Starting today and for the entire second week, taking over as panelists are Susan S. Lara, Grace Monte de Ramos, DM Reyes and Ian Rosales Casocot.
The traditional three-week duration of what is also popularly known as the Dumaguete Workshop has been reduced to two weeks this summer, the second time it has happened in the past decade. No matter; the longest-running writing workshop in Asia (since 1962) goes on year after year, and occasionally from strength to strength in rendering selfless service for the benefit of young writers.
Our initial sessions led to much discussion on the frequent blurring between fiction and creative nonfiction. True enough, one piece categorized as fiction was acknowledged by its author to have been written as a CNF piece, but submitted for the parallel category since she didn't have a piece for fiction. Many other workshopped pieces exhibited the same blurring of genres.
Arlene Avila said that in UBC in Vancouver, CNF was seen to comprise the memoir, the personal essay, rhetoric but with a personal element, and literary journalism. Panelist Neil recounted that as far as UP was concerned, only a couple of categories used to constitute what was CNF: the autobiographical narrative and the essay. But these were expanded to include the biographical narrative and practically all kinds of essays, including features and reviews. His personal view was that "CNF should try to indulge not only our need for story but also for knowledge and fact." In brief, any CNF piece needs to be verifiable.
It also appears that speculative fiction now incorporates any fiction that releases itself from reality, so that it subsumes magic realism, metafiction, science fiction and fantasy.
As traditionalists, Jaime and I both opined that more important than any categorization was basic excellence of craft. For Cesar or "Sawi," primary was "the power of evocation." Wendell suggested that "between technique and raw emotion, one should always favor the first." He quoted his beloved mentor, Ophelia Dimalanta, as having stressed "the need to objectify the subject and subjectify the object."
Amidst all the talk on evolving playlists for binaries and genre billing, Jimmy intoned: "Our sense for language is the most intimate sense of reality. Language is a translation into words of an experience. Grounded experience will make it more powerful."
This also covered poetry, of course. In any event, we all agreed that this batch of writing fellows was of an admirable caliber as far as level of articulation and strength of language were concerned. It was just a matter of ensuring the provision of effective elements, whether it involved the narrative or the lyric.
Workshop sessions are rife with complementary as well as contending ideas, from the serious and grave to the light and humorous, as much as they brim with galaxies of words. What also makes the annual Dumaguete experience a fulfilling one for most of us elders is the resonance of nostalgia and reaffirmation with old haunts and friends.
Jimmy and I flew in on the eve of the workshop, and had barely settled in at our favorite lodging place, Florentina Homes, when we were fetched for a welcome dinner by old-time Dumaguete friends Edo and Annabelle Lee Adriano. It turned out to be quite a feast at Tinto restaurant, featuring cochinillo, bruschettas, callos, and the most savory black paella I ever tasted — courtesy of a recipe kept by the proprietor Ninotschka Yoldi.
Wine and song (and some Glengoyne 12 Years single malt) enhanced the instant camaraderie among what became a rather large party, with Sawi and his brother Ronnie de Leon congenially present, as well as the twins Myrna Peña-Reyes and Lorna Makil, Annabelle's mom Japi Villegas, her sister-in-law Emma Mabugat-Vilegas from Dumanjug, Cebu (who had a surprise reunion with Jimmy who had also grown up in Dumanjug), Linda Bañas-Alvarez (Dumaguete Mayor Ipe Remollo's SUHS 1977 classmate), Leo Mamicpic and his neice Yasmin Alih and nephew Faisal Alih, vice chancellor of Foundation University and a member of the NCCA committee on monuments.
Tuesday dinner was at the busy Lantaw restaurant on Flores Boulevard, in that burgeoning seaside strip beside Hayahay and Lab-As, and where a Marina residential high-rise is coming up. This time, Jimmy, Sawi and I met up with old writer-friends and former worskhop fellows Nerissa Balce and Fidelito Cortes of New York City. They'll be in Dumaguete till the end of May.
The Wednesday sessions were held at Jabel's Beach House in Dauin, giving the fellows a chance to frolic in the sea after their first three days and nights at a mountain retreat. And a taste of Dumaguete lechon for lunch, courtesy of perennial sponsor Virginia Stack.
After our Thursday session, Jimmy and I paid a visit to artist-sculptor extraordinaire Kitty Taniguchi's Mariyah Gallery, where her sculptor-brother Danni Sollesta clued us in on their new kiln and the comparative properties of types of clay for terracotta, of which we each came away with a prized piece from the siblings. Dinner was at Allegre on Rizal Blvd., again hosted by the Adrianos, with their friends John and Maribel Quimson joining us for delightful levity. John and I had first met in Baguio City in the early 1980s. A Quezon City scion, he has now made Dumaguete his home.
Friday morning featured lectures by Neil and Wendell at Silliman University, while the afternoon was given over to private mentorship sessions, with each panelist handling a couple of workshop fellows who submitted fresh works.
They have another week coming up to add to their own memorable experience of evocative reality, and then some, at the Writers Village and Dumaguete, which for Maytime becomes the city of gently voluble people.