Determined, as usual, to bring respite into the world of doom and gloom, Repertory Philippines will stage three comedies in its 2016 season, which opens on Jan. 15, 2016. Rep's forte for the last 49 years has been the staging of light British and American comedies with a Filipino cast. "Good theater is always universal," says Rep artistic director Carmen "Baby" Barredo. Thus, Rep has put on stage such Broadway hits as Nunsense I and II, Two and Two Make Sex, Brighton Beach Memoirs, Charley's Aunt, and Forty Carats and other plays by American playwright Neil Simon, as well as more recent comedies — Romeo and Bernadette, Glorious, and Duets. It also has staged many of Shakespeare's comedies.
One of Rep's favorite playwrights is Ken Ludwig who wrote four of its past hits: Lend Me A Tenor, Moon Over Buffalo, Shakespeare in Hollywood and Leading Ladies. Mr. Ludwig has written another hilarious comedy, The Game's Afoot, which opens the season.
The Game's Afoot is a hilarious take on a typical Sherlock Holmes "whodunit." Five guests arrive on Christmas Eve at the Connecticut mansion of a Sherlock Holmes-wannabe actor and his slightly dotty mother. Four of the guests are fellow actors and one an unwelcome theater critic. The events that follow are typical of a Sherlock Holmes melodrama — murders, attempted murders, plots, suspicions, a secret cupboard, a thunderstorm, a séance, and finally the arrival of a police detective.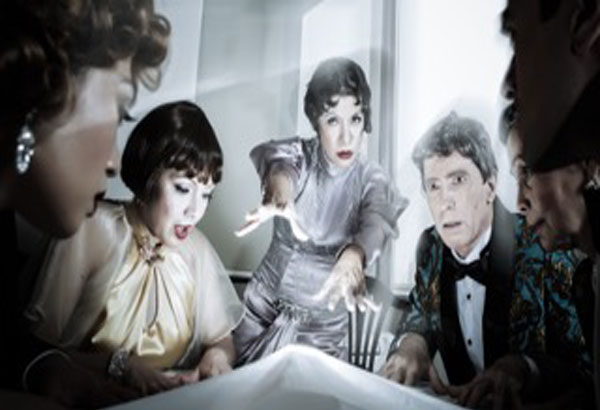 A scene from Repertory Philippines' The Game's Afoot
Paul Holme leads the cast as William Gillett, the Sherlock Holmes fanatic, and I alternate with Jay Valencia Glorioso as his mother. The four guests are Mica Pineda, Hans Eckstein, Christine Flores and Jeremy Domingo. The flamboyant theater critic will be played by Pinky Amador and the Police Detective by Dolly de Leon. Miguel Faustmann directs. The Game's Afoot will open on Jan. 15 and will play until Feb. 7.
Almost, Maine by John Cariani, which opens on Feb. 19, is a more gentle, thoughtful, romantic comedy and will be directed by Bart Guingona. Nine unusual love scenes make up this journey through love. An innocent tries to find the meaning of love and eight couples converse on the issues confronting them as lovers, friends, husbands and wives.
Stepping Out —The Musical, by Richard Harris with Lyrics by Mary Stewart-David and Music by Denis King — is a musical comedy. One man and seven women of various ages, physical attributes, and backgrounds meet once a week at a tap-dance class to "let go." They have varying degrees of talent and determination. As they rehearse for a benefit concert their stories and issues surface (as in any amateur dance class) until they all come together in a final grand number. Stepping Out —The Musical will be directed by Baby Barredo and myself with choreography by Rosie Borromeo.
Season tickets which allow subscribers to see all three plays of the season at a discounted price are available at the Rep office at 843-3570 and TicketWorld at 891-9999. Subscribers are also given a 30 percent discount on Rep's 2016 musical productions — Hansel and Gretel for Rep's Theater for Young Audiences and A Little Princess which is Rep's Christmas offering.
All plays are staged at the Onstage Theater in Greenbelt 1 on Paseo de Roxas. Friday and Saturday performances at 8 pm. Saturday and Sunday matinees at 3:30 p.m. All plays are in English.
* * *
For information, call Rep at 843-3570, or visit www.repertoryphilippines.com.ph, or www.ticketworld.com.ph.