The fashion industry is one of those hardest hit by COVID-19.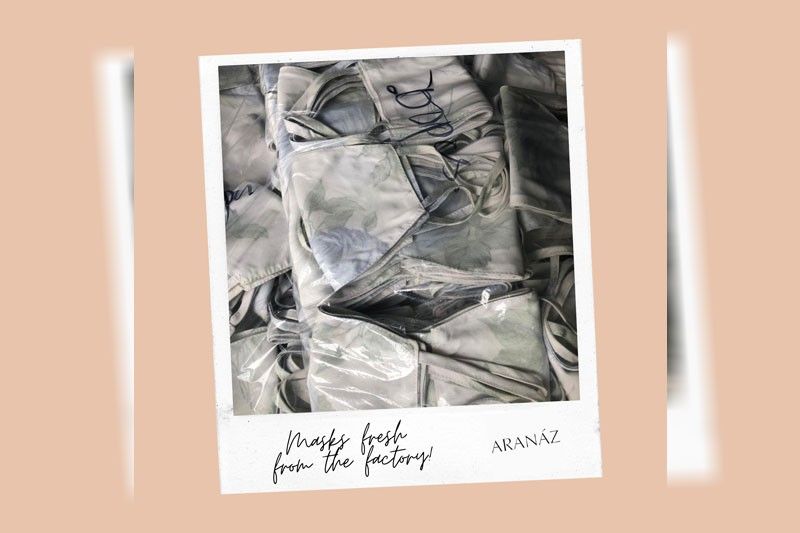 (Fashion in the time of COVID-19 )
Both designers and retailers are rethinking strategies for their business. Visions are redirected to ensure their movement and survival. The business of fashion has,indeed, suffered from the lockdown — from boutiques, showrooms to online and offline shops and malls.
Despite all of this, the industry of style has proven its relevance in these crucial times. Proof of this are countless designers and retail brands creating medical and non-medical face masks, personal protective equipment (PPEs), gloves and the like. Fashion associations and groups have organized fundraising activities to help frontliners and victims. Individual members of the fashion industry are now initiating feeding programs and sending meals to the less fortunate.
Multiple Choice presents some of these modern-day heroes.
"We at House of Laurel believe in the good. We believe there is always hope. We believe that the Filipino heart can conquer. To quote President Jose P. Laurel, 'How can we love our country? Not by words but by deeds. For no one will love the Filipino better than the Filipinos themselves'." — House of Laurel
"This pandemic is a battle not just for our government or frontliners but a battle for humanity. We at the Professional Models Association of the Philippines (PMAP) are greatly concerned about the welfare of healthcare workers, doctors, nurses and medical staff. Most of us are safe in our homes while our frontliners are doing the battle for us. Let's stand as one and help support our frontliners. Let's do this for them so they can be there to assist us." — Ana Sideco, president, Professional Models Association of the Philippines
"(This is) my humble way of thanking the frontliners in confronting the greatest emergency of this year. Thank you, Ms. Gigi Rapadas, Ms. Teh Opinion and Mr. Frederick Blancas for supplying the fabrics. Thank you, too, to my team and fellow fashion designers for the skills and determination in the PPE production. To all the brave women and men on the front line, THANK YOU for keeping us safe." — Designer Julius Tarog
"I think this is the time for us to use all available resources to help our frontliners. We have made available all our manufacturing assets (as far as social distancing will allow) to be used in producing PPEs, masks and other medical accessories that are needed at present. This is the least that we can do in these extraordinary times." — Leo Lagon, CEO of Power Fashion Inc. (Bayo)
"We plan to raise funds by selling our products at 15-percent off, and 100 percent of our proceeds will be used to make PPE suits/gowns. In this extraordinary time, we decided to shift our production to provide protection for those who need it most." — Alyssa Lagon, founder of Tela Manila
"We hope our efforts in #ProjectFoodTrunkLP can make people feel loved and cared for. It's more than just the feeding, it's making people feel they're not invisible. Nothing is impossible. Feed love." — Fashion photographer Mau Aguasin
"How can I or, rather, we help? That's what was entering my mind during the first week of quarantine. It takes an active effort to not fall into despondency. Witnessing an unprecedented crisis and being in quarantine intensifies the power of humanity — our togetherness and just being connected. I realized we can always lend our moral support, expertise, or time to those who need it.
These are uncertain times and staying creative and being one as a community helps us get through this, no matter how small the act is." — Designer Krizia Jimenez, SoFA alumna
"It's sad and it pains me that this is happening to us now, especially in my generation. To see family and friends die and suffer from the disease is heartbreaking and I never imagined this happening today. It's like a dream, a nightmare." — Designer Pia Alviola, SoFA alumna
"With what's happening all over the world, we have to work together, be united, and remember every individual. This global pandemic has encouraged Joanique to help our unsung heroes, the frontliners, and families at great risk affected by the lockdown, by collaborating with Help from Home Ph (HFH), a citizen-led info hub that aggregates information on the various COVID-19 efforts. Our brand pledges to donate 100 percent of the profit from the sale of two of our bestselling products from our recent collections: the Urduja Sling Bag and the Pintados Handbag. Times like this call for solidarity and strength, and with technology, helping from home has never been this easy." — Designer Malou Romero, Joanique
"In the beginning, I was thinking how our business was trivial, even frivolous, in these uncertain times. And then I thought about the local artisans who make our special embroidered pieces; the sewers who are paid per piece; our shop guides/sales staff who can no longer come to work; our in-house couriers whom I've asked to stay home with their families: we need to keep the wheels turning for them. I realized that even if shopping on our site seems so self-indulgent and unnecessary right now, retail as a whole (online or offline) is an essential part of our economy: a source of employment and self-expression. The bigger players will weather this pandemic and it's the smaller, independent businesses who need the most support in keeping the ecosystem alive. So, I quickly snapped out of my guilt-ridden-small-non-essential-business-owner mentality and changed my approach: we may not be selling toilet paper and the like but our website is chock-full of beauties and light content waiting to bring you joy. And that I believe is a commodity right now. As a small business, we try to do our bit to help them help us." — Mikka Padua, commander-in-chic of Seektheuniq
"We were caught off guard and paralyzed (by the ECQ). We had to pause for a while to see clearly and prioritize. Our initial action brought us to donating 100 percent of the sales of our PUJ Jeepney Clutch Bag to feed the frontliners. We were successful in providing 500 hot meals delivered to different hospitals. However, we also realized that while we are supporting the frontliners, we also need to sustain our partner weaving communities and our own team members. So we decided to make face masks that will be given away for every purchase of our products. The key is to maintain balance. You contribute without losing yourself, not compromising your people. To survive is the main goal. Profits can come in later when everything is stable. But before profits, you must survive." — Zara Juan, founder of Zara Juan
"Right now, we are feeling a shift in fashion and how it's made and marketed. What's scary is the uncertainty of what our world will be like after the lockdown. Because no one knows. So right now, it's not about my brand or your brand, it's about our world and our health. All we can do is try to help our frontliners who are risking everything for us." — Designer Rhett Eala
"Early on the quarantine, we were all in shock and felt completely helpless. We at Aranaz immediately asked ourselves what to do to directly help those vulnerable. Because we housed some of our sewers at the workshop, we were able to immediately jump into creating washable masks using scrap fabrics. These masks were then donated to prisoners and non-medical frontliners. As we move towards the next phase of this crisis, we continue to seek ways to contribute through the means and resources available to us. Now is the time to further challenge our creativity and let compassion and empathy lead the way." — Amina Aranaz, owner and designer of Aranaz
"Since the lockdown last March, we've been quietly supporting our various charities with Operation Blessing Foundation. They have the manpower to deploy volunteers to all the hospitals and places that need PPEs. We also allocated a portion of our 2019 profits to fund what we call The Heal Project. This is in response to the call of the government to support frontliners and field workers. But the bigger picture is to help the general public with basic protective clothing that's easy to wear but still a bit fashionable." — Designer Francis Libiran
"Since our tribes have not stopped working, we continue on with a new purpose. For every hand-beaded T'boli mask you purchase, you donate three cloth masks to our frontliners. This has been a great help to our tribes, our sewers, our employees, our frontliners and each other."? — Marga Nograles, Kaayo
"The (COVID-19) situation presents us with choices. Rise up and help or do nothing and just wait for help. We choose to help people by providing garments that will protect health and quell anxiety. This will enable the Filipino worker to be able to return to the workforce with confidence, thus providing for their families."— Designer Edwin Tan
"As the airline industry gets ready to resume commercial flights, Philippine Airlines has unveiled additional safety measures that will be in place covering various phases of the passenger journey. The health and safety of our passengers remain the cornerstone of PAL Group's operations. As such, the company has strict safeguards and additional safety measures. Inflights will have the crew in full personal protective equipment and gear. After every flight, trained personnel utilize hi-grade eco-friendly disinfectants on all surfaces of the aircraft, in compliance with industry-recognized safety standards." — Cielo Villaluna, spokesperson of Philippine Airlines