Hope springs eternal for prom princesses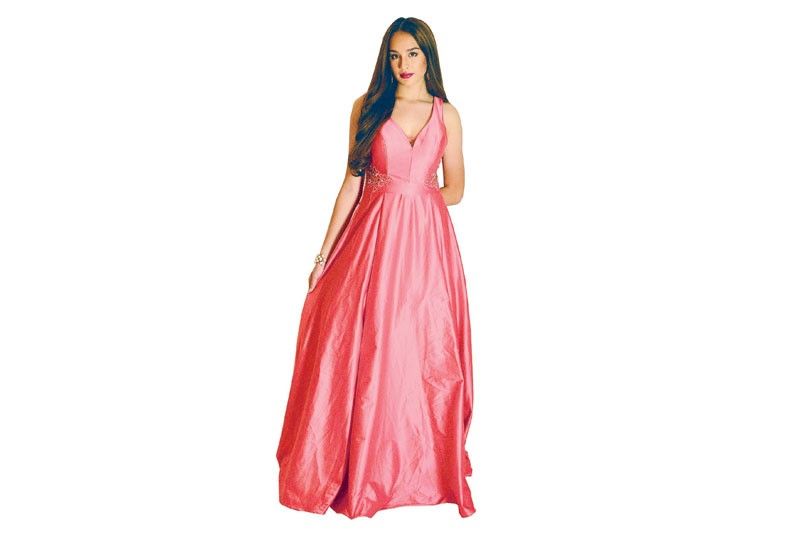 Word in town has it that the race to have the best gown during prom and grad ball season has reached quite a fever pitch.
Uptown/Downtown has as its model, 16-year-old Caitlin Robinson (daughter of '80s DJ sensation John Robinson) who, in fact (and without spending a fortune!), was crowned prom queen during her recent high school celebration.
For this editorial, we are also sharing some ideas on gowns that will surely make any young woman transform into a prom princess!
This coronavirus pandemic will hopefully dissipate in a few months, and young ladies will again find a reason to look like a princess — and not just in their dreams.
Red carpet dress
Take your inspiration from your favorite actress or beauty queen celebrity. The silhouette can be figure-hugging with a thigh-high slit — think Miss Universe 2018 Catriona Gray "lava-walking" in her red gown.
Classic ball gown
If a sexy, sultry gown is not your thing or is too sexy for your school, choose a ball gown. Feel like a Disney princess attending your first ball!
Metallic prom dress
This trend is all about standing out from the crowd. Popular metallic color choices are gold, silver and rose gold. If you choose to go metallic, pair it with simple accessories in black, white or nude. Keep makeup simple, although a bright red or pink lipstick can give you a pop of color!
Sequined prom dress
Similar to the metallic trend is the sequined prom dress. Sequins can follow a pattern, or be iridescent. A fully embellished sequined gown just screams glamour and opulence. Think old Hollywood vibe. Style your hair in a loose chignon bun or in a loose wavy hairstyle reminiscent of Veronica Lake.
Jumpsuit
As the rock group Van Halen would sing, "Go ahead — jump!" If you truly want to be different from the crowd, why not wear a jumpsuit? Jumpsuits can make stylish impact as they are the unexpected choice. Style your jumpsuit simply with velvet heels, smoky eyeshadow and slicked-back hairstyle.
About face!
(Makeup looks and inspirations for young ladies)
There are as many makeup trends for proms and grad balls as there are variations on a gown. One thing is clear though — our bright, young ladies are still avidly looking to the movies for inspiration.
Makeup artist Raz Rimor says, "The Crazy Rich Asians theme is still living and kicking this year. So, many girls want to look like Astrid Young Teo!"
In order to achieve this look, attention is placed on "glass skin." Foundation is seamlessly applied and topped up with liquid highlights. Soft smokey eyeshadow is applied without being overpowering. Lips are lined and filled with a statement color like red. The over-all look is possible by focusing on the skin and the mouth!
Another popular choice that has been a recurring theme is the "Kardashian vibe." A combination of smokey eyes, nude lips, shimmer highlights and mega face contouring. This look is usually paired with poker-straight hair and body-fitting gowns.
Audrey Hepburn's spirit is still alive and well it seems. Young ladies take a page from Holly Golightly with sleek silhouettes in black (reminiscent of Breakfast at Tiffany's) or black and white ball gowns (taking a page from Sabrina). Makeup looks that complement these Hollywood iconic ensembles are cat-eye liners, thick, false eyelashes and thickly lined brows.