Triple celebration for the YGC group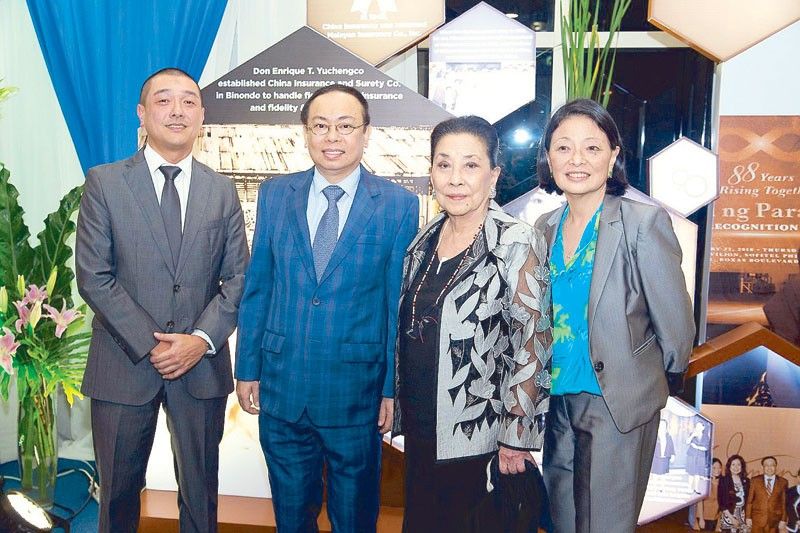 One milestone in a year is momentous, two is extraordinary and three is epic.
That is what the year 2020 is for the Yuchengco Group of Companies (YGC), founded by the late industrialist Ambassador Alfonso T. Yuchengco.
As his eldest daughter, Helen Yuchengco Dee, chairperson of YGC, said recently at the festive triple celebration of the YGC group: "This year we celebrate the 90th anniversary of Malayan Insurance, the 89th year of EEI Corp., and the 60th anniversary of RCBC."
She continued: "Milestones like these don't just happen. They are the product of years and years of hard work, cooperation and support among companies, which is why I'm proud to celebrate this event with all of you."
The event, of course, was the Feb. 27 appreciation night, one of eight appreciation nights, actually, YGC held for its clients and employees at the company-owned Carlos P. Romulo Auditorium at the RCBC Plaza in Makati. The featured show on all nights was Showstoppers, a Repertory Philippines production, which featured excerpts from such Broadway and West End hit musicals, including Phantom of the Opera, Chicago, Miss Saigon, Pippin, Rent, Mamma Mia! and Les Miserables.
And YGC has every reason to feel proud. After nearly a century since it was established, Malayan Insurance Company Inc. has become the country's leading non-life insurer, offering a wide range of insurance, from aviation to finance.
EEI is in the same lofty position, as the construction company has managed to become one of the leading players in a competitive industry, with its broad range of construction and engineering services — from the construction of large-scale and light industrial projects to infrastructure and property development projects all over the world.
And, of course, the universal bank for which YGC's pride and joy within the heart of the country's financial district, the RCBC Plaza, is named after. Officially known as the Rizal Commercial Banking Corp. when it was incorporated in 1960, RCBC became known as such when it started operating as a commercial bank in 1962. These days, it has become one of the country's largest commercial banks, providing clients with investment banking services, wealth management, financial advisory and foreign exchange brokerage, among other services.
"As we look forward to what the new decade will bring the YGC, we do so with confidence and the continued passion and collaboration that has brought all of us this far," Mrs. Dee assured her guests. "To all our clients and partners — thank you very much for your continuous patronage and support. You are assured of our commitment and integrity."
And with those words, Mrs. Dee officially opened the nearly two-hour musical revue, which featured such thespians on the legitimate stage as Cocoy Laurel, Carla Guevara Laforteza, Michael Williams, Franco Laurel, Liesl Batucan, Lorenz Martinez, Pinky Marquez Cancio and Shiela Valderrama Martinez.
A younger group of performers, who made up the production's ensemble, joined them. Together, they sang mostly well-loved and hummable medleys of solo numbers and duets, including an OPM suite of Pinoy love songs and several of Barbra Streisand's signature hits, including Evergreen, Piece of Sky and People.
Hours before each show, guests were treated to a hearty cocktail selection and bottomless wine, champagne and other spirits at the auditorium's lobby.
Showstoppers was conceptualized by Repertory Philippines (REP) in 1995 and made its official debut in Europe with performances in Germany, the Netherlands and the United Kingdom, including a command performance for the Queen of England. Soon after, there were invitations to perform in various parts of Asia and Australia as well.
Guests were reportedly pleasantly surprised by the quality of the performance as well as the selection of songs that night. Apart from the musical, they also enjoyed the food and drinks that were served to them.
A YGC insider shared with us that it was Mrs. Dee herself who personally chose REP to produce a show complete with costumes and dances to make the evening more memorable for everyone.
"The choice to mount a musical can also be seen as a testament to her and her family's love for music and the arts," the insider added.
In turn, guests, said the insider, were very thankful to YGC for its efforts and continued service to the Filipino people. "At the same time, they also expressed hope that YGC will continue its promise to provide the best services to their clients and partners in the years and decades to come."
All the best to the YGC group!