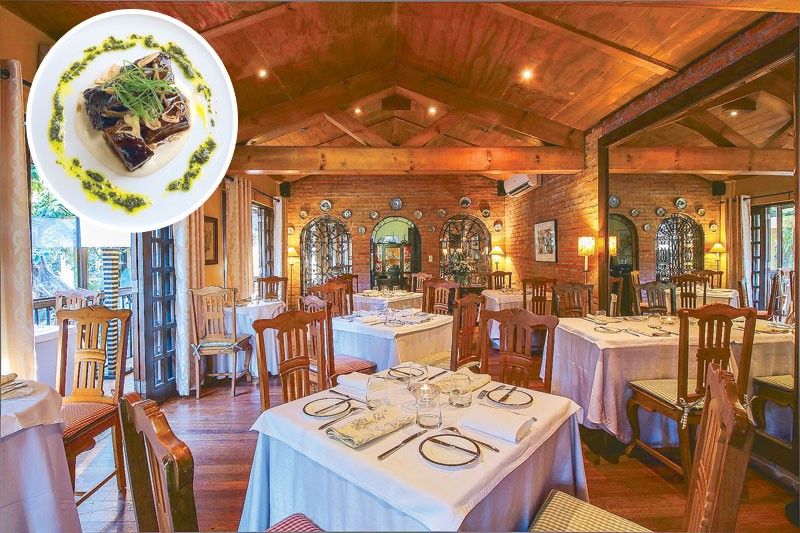 Lemuria's rustic dining room, perfect for cozy and romantic dinners. Inset: 10-hour braised short ribs with cauliflower puree.
'Single, complicated or taken?' Revel in love
MANILA, Philippines — Love is truly a wonderful thing. Even during uncertain times, love still prevails.
Valentine's Day nowadays celebrates different kinds of love — love for a significant other, love for family, love for friends, love for one's self. Everyone deserves to love and be loved so let your heart soar, embrace the emotions, and check out Allure's must-go places to revel in love not just on Valentine's Day but the whole year through!
Lemuria Gourmet Restaurant
Lemuria, which opened in 2006, has always been synonymous with love and romance. It started as a gourmet fine dining restaurant at Horseshoe Village in Quezon City, and now, it is considered as a much-coveted venue for special occasions — from weddings to anniversaries. (It has even expanded operations to Bonifacio Global City in Taguig.)
Lemuria is known for its impressive wine list by Brumms Quality Wines, and French Mediterranean cuisine made from scratch "using only the freshest ingredients, including home-made bread and ice cream."
On Feb. 13 to 15, enjoy Lemuria's seven-course dinner with exquisite wine, and classical music from the masters. For early arriving guests, the lounge area in the Courtyard is open as a waiting area and offers welcome beverages. Make sure to dress your best (and adhere to the dress code) as it is a fine-dining establishment.
(Lemuria is located at #5 Julieta Circle, Horseshoe Village, Quezon City. For more information, call 8724-5211 and 8722-2185 or visit www.lemuria.com.ph.)
Café Ysabel
The iconic Café Ysabel, founded by renowned chef Gene Gonzalez almost four decades ago in San Juan City, is known not only for its exquisite food, but also as one of the most beautiful dining destinations in the Metro — no wonder many wedding proposals are made here! After its brief hiatus in 2017 (and departure from its P. Guevarra St. location), the much-loved restaurant reopened in 2018 at an equally beautiful 1920s ancestral home on M. Paterno St.
Valentine's at Café Ysabel will be a beautiful experience to cherish as chef Gene romances your palates with three different set menu stations for a truly romantic experience: a sumptuous five-course dinner; a hearty set menu at the al fresco grill; and, as an offering of love, chef Gene will be executing a 12-course private degustacion dinner for a limited number of dining aficionados on the second floor kitchen. The restaurant also offers a Valentine's lunch ala carte menu on Feb. 14 and 15.
(To view its full Valentine's menu, visit Facebook.com/cafeysabelphilippines. Café Ysabel is located at 175 M. Paterno St., Brgy. Pasadena, San Juan City. For inquiries, call 0995-5905515 and 8726-9326 or e-mail reservation@cafeysabel.com.)
Nic's
Since it opened its Park Terraces, Makati City location in 2018, Nic's has become a place for many to meet, treat, and enjoy themselves to the food and the ambience created by the New York-inspired vibe of its dining area (it was designed by Almario Atelier's Ivy and Cynthia Almario).
"Our clients have a sophisticated palate. This Valentine's, they can expect to experience flavors reminiscent of their travels," says Rina Go, owner of Nic's.
The restaurant, named after Rina's daughter Nicole, is known for its delectable dishes, typical bistro food, and delightful pastries.
Rina says Valentine's is also often celebrated in groups — may it be families or friends. So at Nic's, there is something for everyone this Valentine's Day with its "Single, complicated or taken," "Date Night/Lovers' Deal" and "Eat Your Heart Out" offerings.
And in line with the season and the restaurant's tradition, Nic's is rolling out its scrumptious six-inch "It Must Be Love" cake.
(Nic's is located at Retail Space 6, Ground Floor, Park Terraces, Palm Drive, Makati City. For inquiries and reservations, call 0999-9933231 or 7744-6427.)
Purple Yam
Amid the busy streets of Malate, Manila lies Purple Yam, established in 2014 by renowned husband-and-wife team in the Fil-Am food scene, chef Romy Dorotan and Amy Besa, who champion Filipino ingredients and help out local farmers in the Philippines.
This 24-seater, housed in Besa's 1950s childhood home, has a comfortable and intimate setting perfect for couples or families who celebrate love through conversations over good food.
For Valentine's Day, Purple Yam's chef Rap Cristobal shares that its menu will consist of well-constructed and well-thought out dishes that are close to Filipino roots, and has a deeper understanding of local produce and what the country has to offer. The restaurant's re-imagined Filipino favorites uses locally sourced ingredients and are crafted with love.
(Purple Yam is located at 603 Julio Nakpil St. corner Bocobo, Malate, Manila. For reservations, call 8523-3497
or 0917-8705760. )
Caviar Restaurant & Champagne Bar
Tucked in the laid-back lifestyle hub of Westgate Center in Alabang is Caviar Restaurant and Champagne Bar. The serene and intimate space, and ultimately, its fine cuisine and unique selection of signature wines, complete the dining experience of couples, group of friends, or families who frequent this local jewel.
As a favorite of those who love to indulge in excellent food and great wine, Caviar makes sure that its dishes are meticulously prepared — from choosing the ingredients, combining modern and traditional cooking techniques, to food plating.
So, one can expect a carefully planned six-course Valentine's Day dinner menu this year at Caviar. Social media manager Karla Macairan-Timwat says the restaurant values exclusivity so it does not disclose the menu and photos of the dishes prior to dinner service. What Caviar can assure its guests is the dishes that will be served on Valentine's Day will be a first and will not be repeated. (Caviar is located at Unit A-206 Westgate Center, Alabang, Muntinlupa City. For inquiries and reservations, call 8552-7930 or 0917-8683080. For more information, visit Facebook.com/caviarrestaurantmanila.)
New Coast Manila Bay
Surprise your special someone with a romantic indulgence and experience a unique Valentine's R&R at the New Coast Manila Bay. Book a Superior Room with buffet breakfast for two or share a moment together at the Premier Suite with a romantic in-room set dinner for two.
Don't miss out on the hotel's lovely Valentine's offerings at the Market Café, The Lounge and Pastry Boutique.
(New Coast Manila Bay is located at 1588 Pedro Gil corner MH Del Pilar, Manila, Philippines. For reservations and inquiries, call 8252-6888 or e-mail contactus@newcoasthotels.com. For more information, visit newcoasthotels.com.)