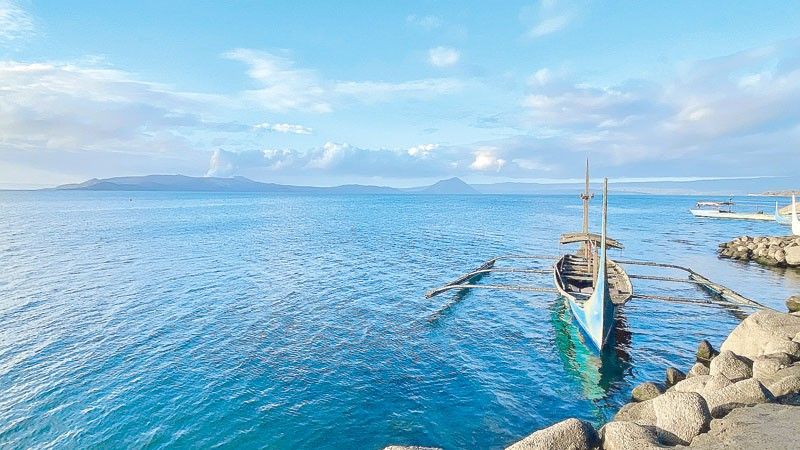 A calm Taal Lake days after the eruption as seen from Talisay, Batangas.
Chris Tenorio
They are known to be barako strong, fearless individuals, both men and women. In the midst of the crisis brought about by the Taal Volcano eruption last Sunday, the Batangueños are hopeful they will weather the challenges.
Even in the direst of situations, those who are in the evacuation centers still find time to make light of things. With humor, the wrath of the volcano will never get the best of the people of Batangas. It's quite interesting, if not peculiar, to observe how humor tides us over life's depressing, desperate moments.
For example, in the Facebook post of Philip Mangubat, a barako Batangueño, perhaps not able to bring with him enough clothes when he evacuated his place, was shown wearing a duster he probably got from the donations sent his way. The man in duster was all smiles, as if it was the smile that would wipe away all the dust his body received from the ashfall. His smile, in his newfound sartorial attire, was impish, proving that in dire situations, the Filipino has an armada of solutions for his problems.
Sure, a simple smile, even one bombastic laughter, cannot take back the destruction wrought about by the Taal Volcano. But a smile is a seed of hope, and when planted in the field of dreams, this smile will help them weather the odds. An ounce of positivity will go a long way at this time. And as Philip hashtagged his post, #TawaMunaBatangueño.
It's both heartwarming and inspiring how the Batangueños find time to smile given their situation at the many evacuation centers. My editor Joanne Rae Ramirez sent our Messenger group a photo of young gentlemen in the evacuation center in long-sleeved shirts, with one even wearing a gray suit jacket over his shirt. The photo put a smile on my lips. It also warmed the heart of Allure staff writer Pinky Icamen who, upon seeing these photos on FB, wanted to volunteer in sorting out donated clothes by size, by kind before they get to the evacuees. The warmth that particular photo brought me is indelible. It is a case of the afflicted bringing joy to others. It's also a case of the bakwits finding joy, temporal or lasting, in this temporary situation. #BangonBatangueño.
It's all over the social media how the people of Batangas, though worried of their lives and properties left behind, find their own brand of happiness in the centers. When some ladies found Jollibee crew uniform in their baskets, they donned them right away and pretended they were fastfood crew, ready to take orders. When some men discovered lukot-yaman barong in their relief bags, they wore them right away and pretended they were body guards, with sunnies to boot. They did not question the things they received. In that make-believe scenes, their happiness is rare, their gratitude, real.
Humor is not the cure-all, they know that. But laughter is always a good pill for a better understanding of life.
***
By virtue of the same surname, Chris Tenorio, a native of Talisay, Batangas, is my cousin. He is the best friend of Manila Mayor Isko Moreno, their friendship finding its beginning when they were both law students at Arellano University. Chris is now the chief of the civil registry of Manila.
When the Taal Volcano eruption took place and the town of Talisay readily identified as one of those within the radius for evacuation, Chris got a call right away from Isko. "He checked on me, on Inay and Itay."
Talisay is now a ghost town, just like many towns in Batangas. "But the Batangueños are a barako lot. We always message each other since the eruption, 'Babangon ulit tayo, Batangueño'," Chris said.
He said the spirit of bayanihan among Batangueños themselves is so much alive in Batangas. A fund drive is being spearheaded by those who are abroad. And those who are in different towns offer their livestock (pigs and chickens) for free to feed the people in the evacuation sites.
The rest of the Filipinos in different parts of the country always have the welfare of the Batangueños in their hearts and minds. #BangonBatangueño.
In Tanauan, as I saw in the FB wall of my college friend Gerald Hidalgo, one evacuation center even had catered food one feeding day sponsored by kapwa Batangueño.
Gerald is from Tanauan. It breaks his heart that his car restoration business is totally affected by the calamity, "because I have employees who depend their lives on it." He's not leaving them. Meanwhile, he and his team go around the many evacuation centers in Tanauan and Sto. Tomas to help. In his sincere desire to help further the relief operation efforts of different organizations, he made public his long list of suggestions that have been shared many times on FB. Here are some of his suggestions:
1. Setup a mobile kitchen in every evacuation center where both evacuees and volunteers can prepare food. Many times they cannot cook food, vegetables and rice given by organizations.
2. Aside from the evacuees, include also in the computation of food preparation the volunteers and security personnel. ("We've talked to volunteers who are also hungry.")
3. Assign a committee in each evacuation center who will be in charge of inventory of food and meal planning.
4. Use water filters instead of bottled water to reduce trash.
5. Use washable plates and utensils for better sanitation and less garbage.
"The problems brought about by the calamity are long term. We need to be ready to stare them in the eye. I know that we are ready," Gerald told Allure.
#BangonBatangueño!
(E-mail me at bumbaki@yahoo.com. I'm also on Instagram @bumtenorio and Twitter @bum_tenorio. Have a blessed Sunday.)