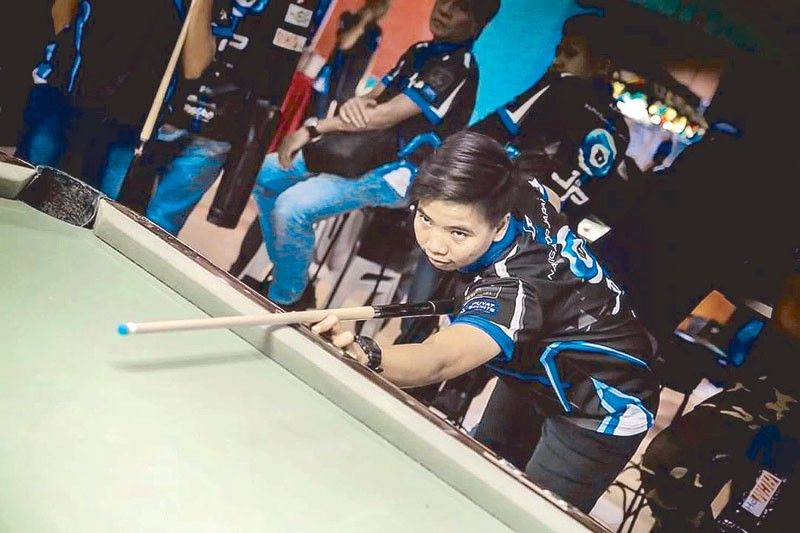 Phoy Bariring Andal, one of Philippine billiards representatives to the 30th Southeast Asian Games.
PHOY ANDAL
Phoy Bariring Andal: From Gulod to SEA Games
Grit, passion and determination characterize a winning spirit.
Love, patience and courage characterize a winning soul.
Phoy Andal, 30, born to hardship in Gulod, a coastal barangay in Cabuyao, Laguna, will carry those characteristics when she competes "for God, country and family" in the game of billiards at the Philippine-hosted 30th Southeast Asian Games. Her first game in the 9-ball doubles with her partner Iris Rañola is slated on Dec. 7, 10 a.m. at the Manila Hotel.
Phoy's journey to SEA Games is a personal triumph also for the people of Gulod. It's not every day that our sleepy barrio wakes up to news that one of its own is competing at the biennial regional multi-sport event. This early, we have a jamboree in our hearts as we root for Phoy, whose real name is Floriza Bariring Andal.
I personally know Phoy as she lives in a compound five houses away from ours. Her father Poleng, a former tricycle driver and OFW before he became ill, is an upright man who returned excess fare given him by his passengers. Her mother Pina, a homemaker, is a woman ready with a smile and an extra plate for anyone who visits their home at lunchtime. Her sisters Manilyn and Chona are regular fixtures in the church, their voices heard in the choir. Phoy comes from a big, happy, closely-knit Bariring family in Gulod — so close that every Christmas Day, Phoy and her 30 cousins with their 27 children in tow roam around the neighborhood to do their morning caroling. Then at night, they hold their family Christmas party, led by Phoy's cousin, Emmie Bariring, my very good friend.
Perhaps Phoy was born hearing the sound of the sargo or the first break of billiard balls because in their compound her uncle Uweng Bariring, to this day, has a game table where the teenagers of Gulod play day and night. Perhaps the powder dust from the tisa (billiard chalk) that was applied to the tip of the cue stick found its way to her crib and splayed magic on her.
"My curiosity to play billiards started when I was very young. I would always be asked by my uncle to call his brother Banong every time there was a competition in our compound. When I turned 12, I borrowed four balls from Tata Uweng and I started to play. That was the start of my billiards journey," Phoy tells Allure in the vernacular.
Her cousin Bernabe Bariring was the first to notice her form. He encouraged Phoy to continue practicing billiards and he would enlist her in tournaments in other barangays. When a friendly neighbor named Egay Malana brought Phoy to another town for a money game, someone spotted Phoy's skills and egged her to compete in Manila. At 19, she went to Manila, with barely anything, and joined different competitions until she made it to a national championship. She won as a runner-up. That became her ticket to join the national team.
She has competed abroad — in China, Qatar, India, Pakistan, Korea, Japan and Turkmenistan. Because Phoy is low-key, she almost successfully kept her prowess on the billiard table a secret within their compound. But not this time. Not with her first ever participation at the SEA Games.
Her journey to SEA Games is not without challenges. When she qualified for the SEA Games, she started training in April, from 10 a.m. to 7 p.m. every day. When she had to evacuate her dormitory at the Rizal Memorial Stadium because it was being spruced up for the SEAG, Phoy found herself homeless. She literally hopped from one house of a friend to another "because my allowance is not enough for me to rent my own place. Besides, I don't have relatives in Manila who can adopt me." She was even a transient in the room of Rubilen Amit, her teammate who is a two-time Women's 10-ball World Champion. Then one day, she bumped into former dorm mate Naomi Soco, a gymnastics athlete, who invited Phoy to stay in her condo for free, for as long as she wants so she would have a place to stay while training in Manila. Phoy is a product of people's kindness.
"I'm grateful to all those who have provided a roof and a room for me. My venture into SEA Games is also for them," says Phoy, who took up an IT course in a big computer school in Manila. "When the school's educational program was discontinued, I couldn't go back to school anymore because my parents did not have money for my college education."
But playing billiards taught Phoy resilience. She has a knack for not giving up. When opportunities are not within her reach, she waits for the right time. Then when a chance to better her life is presented, she goes for it, head on, with a heart blazing with passion.
Her inspiration is her family. "Especially when I'm able to help my mother and father financially with my earnings in billiards every time I win a tournament." Before her training started for SEA Games, Phoy won the Billiards Sports Confederation of the Philippines (BSCP) National Championship 2018. That became her passport to be part of the women's national team of the Philippine Billiards Team. Her coaches at the national team include the legendary Efren "Bata" Reyes, Lester Dulawan, Reynaldo Grandea, Rodolfo Luat and, another household name in billiards, Francisco "Django" Bustamante.
"To represent the country in an international game is already an honor. I will give it my best shot — for God, country and my family," Phoy says.
Phoy's heart is ready for whatever fate will hand her. She will surely do her best because fortitude is what her parents inculcated in her and her siblings. "My sisters and I were taught to be the best we could be despite our standing in life. We were taught to strive as we hold on to our faith. We were taught to pray, to be polite and humble. We were taught to be content with what we have; to dream if we want more. We were taught to be grateful for the littlest that we receive."
From Gulod to SEA Games — it is already a long shot of victory for Phoy. Who would have thought that a scrawny, shy, small kid from the barrio would reach this far? But then again, Phoy's heart and mind are fortified by her passion to succeed.
Good luck, Phoy. Sargo! *
(For your new beginnings, e-mail me at bumbaki@yahoo.com.
I'm also on Twitter @bum_tenorio and Instagram @bumtenorio. Have a blessed Sunday!)