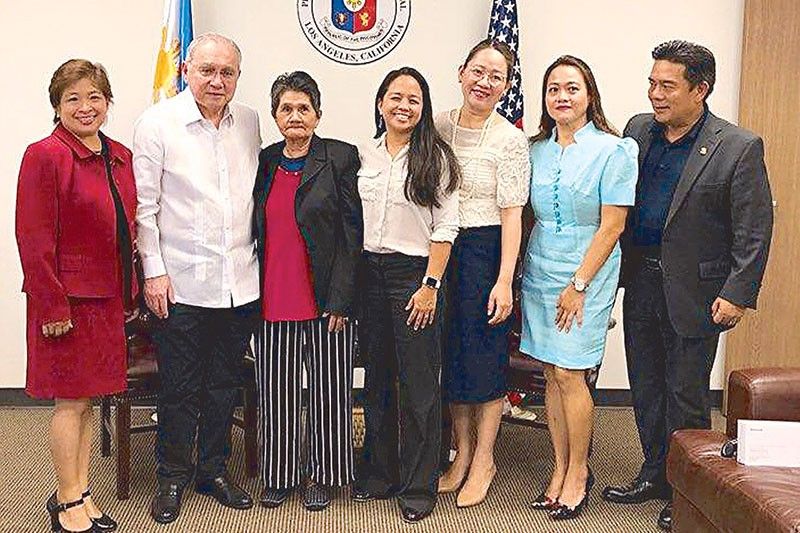 With (from left) PWC operations director Malou Villacisneros, Nanay Fedelina Lugasan, PWC executive director Aquilina Soriano-Versoza, Vice Consul Dyan Pastrana, ATN officer Judelyn Cuaresma and Consul General Adel Cruz.
During my official trip to Los Angeles the other week, I had a very emotional encounter with Fedelina Lugasan — an 82-year-old Filipina who was enslaved by a Filipino family for over six decades. Accompanying her were Pilipino Workers Center (PWC) executive director Aquilina Soriano-Versoza and operations director Malou Villacisneros, with Consul General in Los Angeles Adel Cruz, Vice Consul Dyan Pastrana and Assistance-to-Nationals officer Judelyn Cuaresma joining us.
Nanay Fedelina, as she is fondly called, was an orphaned 16-year-old when she was recruited from Leyte to serve as a domestic helper to a family in Manila where she was subjected to physical and verbal abuse and worse, received no payment for her service.
She was eventually brought to the US, becoming practically non-existent because her passport, birth certificate and other identification documents were taken by her employers. She took care of the children and then the grandchildren, becoming the nanny and doing all the household work — cleaning, cooking, gardening and doing the laundry — without any salary whatsoever.
She was shabbily treated, made to sleep on the floor and only given a thin blanket for the cold. Every time she asked for her papers and pleaded to go home, they would terrorize her, saying she would be accused of stealing and put in jail. Things came to a head in February 2018 when Nanay Fedelina collapsed while taking care of her employer who was in the hospital. Apparently, she had not eaten for several days.
With help from the FBI's Victim Protection Unit, the PWC and the Philippine Consulate General in Los Angeles, Nanay Fedelina's case was investigated, with her employer eventually convicted and ordered to pay restitution. Yet despite the maltreatment she received, Nanay Fedelina still showed compassion, asking the judge not to put her employer in jail because the latter was also elderly at 79.
Her one wish is to travel to Manila and her hometown in Tacloban to look for her siblings, admitting that she does not even know if they are still alive. She also confided that she wants to visit Malacañang while she is still alive — and we assured her we will do everything we can to make her wish come true.
President Duterte's marching orders after all is for us at the Philippine Embassy to put the welfare of Filipinos living in America first before anything else, and it was gratifying to see someone like Nanay Fedelina who, after 65 years, is finally free from bondage. She is now living in a nursing facility in Long Beach (owned by Bill Nelson and Vicki Rollins, a Filipina from Tolosa, Leyte) where she has a private room with her needs provided for, free of charge.