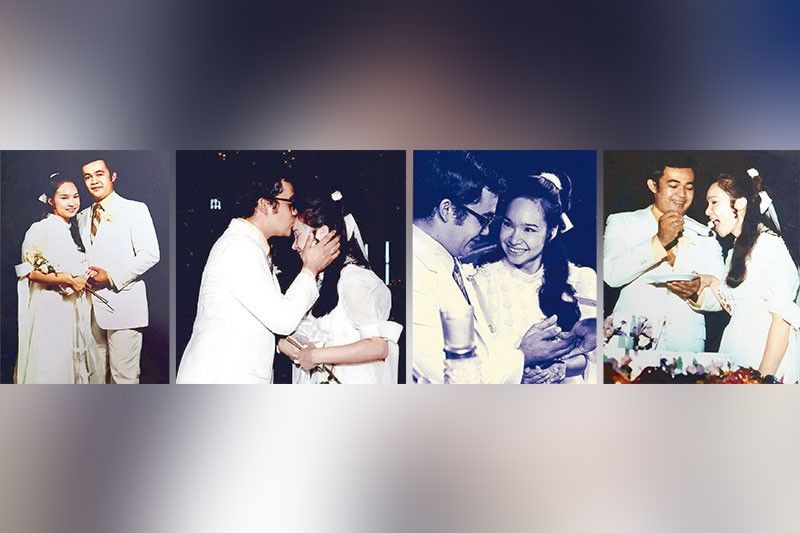 The couple said 'I do' on Sept. 18, 1971 at the San Agustin Church in Intramuros, Manila.
Arthur & Letty Lopez: 'No return, no exchange'
For This Week on PeopleAsia, I decided to ask our friend Arthur Lopez and his wife Letty, who will be celebrating their 48th wedding anniversary on Sept. 18, to share their funny and inspiring story.
Here's Letty's account of their courtship and marriage:
It wasn't love at first sight — no such thing! He was a management trainee assigned to the front desk of Manila Hilton in 1969 while I was a pioneer employee who started to work at the hotel during its pre-opening in 1967.
My friend Maurita Arce (who was working as an airport rep) spotted Arthur at the front desk and came rushing to me at the reservations office, which is situated behind the front desk. Maurita began, "Have you seen the new trainee? He's cute and wow! He dresses well. He never repeated a suit. Bagay sa iyo!"
It piqued my curiosity so I went by the side of the front desk, straining my neck, and asked, "Which one is he?"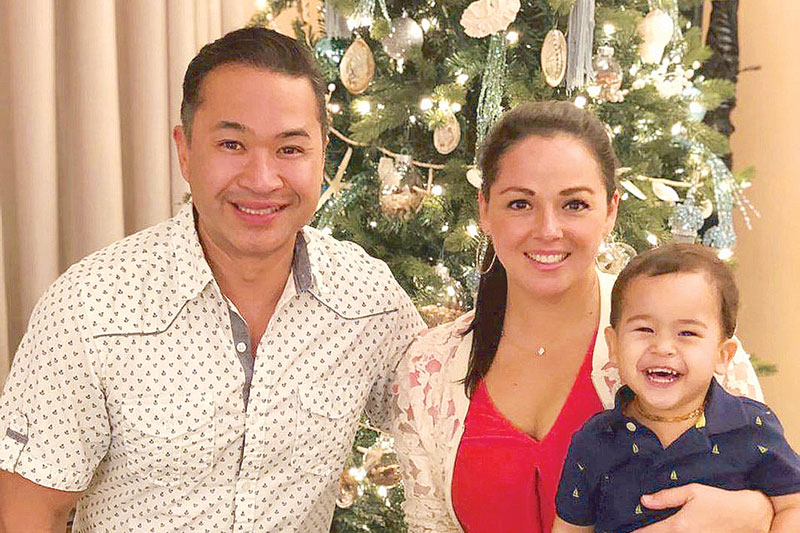 Son Jebo with wife Angela and kids Gino, Gianna and Gioni.
Maurita strained to pick him out from among the new trainees. "In a cream suit!" she said.
When I saw him, I made a cursory glance and returned nonchalantly to my office, Maurita following close behind. "So? What do you think?"
"Not my type," I replied. "Why?" came Maurita's protest.
"He's too short! Can you imagine? If I end up marrying him, our children would be this small." (Gesturing to make the tiniest slit between my index finger and my thumb.)
Arthur didn't talk much. In fact, he hardly talked. He fumbled most of the time, and was so nervous he couldn't think or act straight.
I was at my meanest when I made him wait outside the house, sitting idly in his yellow Citroen, for hours! My mom took pity on the "poor boy" and liked him instantly.
On a movie date, I slipped out of a coffee shop next to the theater without informing Arthur — just because I didn't like his comment over some trivial matter. He thought I was in the powder room; actually, I hailed a taxi on the other side of the building and went straight home. Poor Arthur had a nightmarish time calling up my house to make sure if I was, indeed, back home. (I was, fast asleep.)
A full year passed, but no sparks flew. Finally, I accepted his invitation to a formal dinner dance of his college batch. Whoa! He was terribly dashing in his black tux and to my delight, he can dance! A different light shone that night. Romance, at last.
How did he propose? He sent me a telegram in New York that read: "My New Year's resolution is to make Letty J., Letty J. Lopez. Please help."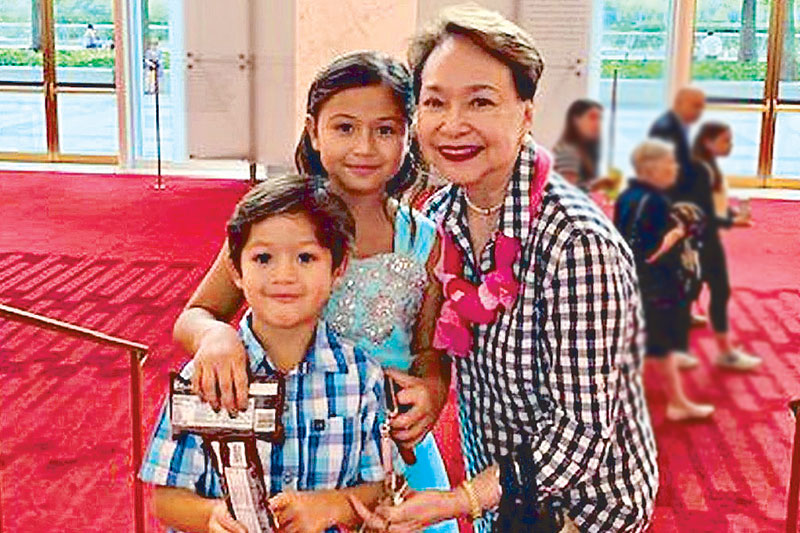 Letty with grandkids Gino and Gianna at the Kennedy Center in Washington, DC.
My roommates begged me to marry him so they can get a decent night's sleep! Arthur could never figure out the time difference and called during ungodly hours.
The red-letter day was Sept. 18, 1971 at the San Agustin Church in Intramuros, Manila. The early years were like a fairy tale. Arthur was the kindest, sweetest person and was more than I expected. Problems came in the form of health issues from me. I was constantly confined in the hospital — for threatened abortion, eclampsia, early hysterectomy, thyroidectomy, and stillbirth that the hospital staff already knew me and called me "doctor's delight."
The most difficult time was when we lost our second baby because of eclampsia that was followed by early hysterectomy when my uterus collapsed and had to be taken out. I was barely 29 when we were told that we couldn't have another child. But as it turned out, we did have another child, a daughter, by adoption.
I love to travel. He doesn't. I like ballet, opera, concert music and music festivals; he likes boxing and golf, Roy Orbison and just lately, Freddie Mercury. He could never finish a song while I keep albums and sing them by memory. Frank Sinatra captured the essence: "She was Mozart, I was (Count) Basie/She was Wall Street, I was pawn shop/She was French champagne, I was beer/But I loved her..."
Marriage is a choice that you make and decide to keep, every day. When times get rough and you'd wish you could return him to his mother, just remember even my mom-in-law remarked, "No return, no exchange." *