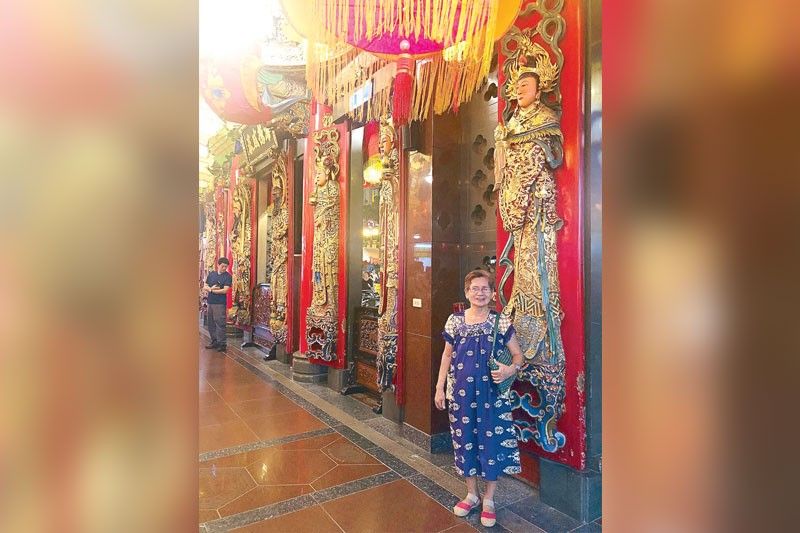 My mother, Candida Tenorio, at a temple in Songshan, Taipei.
Photo by Büm Tenorio Jr.
My mother's first trip abroad
My mother is a funny woman. She rocked Taipei in her duster and light strawberry blonde hair for her 75th birthday and made her first ever trip abroad very memorable.
Two days before she left for Taiwan, she had her hair dyed. To the sari-sari store in front of our house she went and bought her trusted hair-coloring brand. Then to the neighboring "parlor" of Jose she brought the dye. She was excited. As Jose massaged the dye to her hair, my mother was also having mani-pedi. It was her first ever trip abroad and she made sure she was ready for the world. She achieved the color of her nails, colorless with a hint of baby pink. But when she looked at herself in the mirror, the desired black color was not apparent on her hair. Its sheen was more of a strawberry tinge. The tindera where she bought the dye gave her red instead of black dye. And my mother eventually loved it.
Not the one to be easily dismayed when things don't work her way, my mother proudly showed me her light strawberry blonde hair and flashed a big smile when I picked her up early morning in Gulod for the airport. It was the day before her birthday. And she already announced it among her friends in the barrio that she would not celebrate with them because she would be in Taiwan.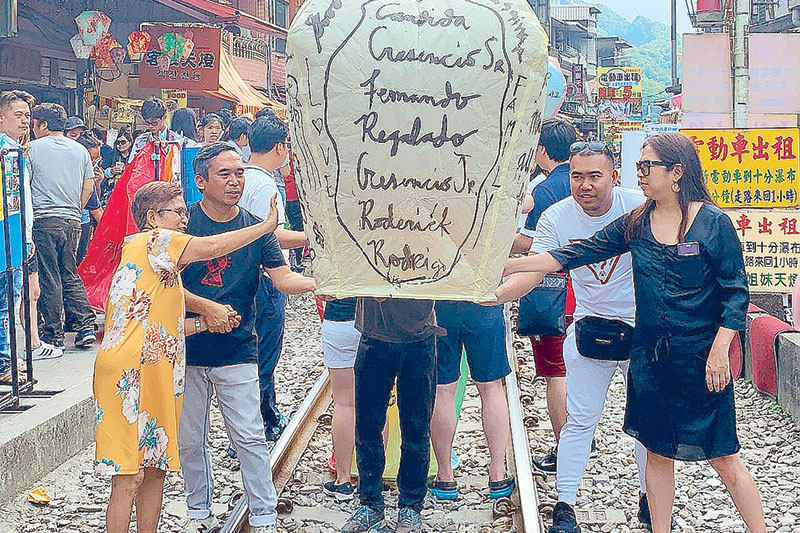 Candida Tenorio, the author, Glenn Aldueza and STAR's Christine Dayrit ready to release a sky lantern in Shifen.
Before we left Gulod, I checked her gray suitcase. The colors of her life were evident on the designs of her colorful blouses and dresses. Underneath them, I discovered dusters, her sartorial staple all her life. She brought 20 Silva's dusters!
"Kulang pa ba yan?" she asked me.
"Nay, four days lang tayo sa Taiwan."
Then she purged her collection and brought only eight of her favorite pambahay.
At the Terminal 1 of NAIA, she was a picture of joy. We had not reached Taipei yet but my mother was already very happy. She kept on saying, "Thank you! Thank you!" She even expressed her gratitude to Daniel, the funny guy who pushed her wheelchair, and to Alyssa, the kind Eva Air FA who brought her to her seat. She excitedly told them, "My first time abroad." They were joyful for her, too.
When the plane landed in Taipei late in the afternoon, she brought out her red lipistik. When she found out she forgot to bring her Johnson's Baby Powder, her other beauty weapon, I heard a sigh coming out of her chest. But nothing and no one could rain on her parade. She smiled.
Inside the Taipei airport, her eyes wandered. She was quiet in her joy. She felt so special because she read her name — Candida Tenorio and company — in the hotel placard, carried by a Taiwanese guy just outside the arrival gate of the airport. She spoke Tagalog to the guy and he answered in Chinese. They both laughed. They understood each other. Before we rode the van, she hugged my best friend Christine Dayrit and my inaanak Glenn Aldueza and profusely thanked them for accompanying her, too, in this trip.
The evening was reserved for discovering the night market close to Amba Hotel where we stayed. Because it was a bit warm in Taiwan, my mother decided to be comfortable in discovering the city at night clad in her purple duster with yellow embroidery and Wataru espadrilles. She mumbled a little prayer at the temple in Songshan before she tried the street food at Raohe Night Market. "At least, ako lang ang naka-duster sa buong Taiwan," she said with pride. My mother proved that moment that "you can take the girl out of Gulod but you cannot take Gulod out of the girl." She was her own happy woman.
We left the night market close to midnight. And when we got back to our hotel room, there was "Happy Birthday" on the wall. Christine and Glenn brought out the cake they hid in the ref and all together we sang "Happy Birthday." My mother was so overcome with joy she cried. Like a little boy, I melted in her arms.
In the morning of her birthday, she wore her pink floral dress. She looked out the window with the view of Taipei 101 in close proximity. She said her gratitude prayer aloud. She also wished my father was alive so both of them could travel together.
For a first time overseas traveler, she did not disappoint in showing her excitement and eagerness to discover this side of the world. Every single second for her was an experience, an adventure, a blessing. Her every moment was filled with joy. Her every word was that of gratitude. She did not need much direction or prodding when it comes to photo ops whether in front of the Chiang Kai-shek Memorial Hall or in the cape of Yehliu or on the railroad track of Shifen to release a lantern carrying the wishes of her heart. She begged off to the Taipei 101 experience saying in the vernacular, "What for? I see that tall building, day and night, from our room. Let's save the money instead." And all throughout, her smile was indelible; her energy, outstanding. I was just blessed and grateful to have a front-row seat to this spectacle called Candida!
In the evening of her birthday, after our sumptuous steak and lobster dinner at the hotel, Mamang, as I fondly call her, did it again in her duster, at Shilin Night Market this time. The birthday girl was having the time of her life soaking up the evening vibe of Taiwan. She, who was normally asleep by 7 p.m., was still up and enjoying the city. "Pwede pa ako hanggang madaling araw," she said, "basta may 'lipistik' at polbo." She found another brand of talcum powder in a convenience store in Taipei and she was fine with it. Fight!
My mother's first trip abroad was also the first time for me to discover a few more things about her energy. She was happiest when we brought her to a fruit orchard for lemon and guava picking outside Taipei. Perhaps because it reminded her of her own experiences in the rice field when she was young. And when we stopped by a brewery in Cavalan, she had a shot, too, of whisky. She also enjoyed listening to traditional Formosa music as little fish swarmed around her feet in a fish spa.
The following day, it was time to go to the airport to catch our flight back to Manila. My mother woke up later than the usual. She hummed on her way to the shower. When she was all dressed up, she looked out the window again and marveled at the expanse of the city.
"Ba-bye, Taipei 101," she waved at the building from outside the window. "Thank you."
In my heart and mind, "More to come for Candida, the love of my life."
(For your new beginnings, please e-mail me at bumbaki@yahoo.com. Im also on Instagram @bumtenorio. Have a blessed Sunday.)