Lio Estate Resorts in El Nido, Palawan.
Honeymoon destinations for every type of couple
MANILA, Philippines — The celebration of love doesn't end at the wedding reception. As newlyweds, you must take that much-needed alone time with your better half — a trip that will leave you both wanting to spend more time with one another, a treat for yourself and the love of your life after months of arduous planning for your big day.
Kick-start your married life with a honeymoon that's nothing but memorable and blissful. Where to go? With a myriad of destinations to choose from, we've listed down some suggestions for every type of couple.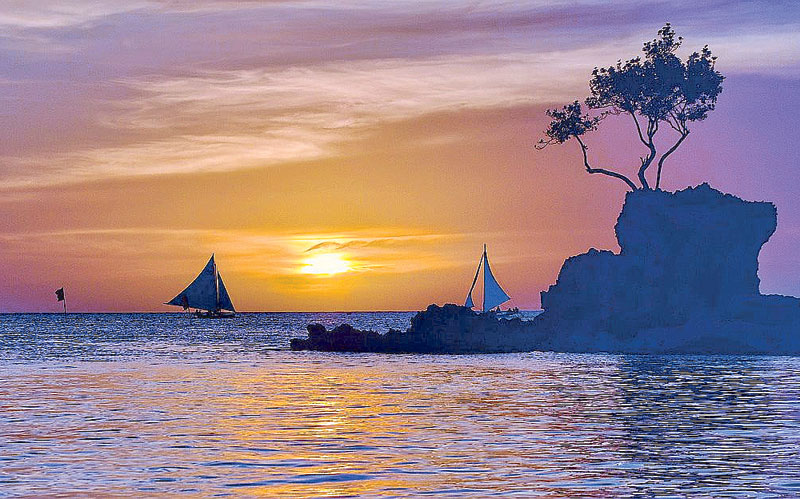 The world-famous sunset of Boracay.
(According to online sources, "honeymoon" comes from the Old English "hony moone." Hony, a reference to honey, refers to the "indefinite period of tenderness and pleasure experienced by a newly wed couple," and the sweetness that comes with it. Moone, reportedly refers to the fleeting amount of time that one has for this period.)
For beach lovers
If your idea of an awesome honeymoon is lying by the beach with a good book on one hand and a glass of piña colada on the other, book a trip to these destinations.
El Nido, Palawan. No need to fly overseas when we've got one of the world's best beaches in our own backyard. Renowned for its immaculate white-sand beaches, crystal-clear waters and dramatic limestone cliffs, El Nido was included in the "Top 10 Most Gorgeous Beaches with the Clearest Water in the World" list by Reader's Digest. It also ranked fifth in the latest edition of Conde Nast Traveller's "The 24 Best Island Beaches in the World." Enjoy picture-perfect moments when you go island hopping to Bacuit Bay, Big Lagoon, Small Lagoon and Miniloc Island.
Try out Balai Adlao in El Nido. With 20 well-appointed rooms characterized by earth-toned interiors and touches of Filipino weave and fabrics, this retreat is one of the Lio Estate Resort's sanctuaries by the sea. Its serene and strategic location — bound by the beach on one side and the mountains on the other — adds up to the intimacy.
Seychelles. There's a reason why the Duke and Duchess of Cambridge — and George and Amal Clooney, too — gave this breathtaking island on the Indian Ocean their royal seal of approval as a honeymoon destination. Boasting incredibly intimate and secluded spots, Seychelles offers a private piece of paradise. Enjoy rest, relaxation and romance on a stretch of beach all to yourself. Explore the islands of Praslin and La Digue on bicycles or hike up the challenging Copolia Trail on Mahé Island and be rewarded with a spectacular view of Seychelles' blindingly blue waters from a cliff top.
For adrenaline seekers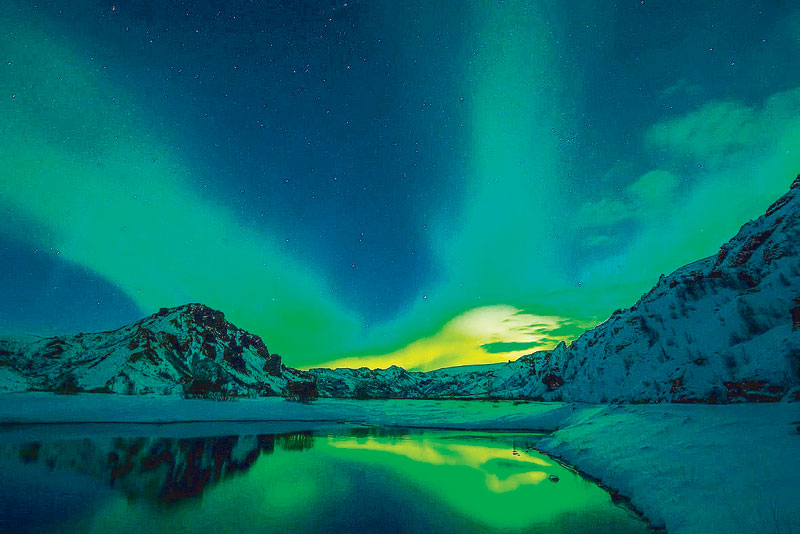 The Aurora Borealis as seen from Iceland.
For the duo that shares a passion for adventure, these destinations offer adrenaline-pumping activities that will only strengthen your bond.
Iceland. The Land of Ice and Fire will surely take your honeymoon to the next level, thanks to the many great adventures you'll embark on in this North Atlantic island country. A trip to the countryside will allow you to see Iceland's sweeping landscapes where the weather changes at any moment's notice. From glaciers (at Jökulsárlón Glacial Lagoon) to geysers (at Great Geysir and Strokkur), Iceland will leave you both enthralled. Here's more: if you are both Game of Thrones fans, you'll have a grand time visiting the show's filming locations — the volcanic Hengill mountain, Thorufoss waterfalls, and volcanic cave lake Grjótagjá, where Jon Snow sealed the deal with Ygritte. As if Iceland hasn't swept you off your feet yet, know that you also have the once-in-a-lifetime chance of seeing the Aurora Borealis here.
Hawaii. Once you've said "aloha" to this honeymooners' paradise, you'll never want to say goodbye. A smorgasbord of activities awaits thrill-chasers in heavenly Hawaii: sightseeing from the air via a helicopter, hiking to a hidden waterfall, swimming with sea turtles, exploring a volcanic crater, and various kinds of watersports. Each one of the eight main islands (with Maui, Oahu and Kauai as the more famous ones) will surely give you a unique honeymoon experience.
For foodies
Your love of food has brought you two together, so celebrate your union by going on a gastronomic adventure.
Tokyo, Japan. The Land of the Rising Sun gives couples innumerable ways to fall in love with each other, and its cuisine. Food is serious business in Japan and is an important part of the Japanese culture. Traditional Japanese cuisine, or washoku, was added to UNESCO's Intangible Cultural Heritage list in 2013. When in Tokyo, you and your sweetheart can indulge on sushi and sashimi, ramen, tempura, yakiniku, takoyaki, okonomiyaki, and so much more. Did you also know that Tokyo is the No. 1 most Michelin-starred city, with 230 restaurants?
Tuscany, Italy. Toast to this new chapter of your life as you sip on some of the world's finest wines produced in Tuscany. This region in central Italy promises endless romantic experiences for newlyweds: amazing works of art in Florence, a visit to the Leaning Tower of Pisa, iconic vineyards in Chianti, the medieval city of Siena... the list goes on.
For those who long for a luxurious getaway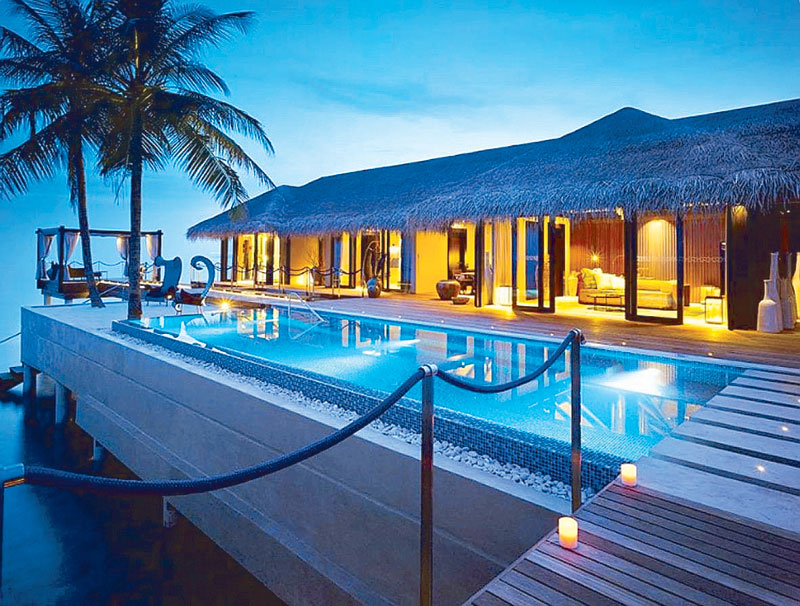 Romantic Pool Residence at Velaa Private Island Maldives. Photo from www.velaaprivateisland.com
Take that luxury trip of a lifetime, after all, the postcard-pretty memories from this vacation will stay with both of you for the rest of your life as husband and wife.
Paris, France. It's not called the City of Love for nothing. You'll find the French capital in almost all lists of honeymoon destinations. Paris is aplenty with luxury hotels, restaurants and shopping. Wake up to an unmatched view of the Eiffel Tower and iconic Parisian monuments from your very own room at Shangri-La Hotel, Paris or experience a vacation fit for royalty at any of the Royal Suites of Four Seasons Hotel George V, Paris.
Maldives. The most epic — and Instagram-worthy — honeymoons happen in the Maldives. What's a better way to spend your day with your darling dear than to stay in an overwater villa where you can swim right into the Indian Ocean whenever you feel like it?
Velaa Private Island Maldives' beyond luxury retreats bring new levels of exclusivity to your honeymoon. Its Romantic Pool Residence, an ultra-private one-bedroom villa suspended above the lagoon with uninterrupted views of the ocean, comes with butler service and is accessible only by boat.
For the budget-conscious
It's totally fine if you don't want to spend too much on your honeymoon. You can still make it extra by choosing these destinations.
Singapore. Although it's one of the most expensive cities to live in, Singapore offers a lot of activities you can do for free. Marvel at Gardens by the Bay's Supertrees, catch the water and light show every night at Marina Bay Sands, be one with nature at the Singapore Botanic Gardens and Fort Canning Park, or bring your better half to Faber Peak and take in the stunning sights and scenery of the Sentosa and Harbourfront areas. Whatever you choose to do, you don't need to break the bank to have an amazing time in the Lion City.
Boracay. We're not wrapping up this list without listing down one of the Philippines' top tourist destinations. Included in many a list of the best beaches in the world, Boracay entices honeymooners year after year — and it doesn't come as a surprise, what with the island's many activities including a romantic paraw sailing as you chase the sunset. While luxury hotels and resorts dot the world-famous island, lovers on a budget can still have Boracay as the backdrop of their honeymoon because of the many budget-friendly accommodations and activities on the island.
Happy honeymoon!