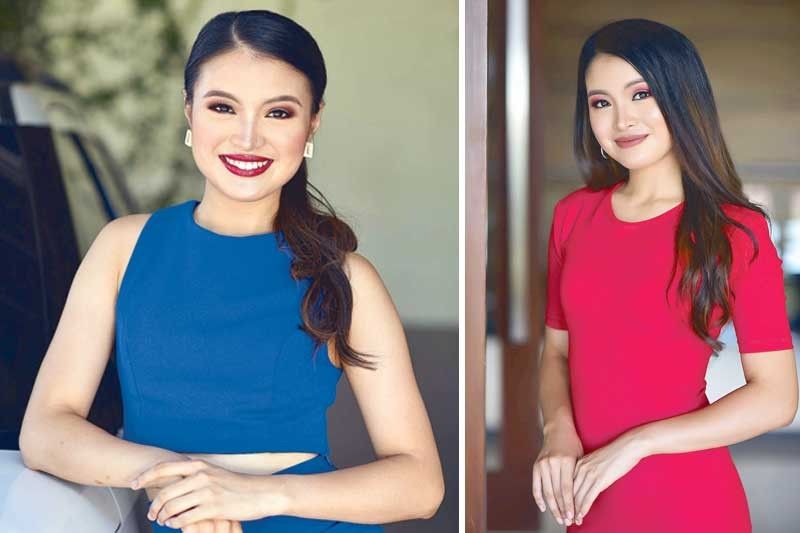 MANILA, Philippines — Julieane Aya Fernandez is inspired. Inside her heart is an irrepressible fire that fuels her not just to fulfill her life goals but also to lift others along the way.
Aya, despite wearing many hats (and crowns) — Mutya ng Pilipinas Tourism International 2018, Dream Girl of the Year International 2018, honor student, model, host, dancer, soon-to-be-MYX VJ, founder of Project Lily PH, among others — continues to discover herself and her purpose. And with this journey to self-discovery comes the courage to embrace the individual that she is — her quirks, her beliefs, her advocacies, her imperfections, and more.
Perhaps one of the most special things in Aya's journey was when she helped create Project Lily PH, a livelihood project for persons with disabilities (PWDs). This livelihood project makes eco-friendly charcoal from water lily (water hyacinth), coconut husk and other agri-forest waste.
She was 17 years old when she helped organize the already-existent group of PWDs who were making eco-friendly charcoal in Taguig City. As she was helping the group, she saw that the product has a great potential but there were things that needed to be improved like quality control and the project's business side. She gave the group the name Project Lily, plucked from her own savings to help the group's depleting funds, and even assisted them to get registered in the Department of Trade and Industry.
Aya led the group for almost two years and let the rest of the members take over the leadership once Project Lily was afloat. Seeing that the livelihood project has made progress and has started to make noise on social media, she realized that as long as one has the right intentions, determination and commitment, one could definitely make a difference.
"I'm happy that Project Lily is up on its feet and is still ongoing. The dream is for it to mass-produce and hopefully it will be able to find the right partners to continue the members' livelihood," says Aya, a 21-year-old graduating Broadcast Communication student (cum laude) of the University of the Philippines.
Today, Aya happily continues to discover herself and her purpose. One of the advocacies dear to her heart is bringing the Filipino identity closer to Filipinos, especially to her generation. During her reign as Mutya ng Pilipinas Tourism International 2018, she collaborated with the Cancer Warriors Foundation and Filiology, a brand of Kalinga weaves that have partner communities in the country.
"I'm very passionate about helping our indigenous tribes gain the respect and appreciation that they should have. They have certain issues and I think they deserve to be given a voice. One of the things I do is promote the art and culture of these tribes by wearing their prints and fabrics," she shares.
* * *
Recently, Aya, who is also an artist-trainee in Star Magic and is a member of the UP Street Dance Club, was named one of the winners of MYX VJ Search 2019. She says she loves to interact with people, especially with the masses. This is also one of the reasons why she joined Mutya ng Pilipinas in 2018. "I love that I get to interact with the masses, whether through events or even in social media."
With her new role as an MYX VJ, Aya will surely be able interact more with people and share her thoughts about pop culture and lifestyle. In this new role, Aya is expected to be the best version of herself and also look good at the same time. Using the right makeup like Careline's hottest products, Aya is all set to standout as a VJ.
Aya loves pop of colors. The Careline Play To Slay Palette is perfect for her as it comes with 12 eyeshadows (four shimmer and eight matte), two blush shades and one highlighter. This pigmented and easy-to-blend long-lasting product complements multiple skin tones.
For this shoot, Aya dressed her lips with the full pigmented matte coverage of Careline Matte Liquid Lipstick in Gotta Go and In Bloom. This liquid lipstick dries fast and glides on smoothly while delivering intense pay-off with just one swipe. Its unique formula provides hours of comfort without the dry feeling.
Aya is fond of highlighting her mesmerizing eyes. The Careline Graph-Ink Liner made her eyes even more beautiful as it features a long-lasting, water-based formula that produces a sharp contrast and definition to the eyes. Its high-precision felt-tip applicator allows you to adorn your eyes as delicately or intensely as you want. It is smudge-proof and waterproof so you wouldn't have to reapply throughout the day.
* * *
Aya's energy gives her freedom to express her passion. This contagious characteristic allows her to aim high and accomplish anything that she sets her mind into. With the things she set herself to accomplish, she becomes introspective.
"I learned to not let the tough times in life harden your heart. If you don't have much, that doesn't mean you cannot have more than enough grit to be where you want to be. Just fight," Aya says.
* * *
Photography by Claudine Cervantes Callanta of Larawanmo • Makeup by Elma Oraye-Cruz and hairstyling by Petchi Ombrosa
• Fashion styling by J-em Sta. Ana, assisted by Maria Philip Francisco • Clothes by Jamila Paz and accessories by @Moxie.ph